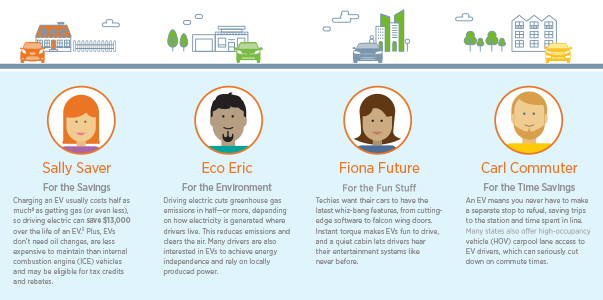 With every new innovation comes new opportunities. Those who spot them early can realize important benefits, as anyone who's used the crowdsourced traffic-navigator app Waze to skirt around an upcoming traffic jam can attest. And when it comes to driving, there's never been a better time to be part of the revolution in e-mobility, which has fast become one of the most disruptive technologies of the 21st century. According to the most recent data from the annual state-of-the-industry report, Charging Forward, electric vehicle (EV) growth continues to accelerate. So much so, in fact, that in two decades, a third of the entire global car fleet will be electric. That's a lot of EV drivers, all of whom will be either your customers, employees or residents.
Who are EV drivers?
EVs are becoming mainstream faster than you might imagine—and wherever those EV drivers go is an opportunity for your organization to engage with them, no matter what business you're in. And they will all need a place to recharge. Who are they?
They're your most valuable customers. EV drivers tend to earn higher-than-average incomes, making them an attractive demographic for retailers. In addition to spending more money, they also prefer to frequent businesses that offer charging. And guess what? While they're waiting to "fuel up," they spend more time shopping. Businesses that provide EV charging solutions gain new, desirable customers who come back more often and spend more money. If that weren't enough, by choosing to be part of the world's largest EV charging network, you'll also attract the eyeballs of 70% of the nation's EV drivers—at no extra cost to you. And who doesn't love free advertising?

They make for more engaged employees and coworkers. A recent PwC survey found that nearly a quarter (23%) of employees worldwide say "doing a job that makes a difference is most important to their career." For those people, that means working for a company that shares their deepest-held values (which often includes environmental concerns). Offering employees EV charging solutions at work is a great way to engage your best workers and attract new, top talent. Not only will you achieve your business and sustainability goals, you'll help make the world a better place.

They're better residents. According to our research, between 5-10% of the residents at multifamily properties plan to purchase an EV over the next three to five years. That number goes up to 10-20% in high-EV-density areas. Adding charging stations can increase the property value (as well as rents) and encourage less turnover. And because some cities and states require new buildings to support EV-ready construction (for between 3–25% of parking spots), getting in on the e-mobility revolution may not only be the most profitable choice, eventually it won't be a choice at all.
Connect with EV drivers where they are
Driving electric allows drivers to eliminate one annoying weekly chore—fueling up. Who hasn't experienced the nail-biting choice of either running late or running on empty? EV drivers enjoy the convenience of charging up wherever they go: while they're at work, running errands or simply enjoying their lives. The workplaces, shopping malls and multifamily residences that offer EV charging are already connecting with this valuable audience. And you can too.
Networked—or smart—charging solutions are a new technology with the potential staying power of smartphones circa 2007. Better still, you don't have to be a Tesla or General Motors to be part of the e-mobility movement—you need only have foresight and some space to install stations. To borrow from the film Field of Dreams, "If you build it they will come."
Curious about where and when EV drivers charge? Check out our new interactive module.
Get our annual state-of-the-industry report here: