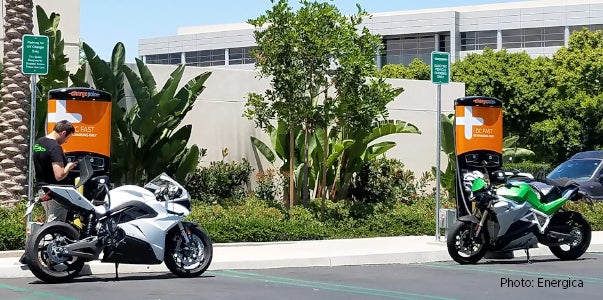 Looking for adventure? You might find it on an electric motorcycle. Much of the hype about electric vehicles centers on passenger cars, but plenty of electric motorcycles can get you from point A to point B with no emissions and lots of emotion, not to mention significant savings on fuel and maintenance costs. This post provides an overview of some electric motorcycle options.
Energica, based in Italy's Motor Valley, is currently expanding operations in the U.S. with a new Dealer and Service Center in San Francisco. Energica is the only electric motorcycle to support DC fast charging, which can add hundreds of miles of Range Per Hour and get you back on the road faster on long trips. Both the Energica Ego, a high performance sport bike, and the Energica Eva, which offers easier handling for city riding, can be ordered in person at the company's Dealer and Service Center as well as online. Stefano Benatti, Energica's general manager for the U.S., encourages people to experience the bikes in person. "The best marketing is a free ride," he says of how quickly people are converted to electric motorcycles.
While Energica produces modern, stylish sport bikes that reflect the company's European heritage, Brutus aims for a slightly tougher and more retro image, somewhat reminiscent of a Harley. The Brutus V9 offers over 240 miles of range, setting it well ahead of many electric cars, and other Brutus bikes display similar street style for those of us with a tough images. If you want to put on your leather jacket and look like a true rebel, Brutus might be the brand for you.
Zero, a zero-emission electric motorcycle company, combines off-road styling with enjoyable performance. Add on a Power Pack for more battery power and get up to 200 miles of range, or choose a Charge Tank that lets you plug in at Level 2 charging stations as well as "Level 1" wall outlets. Riders have used Zero bikes to complete 30 days of commuting for less than $5, reflecting the massive savings that are possible when driving electric (in any type of vehicle).
Alta's Redshift electric motorcycle comes in motocross or supermoto versions so you can have an electrifying experience without burning gas. The lack of shifting on electric bikes enhances ride quality: "not having to worry about slipping the clutch or being in the correct gear let us focus more on enjoying our riding experience," according to Dirt Rider. Alta offers multiple power options for smoother or faster acceleration. Whether you want to cruise around town or on the racetrack, Alta Redshift might just be the right option for you.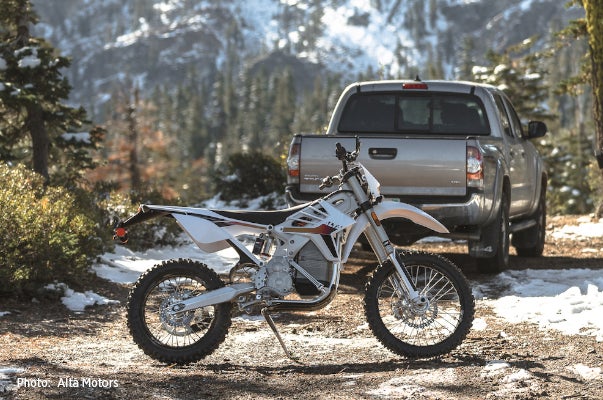 Looking for truly electrifying performance? Try the striking Lightning LS218, named for its impressive top speed of 218 miles per hour. "The minute I saw the Lightning LS-218, I knew I had to ride it," said Loz Blain of New Atlas, adding, "It wasn't just the looks of the thing – although it sure is a beauty. It was the fact that this is an electric motorcycle that actually out-performs anything you can buy that burns dinosaur bones." The idea that electric vehicles compromise performance is certainly extinct.
Victory is one of few brands to offer both gas-powered motorcycles and electric, reflecting a diverse lineup. The Empulse electric bike offers 50 to 150 miles of range, enough for all kinds of trips. Victory says it's building the Empulse with an eye to the next decade in transportation technology, something we can get on board with, and support from an established motorcycle brand helps with availability.
With DC fast charging, electric motorcycles are also great for road trips, just like the Chevy Bolt EV or Tesla Model 3. Last summer, a group of motorcycle enthusiasts rode their Energica electric bikes up the California coast from Santa Monica to the Bay Area, enjoying sun on their backs, wind in their faces and fast charging along the way.
ChargePoint is working on expanding fast charging options as we build more than 70 new DC fast charging spots throughout California and beyond. Stay tuned for news about fast charging near you, and plan all of your road trips in our app, no matter what kind of EV you have.