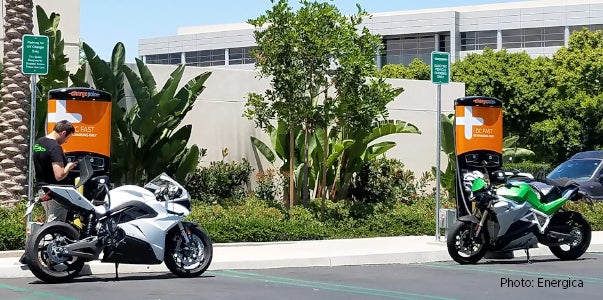 Looking for adventure? You might find it on an electric motorcycle. Much of the hype surrounding electric vehicles centers on passenger cars, but plenty of electric motorcycles can get you from point A to point B with no emissions and lots of emotion, not to mention significant savings on fuel and maintenance costs.
Energica, based in Italy's Motor Valley, was the first electric motorcycle to support DC fast charging, which can add hundreds of miles of range per hour (RPH) and get you back on the road faster on long trips. The Energica Ego+, a high-performance sport bike; the EVA Ribelle, which offers easier handling for city riding; and the EVA EsseEsse9, the brand's new electric retro entry, can be ordered in person at dealerships across Europe and the U.S., as well as online. Stefano Benatti, Energica's CEO for the U.S., encourages people to experience the bikes in person. "The best marketing is a free ride," he says of how quickly people are converted to electric motorcycles.
"The best marketing is a free ride." – Stefano Benatti, Energica
Another electric motorcycle that's been getting a lot of attention is the LiveWire One. Like the Energica, this Harley Davidson spin off brand can go from zero to a full charge in about an hour at a DC fast station. Featured in the recent Apple TV+ documentary series "Long Way Up" with Ewan McGregor and Charlie Boorman, the LiveWire proves it's a bike that can go the distance. Over the course of 11 episodes, the longtime friends and motorcycle enthusiasts take a pair of LiveWires on an epic — and sometimes punishing — 13,000-mile (21,000 km) trek from the tip of Argentina in South America to Los Angeles. It's a wild ride made even more compelling by the riders' chase vehicles, a pair of Rivian R1T electric pickups. According to McGregor, "[the LiveWire puts you in touch with yourself and the world, in a way."
"[The LiveWire] puts you in touch with yourself and the world in a way." – Ewan McGregor, Long Way Up
Zero, a zero-emission electric motorcycle company, combines off-road styling with enjoyable performance. Add on a Power Pack for more battery power and get up to 200 miles of range or choose a Charge Tank that lets you plug in at Level 2 charging stations as well as "Level 1" wall outlets. Riders have used Zero bikes to complete 30 days of commuting for less than $5, reflecting the massive savings that are possible when driving electric (in any type of vehicle).
"[A] month of doing a lot of my daily commute on this bike cost me less than $5." – Charles Fleming, LA Times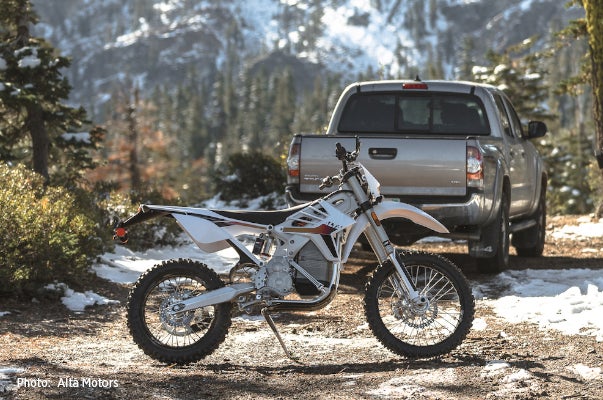 Looking for truly electrifying performance? Try the striking Lightning LS218, with an impressive top speed of 215 miles per hour and acceleration from 0 to 60 mph in 2.2 seconds. "The minute I saw the Lightning LS-218, I knew I had to ride it," said Loz Blain of New Atlas, adding, "It wasn't just the looks of the thing — although it sure is a beauty. It was the fact that this is an electric motorcycle that actually out-performs anything you can buy that burns dinosaur bones." The idea that electric vehicles compromise performance is certainly extinct.
"I have come to love the tremendous torque and sweet, smooth silence of the electric motorcycle." – Charles Fleming, LA Times
ChargePoint is the world's leading EV charging network with hundreds of thousands of places to charge across North America and Europe. We're the only charging network that boasts an integrated portfolio of hardware, cloud services and support to deliver the most seamless charging experience possible, no matter what kind of vehicle you drive — or ride. It's easy to plan all of your road trips in our app, so go ahead and hop on and head out for the open road. With more than 105 million charges delivered and counting, ChargePoint has you covered.