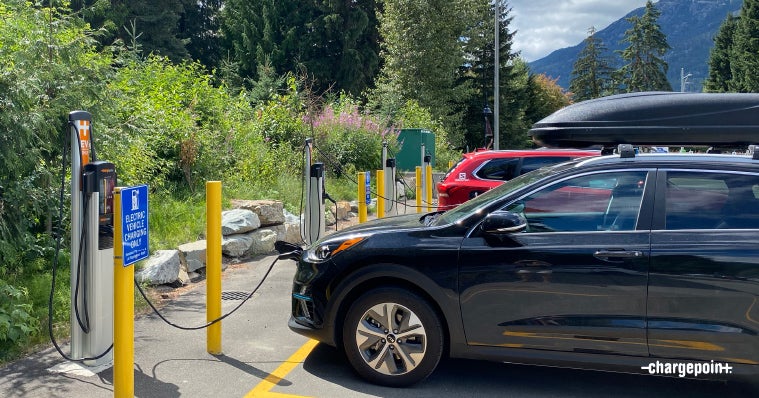 The electrification of mobility is coming — fast. Shortly after 2030, electric vehicles (EVs) will outsell gas vehicles in North America and Europe, according to the BNEF EV Adoption and Impacts Dashboard. As Canada works toward reaching the established goal of 100% zero-emission vehicles for new light-duty vehicles by 2035, there is a need to build out EV charging infrastructure to support everyone buying and using those vehicles.
Recent research suggests that this transition to EVs will require 475,000 public charging spots and over 2 million residential spots in Canada by 2035. This charging infrastructure will also create attractive, well-paying jobs across the country for many people. A new report, authored by Dunsky Energy and Climate and co-sponsored by ChargePoint and Accelerate, aims to find out just how many and what types of jobs, industrywide, the EV charging infrastructure buildout will require.
Electrification creates a variety of jobs
Building out EV charging infrastructure requires active involvement across several related vocations, including electrical contractors, electrical engineers, utility employees, EV charging providers, civil and general contractors, and heavy equipment operators. Heavy duty electrification projects will create even more jobs due to the larger and higher-powered elements of these projects. It's exciting to see the many roles and broad collaboration required for the widespread deployment of electric mobility. (Check out a day in the life of an electrician in the video below.)
Dunsky's research finds that the current EV charging infrastructure buildout is already providing work for several professions, ranging from 54 to 304 hours, depending on the location and installation. It is estimated that for 2035, EV charging projects will create work for approximately 3,500 full-time equivalent positions in Canada alone. These jobs provide sustainable careers in a growing zero-emissions vehicle industry for those in the established career paths already mentioned. Demand for EV charging is gaining momentum and will continue to expand as model availability increases and EV requirements broaden.
"Over the years, Zeno has seen the electric vehicle industry go from three to four chargers installed a quarter to three to four chargers a week."

– Zeno
Fast charging and residential charging have different needs
The majority of EV charging happens at home, so many charging spots will need to be built in residential buildings. However, public fast charging spots generate more jobs because they require higher power supply, more construction work and the involvement of more workers, including civil engineers. The right combination of residential and public charging will foster both convenient charging and job creation, supporting a robust transition to electrification.
More job recruitment and training are required
In addition to celebrating the job creation involved in EV infrastructure buildout, attention should be paid to the ongoing need for recruiting and training in these roles. As the growth in demand for electrical contractors and other positions is expected to outpace that for other jobs (see the report for more information), organizations and educational institutions should think about strategies for developing additional job training to ensure that members of the workforce are ready for successful careers. ChargePoint University offers training to help electricians become certified to install ChargePoint stations, and we enjoy working with ChargePoint partners to help support the transition to electric mobility.
The work of EV charging buildout is just beginning
EVs have been around for a while. However, Canada's proposed ZEV Sales Regulations, expanded presence of new EV models and private investment infrastructure supported by programs such as the Zero-Emission Vehicle Infrastructure Program (ZEVIP) from Natural Resources Canada (NRCAN) and the Canada Infrastructure Bank's Charging and Hydrogen Refuelling Infrastructure Initiative (CHRI) create the conditions for drastically accelerated adoption. ChargePoint is proud to be part of the transition to electric mobility and to help foster job growth in Canada and all the regions where we operate, and we'll continue to work with many stakeholders to ensure that convenient charging is available everywhere drivers need it.
For more information on the number and types of jobs created by EVs and EV charging, read our full report (also available in French).
Ready to get started with an electrifying career? Become a ChargePoint partner.