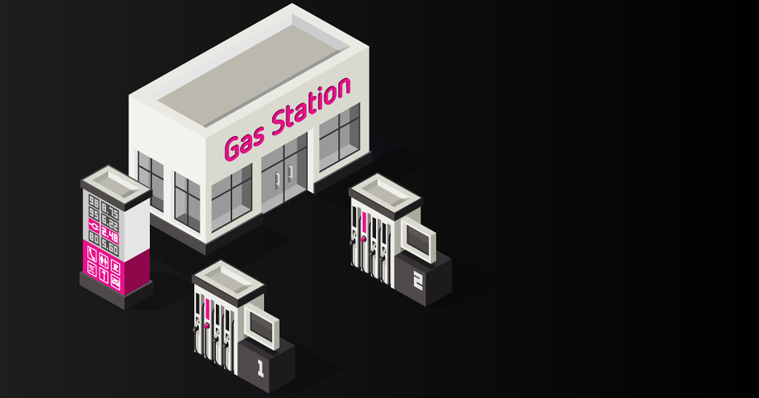 Thinking about electrifying your gas station network? Read on for six challenges you'll need to master before truly taking off!
To achieve existing climate goals and reduce CO2 emissions in the transport sector, the EU Commission estimates that at least 30 million electric vehicles will be needed in the near future. This also requires significant changes in the fuel industry. Big players like bp subsidiary Aral are already preparing for this change: A 2019 study conducted by the same shows that gas station business models are undergoing thorough conceptual revision. As a result of increasing mobility, the gas stations of the future are expected to offer an expanded range of flexible and needs-based shopping options, as well as expand to inner-city areas 2. Holistic cross-selling is to become an even greater opportunity, for example through meeting areas that can be booked for business during the charging process. So, how can you prepare your company for upcoming changes in mobility and integrate a successful EV Charging business into your existing gas station network? Below, we list six challenges you should keep in mind when developing a strategy for setting up charging infrastructure.
Get familiar with the challenges our clients most often face!
1. Time to Market
The EV Charging market is changing dramatically. For decision-makers, this means that only those who act quickly will be able to position themselves successfully and generate significant profits within a short period of time. Rapid adaptation is essential in securing the future of existing business models.
2. Grid Limitations
Energy networks that can support charging infrastructure are oftentimes not yet available. However, energy supply companies are continuously expanding their networks. Secure prioritized access to your locations by communicating with energy supply companies at an early stage.
3. High Barriers to Entry
Decision-makers in the fuel industry must get accustomed to a market environment with which they've had little to no contact. When beginning to implement your EV Charging business, invest time and external know-how to familiarize yourself with your new surroundings.
4. Managing Infrastructure
To operate your large-scale infrastructure in an efficient, profit-optimizing, and cost-efficient manner, ensure that you are acting in compliance with EU-wide regulations.
5. IT Systems Integration
Considering the size of some international structures, it is essential to create synergies within the IT and business ecosystems. Data exchange with third-party systems for customer loyalty programs, customizable APIs, (i.e., interfaces), and the integration of various payment options is a must-have for successful customer acquisition.
6. Varying Hardware Usage
Choose the right hardware. It should be compatible with your planned load management system so that you can easily manage standard and high-power charging stations. Specifically, this means that your software must be compatible with the desired hardware and can support communication.
How can I overcome these challenges?
One thing is certain: steps towards a world beyond oil must be taken today. And while the transition presents clear challenges, investment in EV Charging must remain sustainable and calculable (regardless of the operational models chosen by vendors). To implement structures as cost-efficiently and sustainably as possible, it is best to rely on a powerful combination of high-performance hardware, i.e., the charging station, and smart software right from the start. Open EV Charging platforms must be integrated into existing business models to make the most of such synergy effects.