Trevor is an Audi e-tron driver in Canada. We talked to him about how he's making the most of clean energy and condo charging. Want to be profiled on the ChargePoint blog? Drop us a line.
Tell us about yourself! What EV(s) do you have?
I purchased an Audi A3 e-tron plug-in hybrid in March 2018 as part of the trade-in offer from Volkswagen's TDI settlement. For the most part, I drive in the city on full electric vehicle mode. However, several times a year we travel up to BC's Southern Interior region, so having the flexibility of the hybrid engine gives me peace of mind.
Where do you live?
I live in Vancouver, British Columbia, Canada with my partner Joel and our dog Milo.
What do you do for work?
I work as a communications consultant. My clients are located across Metro Vancouver.
What made you decide to drive electric?
In BC, 98% of our electricity is generated through renewable sources such as hydro and Vancouver has a well-established charging network. But the real decision point was when my condo building installed four ChargePoint chargers into our underground, making charging my car a breeze.
How did you decide which EV(s) to buy?
I had always loved the A3 sportback, but Audi stopped making them in 2014. When they reintroduced it in 2016 as a plug-in hybrid, the decision was basically made for me.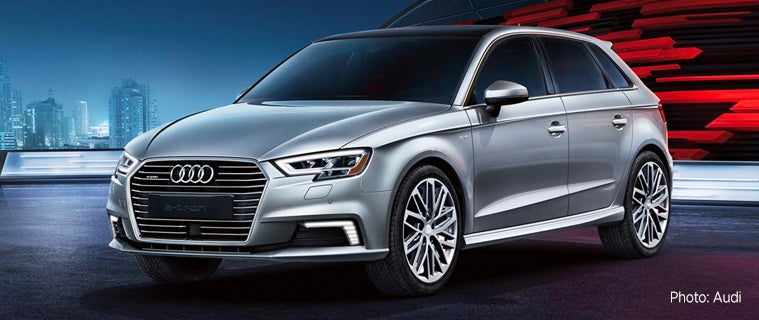 Do you charge at home?
Yes. I charge at ChargePoint charger located in the common parking area of my building.
(Condo owners, here's how to get your property management to say "Yes!" to charging. - Ed.)
Do you charge at work? Did that influence your decision to get an EV?
Yes, but the chargers at my office aren't great. I get a much better charge at home.
What's your favorite thing about driving electric?
My favourite things about driving electric are the smoothness of the ride and the fact that I haven't been to a gas station in more than three months. While I have a plug-in hybrid, 99% of the time I drive full electric.
How much do you estimate you're saving on gas?
I reckon I save about $100 per month. Right now, gas in Vancouver is about $1.50 per litre (that's $4.28/gallon for U.S. folks… yikes! - Ed.).
What are some of the challenges about driving electric, or what's surprised you?
The biggest challenge is knowing when my car is on. The electric engine is extremely quiet.
What's your favorite place to charge? Where would you most want a charging spot?
I would like to see chargers all along our provincial highways so a charge is never far away.
Plugging in my car is just as easy as plugging in my phone at night.
– Trevor, Audi e-tron driver
Where's the best place you've taken an electric road trip, or where would you like to take one?
I haven't had the chance to hit the road just yet, but I'm really looking forward to taking my new car up to the Okanagan area of BC (located in the Southern Interior region, about 400 km or 250 miles away).
What's one thing you think people should know about driving electric?
It's not life-altering. Plugging in my car is just as easy as plugging in my phone at night. And when you live in a province such as BC—which generates electricity from largely renewable sources—then you know you're making a sustainable choice.
What do you wish you'd known before you chose to drive electric?
Just how easy the switch would be and how much I truly would save driving electric.
Thanks for sharing your story, Trevor! Canadians and Americans can get our app in the App Store or Google Play: