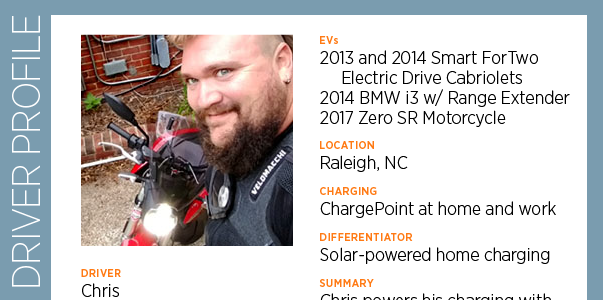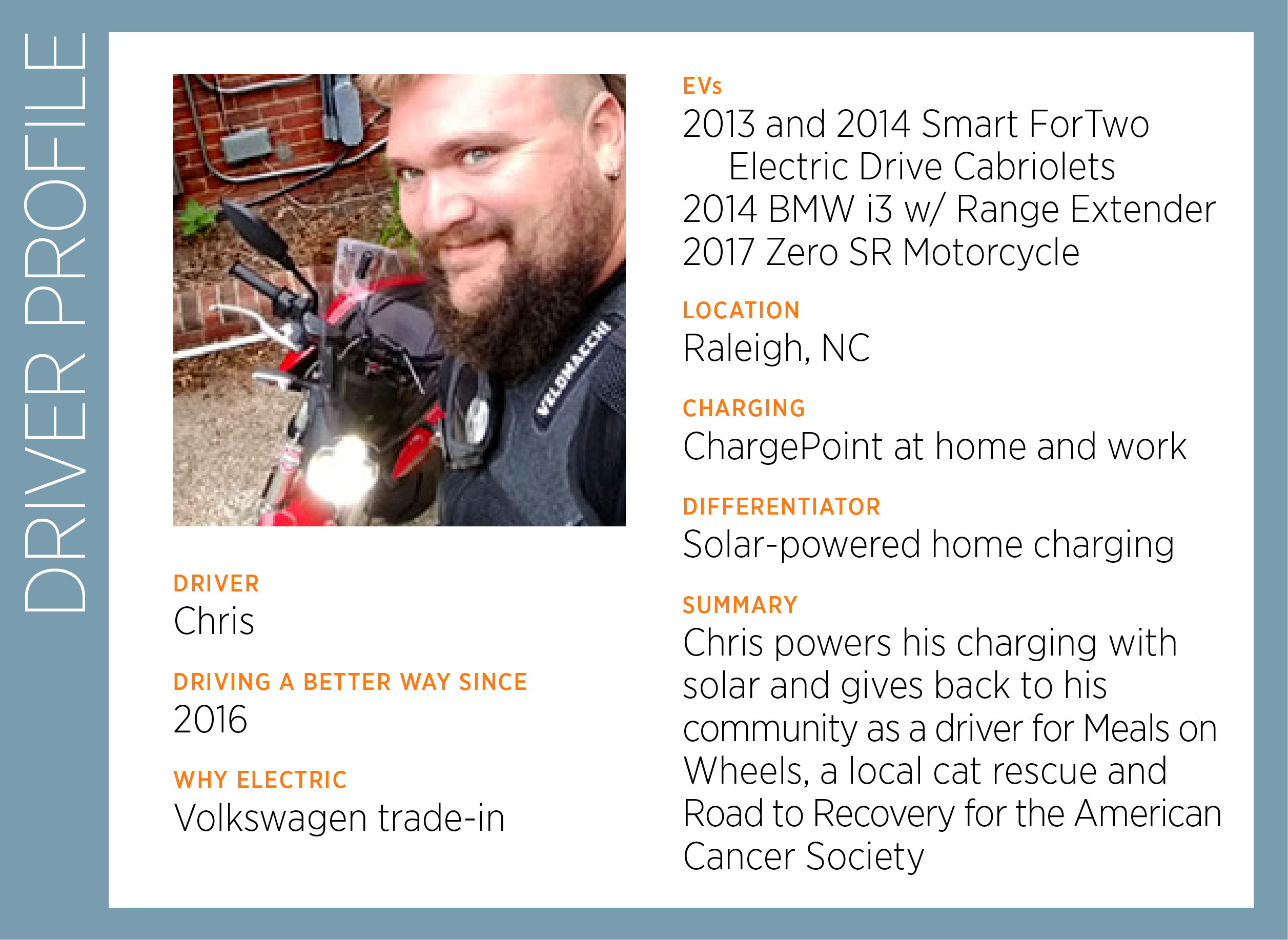 This post is part of a series of EV Driver Spotlights that shine a light on why people choose to drive electric. Want to be profiled? Tell us your EV story.
Chris and his partner John live in North Carolina, where they charge their four EVs with solar power and give back to the community by driving (electric) for Meals on Wheels, a local cat rescue and Road to Recovery for the American Cancer Society.
Tell us about yourself!
My name is Chris Browder and I am a computer system programmer at North Carolina State University. I like to think I am a garden variety geek, but that's probably just as misleading as saying Texas is kinda big. I live in North Carolina with my partner John.
What do you like to do?
I have a passion for volunteering. I do a local Meals on Wheels route in my Smart electric, and do longer transports for a Siamese Cat Rescue Center using the BMW i3. I'm in process to be a Road to Recovery driver for the American Cancer Society, giving cancer patients free rides to and from chemotherapy. 
When I'm not helping others or animals, I enjoy reading (a great activity to do while charging), baking and making things with my 3D printer.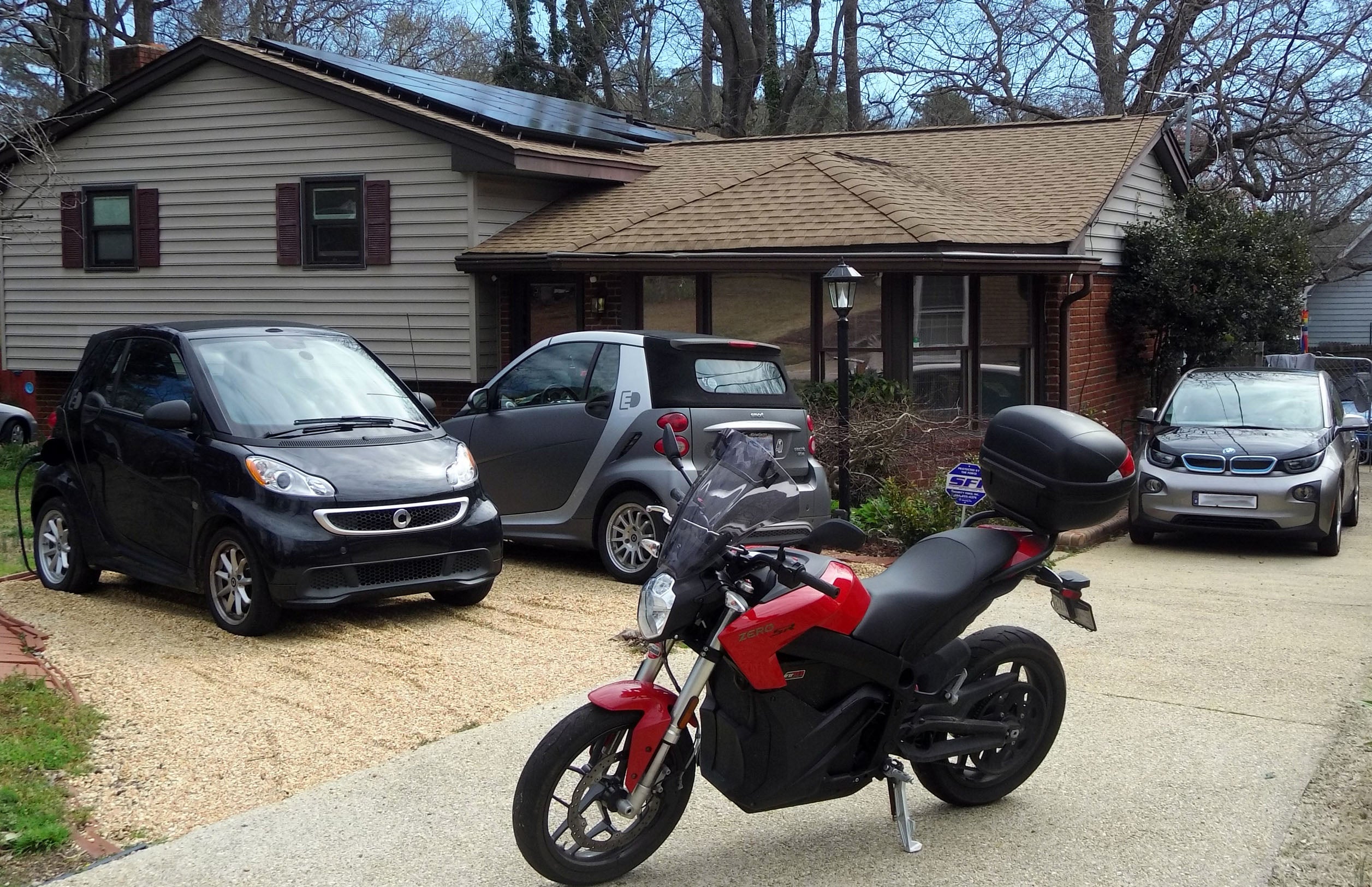 How long have you been driving electric? What made you decide to drive electric? 
I turned in my grey convertible diesel Volkswagen Beetle on April 1, 2016, and on April 4 a grey convertible electric Smart replaced it. On April 6, I drove John to the motorcycle dealer in the electric car to pick up his new 2015 Zero electric motorcycle. Since then, we've gotten two more EVs. They really are contagious!
How did you decide which EV(s) to buy?
I'm a convertible enthusiast and the Smart is the only electric convertible sold in the world. The Zero isn't the only electric motorcycle, but John liked the company's story and we had a local dealer. John commuted on the Zero for over a year, but said the gear was a hassle in the southern heat. He bought his own Smart electric earlier this year. I recently upgraded the 2015 Zero to a 2017, and I plan to commute with it from spring to fall.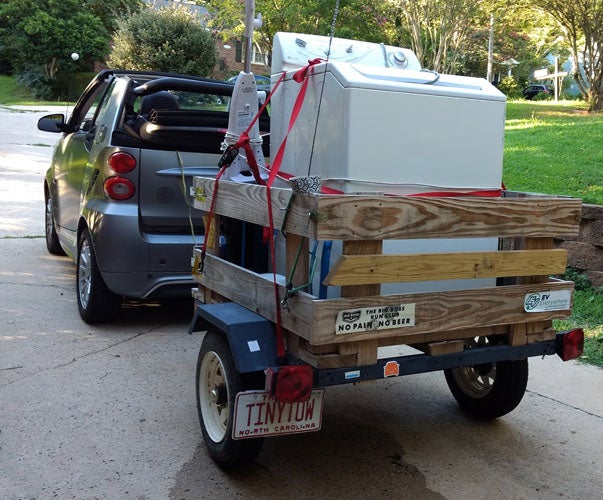 The Smart is the only electric convertible sold in the world. (You can tow with it, too!)
The BMW i3 replaced my 2009 Mazda 5 van; I needed something long-distance capable. I have driven the i3 1055 miles round trip, and a friend of mine took it 2700 miles to Florida and back. The bulk of these miles were using the manually engaged 649cc generator to keep the battery level above 65%. 
Many people wonder why I didn't buy a Volt. Three reasons: the BMW was cheaper, I fit in it better and I didn't want a car that was built gas-first, electric-second. I wanted an electric car that put gasoline in its place—detached from the wheels and running an engine at a constant speed for predictable emission output (and regulation), while providing a full electric driving experience. Essentially, I didn't want a car with a "transmission," so to speak.
I didn't want a car that was built as gas-first, electric-second. I wanted an electric car that put gasoline in its place.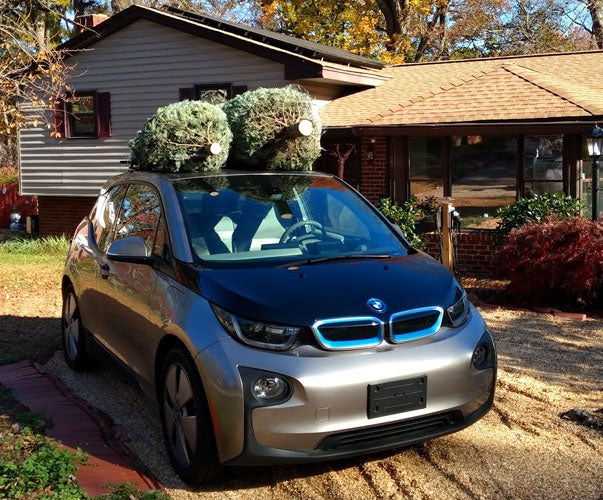 What's your favorite thing about driving electric? 
Knowing that I'm driving for free. There really is no way to describe how it feels to know that every time you plug in the car, your roof is covering the cost. I also really love the torque and regenerative braking—it reminds me of engine braking in a manual transmission vehicle (fun fact, the only automatic I've ever owned has been the electric cars). 
My favorite thing about driving electric is knowing that I'm driving for free.
Another thing that's really grown on me is the quietness. When I commute with the top down on the Smart early in the morning, I can hear the birdsong, the water in a creek I didn't know was there before. I hear so much nature, it's really serene. Also, one of my many hobbies is photography, and being on the electric motorcycle lets me pull right up next to birds and other wildlife to photograph them. I could never do that on a gas bike.
Since I ride a motorcycle, the lack of heat is great (no burned ankles). You have no idea how hot that invisible exhaust is, until you've been on a two-wheeled vehicle stuck behind a car.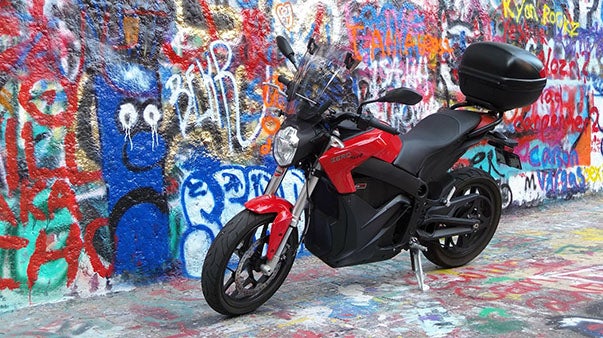 How do you advocate for EVs?
I've been involved with Plug-in NC, which puts on community and commercial events like Love Your LEAF, which showed fleet managers how much they can save with EVs. There are also a few Electric Auto Association chapters, and I've taken my EVs to events like the Greensboro Odyssey. 
Have you converted others to driving electric? 
I have a few converts under my belt. A friend who drove our Smart car back from the Greensboro Odyssey EV showcase fell in love and bought his own Smart three months later. My friend Jason bought a Fiat 500e while visiting us in Raleigh, and I drove the car 380 miles to his house in South Carolina. Several coworkers have expressed interest in the Smart, and I took a former neighbor to get his LEAF. My old neighbor doesn't drive more than 30 miles a day, but what really won him over was the lack of maintenance. He didn't want to deal with the stress of going in for a simple oil change and being told he needed $1,000 in other repairs. With an EV, that doesn't happen.
Interacting with other people has shown me that everyone's got a different reason for driving electric. I love it because it's efficient, cheap to operate, not a lot to maintain, very low long-term costs. If you enjoy performance, there's no greater thrill than when you stomp on the accelerator and the EV moves with rocket-like torque.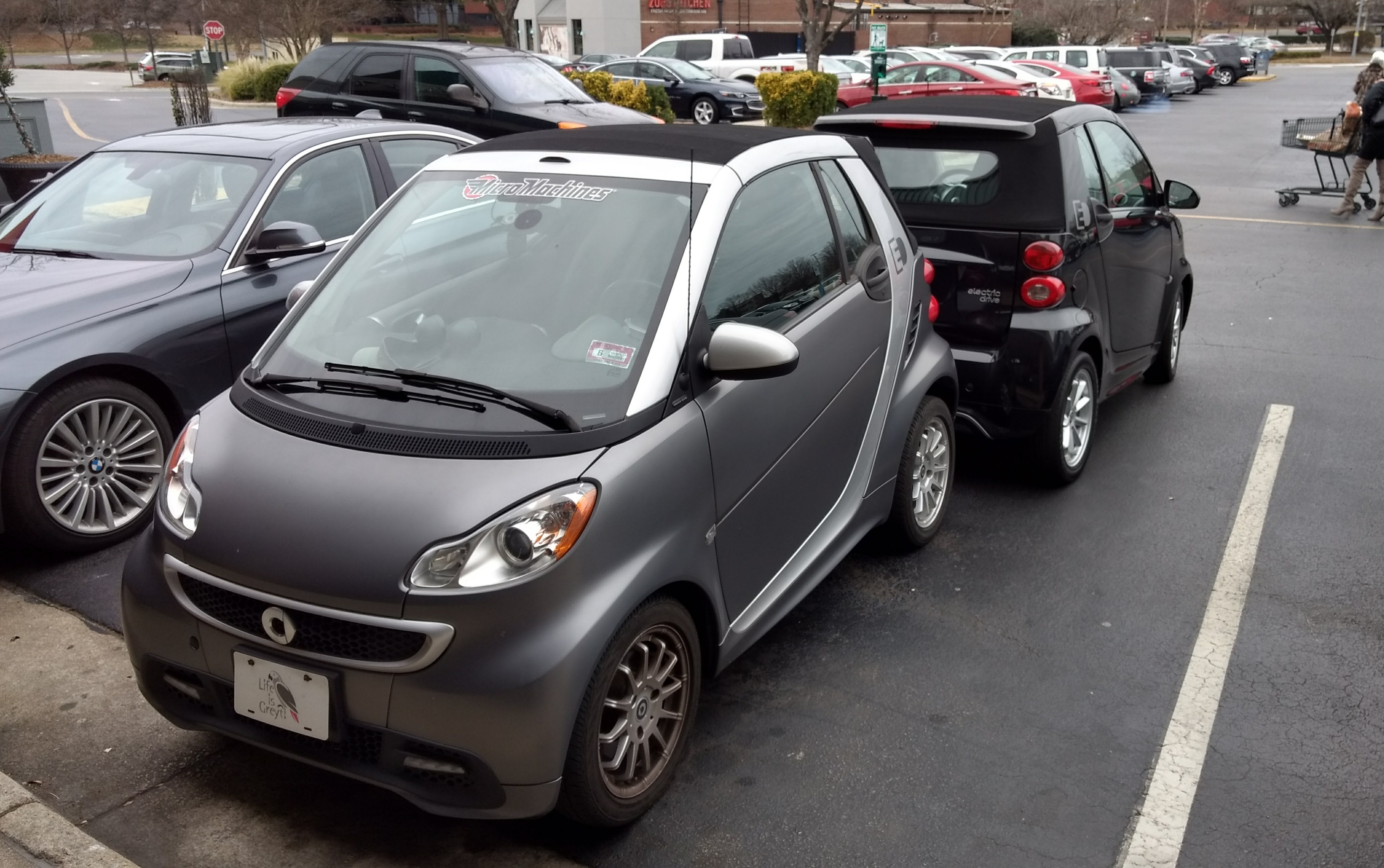 What's one thing you think people should know about driving electric?
It's stupid cheap. If you assume 3.1 miles per kWh, it costs less than 4 cents per mile to drive an EV, including insurance and (very limited) maintenance costs. If you do charity driving like I do, you get a 14-cent per mile credit on your taxes. Do the math there. Driving for Meals on Wheels and Road to Recovery becomes profitable, instead of merely subsidized. I would love it if more people would drive electric cars and volunteer for charities because it's actually affordable. 
Driving electric is stupid cheap.
Do you have your eye on your next EV yet?
I'm planning to hang on to my current fleet for a while, probably at least until 2021. However, I will be the first buyer of the Microlino when it comes to the U.S.—I've got a thing for microcars! By the time I'm ready for a new car, there will be a lot more options on the market. The Volkswagen ID Buzz concept is interesting and I could also see myself in the Tesla Model Y. Anything's possible!
Thanks for telling us the start of your EV story, Chris! We'll be back in two weeks with more on Chris' home charging setup and his EV road trip plans.