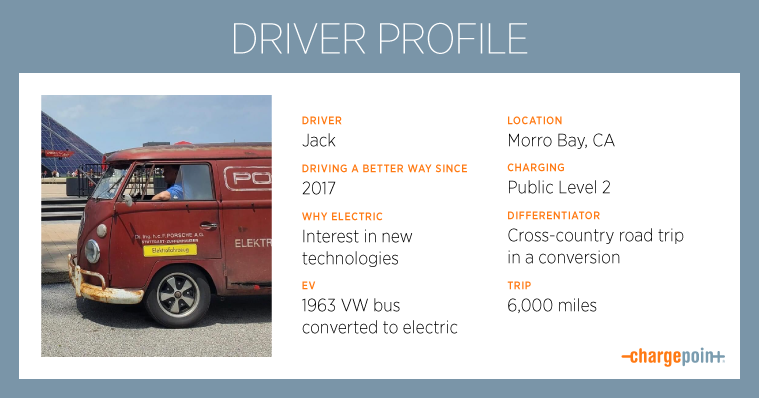 The iconic Volkswagen bus may not be available in electric just yet (the all-electric VW ID.Buzz is eagerly anticipated for 2024), but that hasn't stopped VW enthusiasts Jack Smith and friends from traveling across the country and back in a 1963 VW bus that was converted to electric. Their route traced the first road trip across America from San Francisco to New York City and returned by the Lincoln Highway.
In 1903, Horatio Nelson Jackson, Sewall K. Crocker and Jackson's trusty pup Bud made the first cross-country automobile trip, driving from San Francisco to New York in a two-cylinder, 20-horsepower Winton motor car, to win a $50 bet. The trip cost $8,000 at the time ($260,000 today) and involved some goggles, extensive repair work and a whole lot of stops for gas. The Lincoln Highway, dedicated in 1913, is the first transcontinental road for automobiles in the United States, traveling over 3,000 miles and marking plenty of points of interest along the way.
Jack's 6,000+ mile trip proved that EVs can truly handle everything and do it all, from the Kingsbury grade to downtown Manhattan. We talked to him about the long, strange trip and the friends he made along the way.
What do you drive (or ride)?
My first EV was an electric skateboard. I bought a 2011 LEAF in 2017. The vehicle for this adventure was a 1963 VW bus that has been converted to electric by EV West in San Marcos, CA.
I've pushed a skateboard across America four times (relay style): 1976, 1984, 2003 (in memory of my son, Jack Marshall Smith) and 2013. The 2003 push set the record for the fastest crossing, 21 days. In 2018 I rode an electric skateboard across America with my wife Cathy as support person.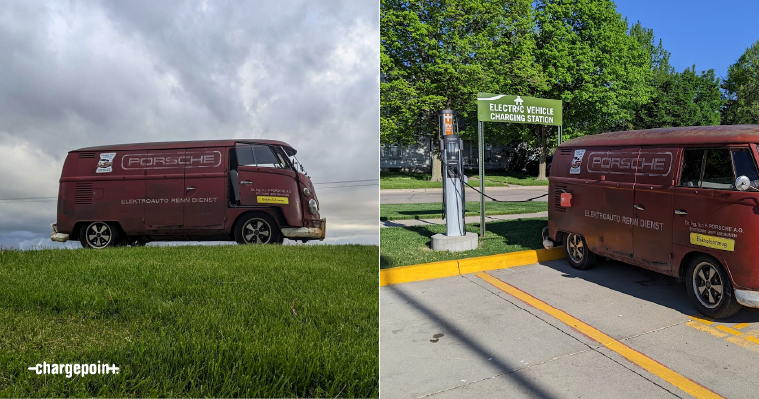 What made you decide to go electric?
I've always been interested in cars and new technologies. Seeing a Tesla Roadster in 2009 spurred my interest in electric vehicles.
Do you see many other EVs around where you live?
Yes, and the number of EVs in San Luis Obispo County seems to be growing quickly.
What do you do for work (and fun)?
I'm semi-retired. I still do some work in the electric skateboard industry. I wrote and produced "New Providence," a feature film that was released in 2021. I ride electric skateboards, traditional longboard skateboards, bicycle, hike with my wife Cathy, play disc golf and also a bit of basketball.
Where do you usually charge? Do you have a favorite charging spot?
At the NHC Dispensary in Morro Beach, it's my favorite.
How much do you estimate you're saving on gas and maintenance?
I sold my 2011 Nissan LEAF in 2021, so my wife and I could buy a 2002 Volkswagen Eurovan for traveling. When I had the LEAF, I saved about $200 per month not purchasing gas. In the four years I owned the LEAF, the only maintenance I did was refilling my windshield wiper fluid.
Where's the best place/favorite place you've taken an electric road trip?
Retracing the 1903 route that Horatio Nelson Jackson used when he became the first person to cross America by automobile. On our return leg, we followed the 1913 version of the Lincoln Highway which was also used by the first military convoy across America in 1919.
Anything else you want to tell us about your epic EV road trip?
Being able to make this trip with two great friends, Mike Adamski (Horatio portion) and Larry Newland (Lincoln Highway portion) made this adventure even better.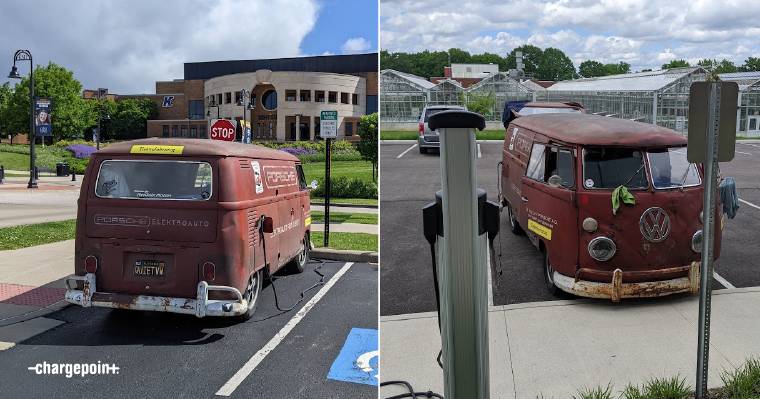 Just as with my five skateboard crossings of America, the people that we met were the highlight. It was an amazing way to see America, of the 6,000 plus miles we drove, less than 300 miles were on interstate. We loved passing through small towns, many of which are sadly fading away. The wide-open west is my favorite area to drive through. We even had fun driving into New York City, and we finished the west to east crossing at the corner of Fifth and Broadway, the same place Horatio did in 1903.
What's your favorite thing about driving electric?
The quiet, the incredible acceleration, the reduced energy costs and also the zero emissions.
What's one thing you think people should know about driving electric?
Be prepared for lots of questions from your friends and naysayers!
Thanks, Jack! Drivers, want to be profiled? Contact us!