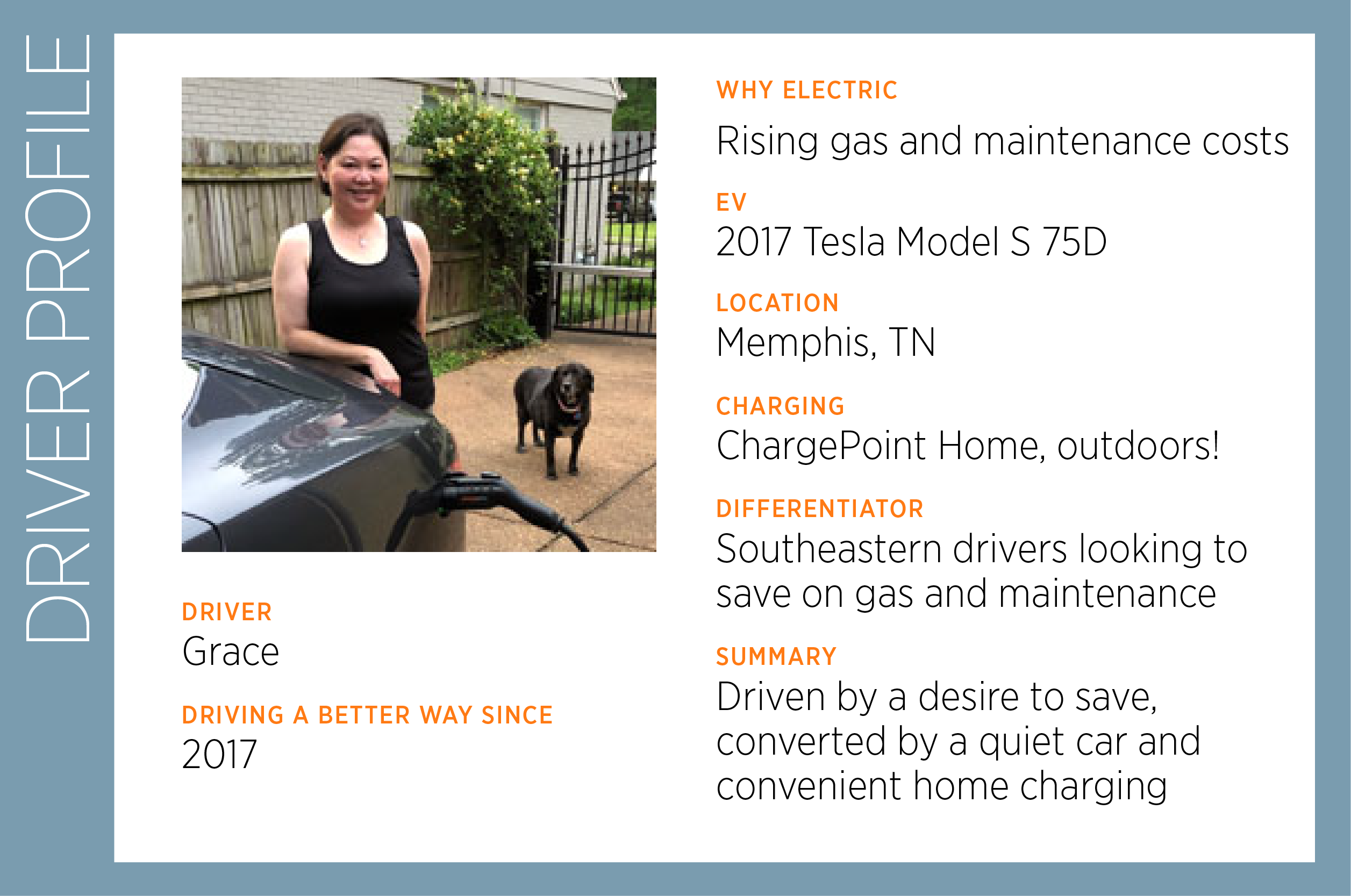 This post is part of a series of EV Driver Spotlights that shine a light on why people choose to drive electric. Drivers, want to be profiled? Tell us your EV story. 
What do you do for work (and fun)?
I work for an marketing company that designs and produces exhibits for trade shows [including some for ChargePoint!]. For fun, I've gotten back in the gym and have taken up Zumba, spin, kickboxing and yoga. I also like to travel. Most of my travel is for work, but occasionally, fun trips come around, and we tend to pick locations based on places to eat. When I'm at home, it's nice to hang out with my husband and two dogs.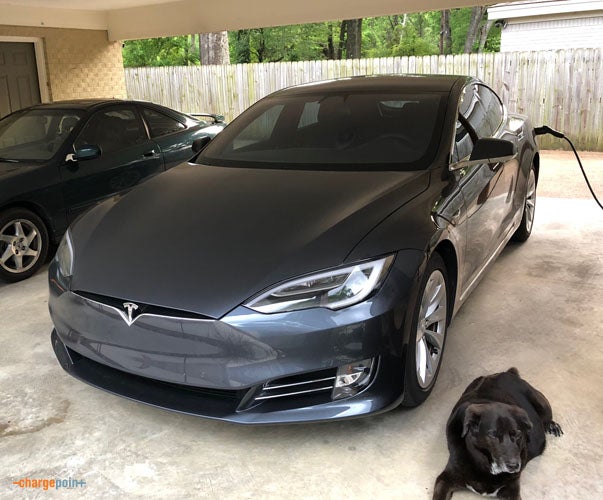 How long have you been driving electric?
I've been driving electric for almost a year!
What made you decide to drive electric?
Gas prices and the cost of ownership for a gas car are the main reasons we chose to drive electric. We are a two-car household: my husband drives a 1998 Acura Integra GSR and I used to drive a 2007 Acura TL. We keep our cars for quite some time and found that we were spending a lot more money servicing the 2007 car than the 1998 Integra. After talking with friends and learning a bit more about electric vehicles, it made sense for us to consider an EV. There are no oil changes or other costly maintenance with an EV. So, we took the plunge and got a Tesla. Now, we have a 20-year-old car that runs well and an EV!
How did you decide which EV(s) to buy?   
In Tennessee, there aren't a lot of dealerships that carry EVs. We don't have a Tesla store in Memphis. The closest is in Nashville, about a two-hour drive away. But my husband did a lot of research on Teslas. We test drove one in California and fell in love with how quiet it is. We don't worry about range because we get about 259 miles, give or take, depending on conditions. Of course there is the sexiness of the car too. :)
Do you charge at home? What charger do you use?  
We charge at home. In Memphis, a lot of places haven't adopted public chargers yet. I'm hoping that will change. We have a ChargePoint Home installed outdoors for us to use in our carport.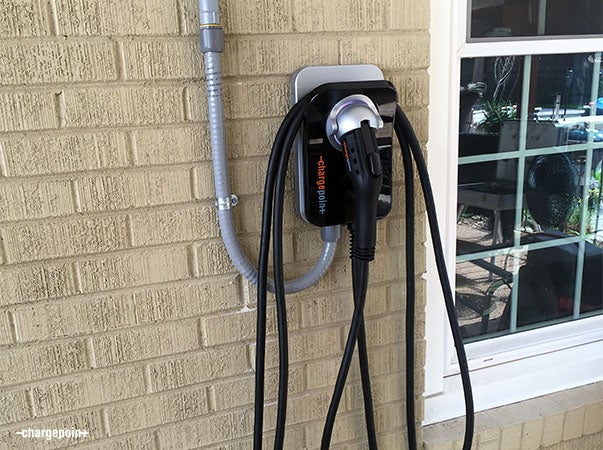 How did you pick your home charger?
I've known about ChargePoint Home since it first launched at CES 2015. It's small and looks great. I love the app because it lets me see how long I've charged and the approximate cost to charge the car. Now that it's Alexa enabled, that's another level of convenience. I can just ask Alexa to start a charge or let me know how many miles I added on my last charge.
What's your favorite thing about driving electric?  
The instant torque! (We're probably going to have to replace my tires sooner than expected… there goes the maintenance benefit of EVs.) When we first got the car, I would love being the first person at a red light. As soon as it turned green, I would just hit the pedal and go!
I was also thinking that it's amazing how quickly I stopped looking at the price of gas. I don't remember the last time I passed a gas station to comment on how low or high gas prices were. It's a great feeling!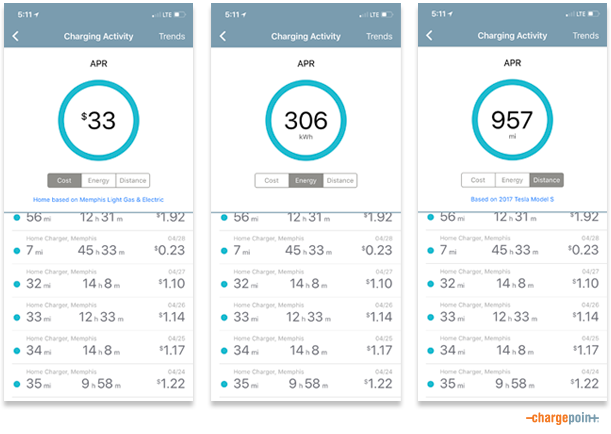 How much do you estimate you're saving on gas?  
We're probably saving about $50-$70 a month.
What are some of the challenges about driving electric, or what's surprised you?  
It was a bit surprising how cold weather would affect range. Most of our driving is local so it's not that big of a deal.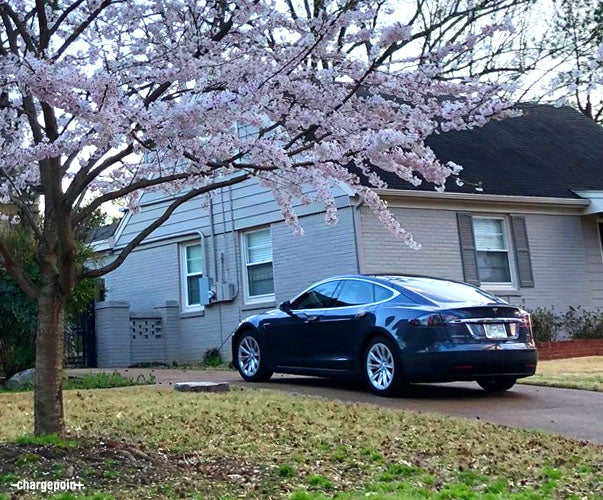 What's your favorite place to charge? Where would you most want a charging spot?  
My favorite place to charge is at home. Our winters can drop down to below 30 degrees, and we have a carport, so plugging in at home is still "outdoors." I use the Tesla app to heat up the car while it's still plugged in, so I am pulling electricity from the charger and not the car. It's a big bonus in the winter to get into a warm car.
With the Tesla, we also get to take advantage of Superchargers. I don't go much since I charge at home every day, but whenever I go to the Supercharger in town during lunch, I get a notification that charging has been completed before I'm finished eating.
I would love to see even more charging locations around business parks, shopping centers, and other public places. I've noticed that even with new developments, chargers are not always going into the parking lots from the start. Maybe we need some EV Ready building codes here!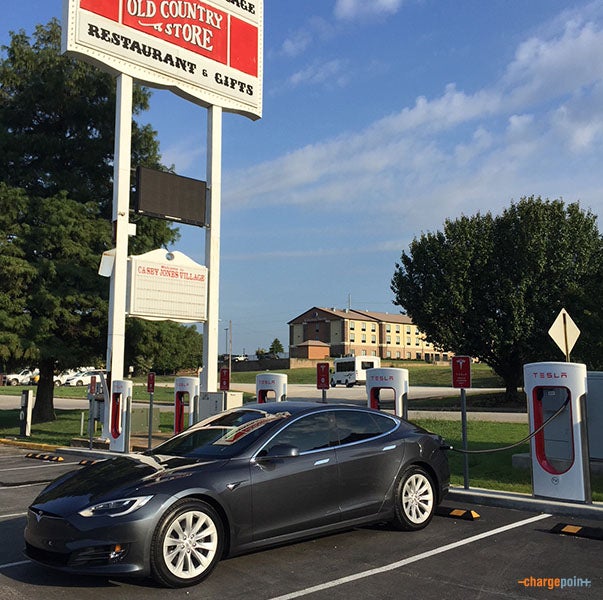 Where's the best place you've taken an electric road trip, or where would you like to take one?  
We took our first road trip with the car about two months after we got it: we went to Nashville to see the eclipse, which was exciting. We're planning a second trip soon, either to St. Louis or possibly to Lambert's Café in Sikeston, Missouri—home of the throwed rolls!
What's one thing you think people should know about driving electric?  
Driving electric is nothing like driving a gas car. The mindset is different. I talk to people and usually the first question is always, "What if you run out of electricity?" They don't understand it's not like getting gas where you just fill up and leave. Charging stations can be at work, at malls, restaurants and other places where you can plug in and run errands. And, the great thing is that because stations are at places that you would normally go to, you don't have to make a separate stop to "fill up." You just plug in while you are doing your thing, then hop in the car to get to the next destination. If there isn't a charger at the location you are going to, there are apps like ChargePoint that can show you where there are available chargers close by.
What do you wish you'd known before you chose to drive electric?  
For us, it was running the power to the charger at home. Our electrical box is on the opposite side of the house from our carport, so we had an electrician run conduit to the other side of the house. That was a bigger project than we anticipated. Other than that, everything's been a breeze so far!
Thanks for sharing your story, Grace! We hope it inspires others to choose electric vehicles.