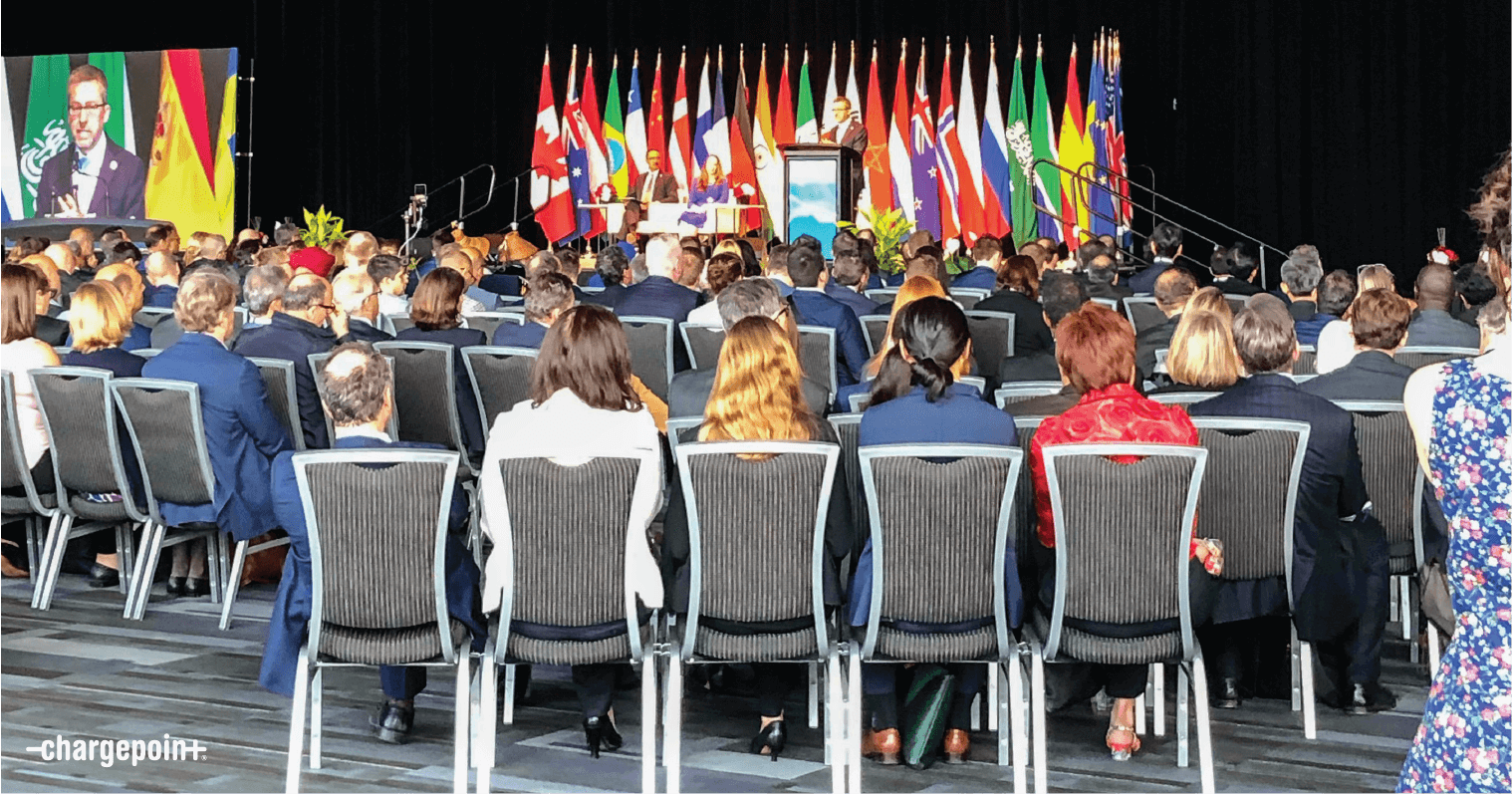 With a commitment to 100% renewable energy by 2050, Vancouver, BC has one of the most ambitious climate targets of any urban center in the world. It was fitting then that the city was chosen to host this year's 10th annual Clean Energy Ministerial (CEM10) Conference, one of the world's premier stages for promoting sustainability and exploring innovative ways to take on climate change. Delegates from more than 25 nations gathered in Vancouver to discuss priorities and strategies for achieving a clean energy future. While that's no small undertaking, the best minds in the world—from government, international organizations and the private sector—were energized for the challenge. Due to the importance of this monumental endeavor, I was honored to share the stage with some of the sharpest minds in sustainability at Leading the Way to a Cleaner and "Smarter" Energy Future, a CEM side event co-hosted by ChargePoint and General Electric (GE).
The fireside chat was both well attended and well received. Pierpaolo Cazzola, the Senior Energy and Transport Analyst with the International Energy Agency (IEA) moderated a lively conversation between the audience, California Energy Commission Chair David Hochschild, GE Energy Consulting's Managing Director, Gene Hinkle and me, representing our North American Policy team. Because the transportation sector accounts for nearly 30% of the planet's greenhouse gas (GHG) emissions, there is an excellent opportunity for organizations that want to make a big difference for the environment by switching to electric, while also gaining a competitive advantage in their industries.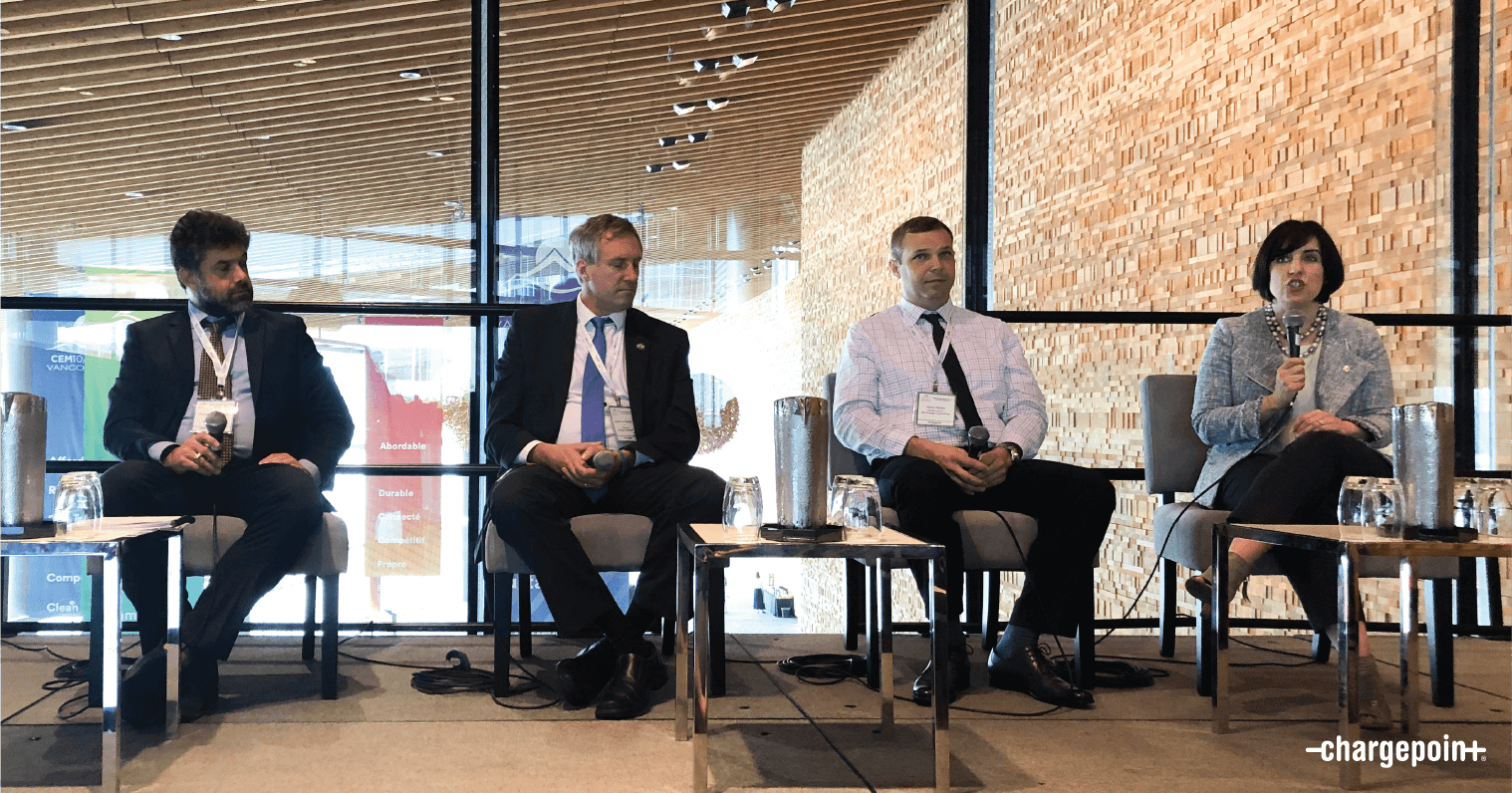 "There are a number of opportunities for businesses to engage in e-mobility and any parking lot can become part of the fueling network." – Colleen Jansen, Chief Marketing Officer and Senior Vice President, North America Policy, ChargePoint
As I told the audience, "There are a number of opportunities for businesses to engage in e-mobility and any parking lot can become part of the fueling network." I noted a number of nodding heads. This seemed to resonate with a number of attendees. I spent much of the hour-long session, the Q&A and in post-event one-on-one conversations interacting with business leaders about all the ways driver behavior will necessarily shift in tandem with the mass-adoption of EVs. No longer shackled to inconvenient and busy fueling stations, EV drivers will charge wherever it's most convenient to do so—whether that's at work, at home in their multi-family residence, while out shopping or on the road. I also explained how easy ChargePoint makes it to get started and how quickly they'll realize a positive ROI on their charging investment. With incentives, rebates, tax credits and our new subscription model, ChargePoint as a service, it's also far more affordable to get started than ever before, while participating in change everyone agrees is crucial.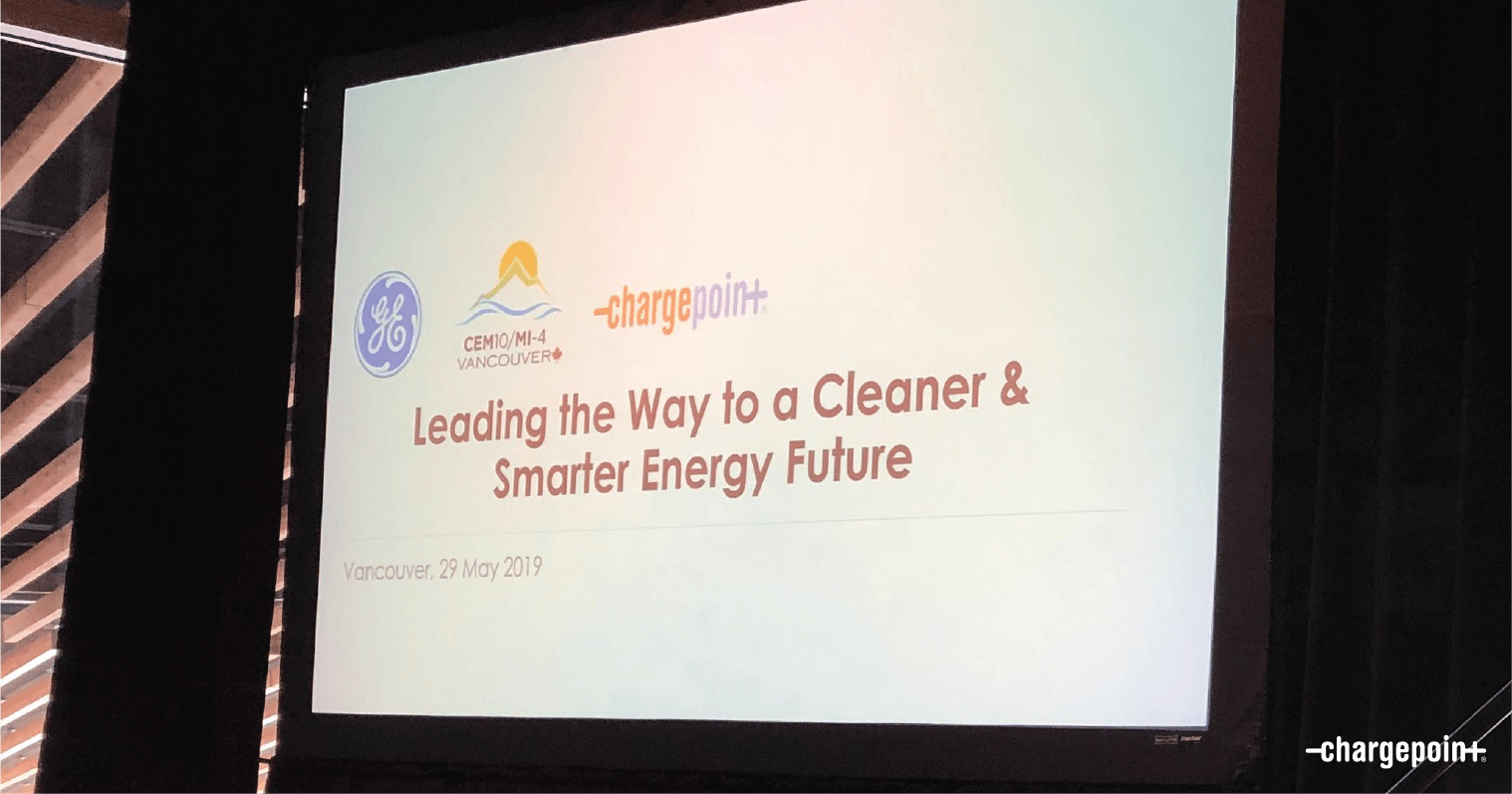 Ahead of CEM10, Canada's Minister of Natural Resources, Amarjeet Sohi, predicted, "We will continue to be competitive in the growing clean energy market." Solving the world's climate challenges will take an all-hands-on-deck approach but based on the enthusiasm I saw at CEM10 and experienced in our panel discussion, I'm more optimistic than ever that we can surpass even the most ambitious of sustainability goals. In fact, I'd add to Minister Sohi's sentiment that those who adopt clean energy for their own organizations and industries won't just be competitive, they'll be leaders. By helping better manage the grid and supporting renewable energy generation, the electric fueling technologies of tomorrow are already beginning to deliver benefits beyond the obvious ones. It's an exciting time to be part of the revolution and I think I speak for all of us at ChargePoint when I say I can't wait to see what's next.
To discover how ChargePoint is showing up and making a difference, check out our Events page.
.blog-author-info{ margin-bottom: 15px; }