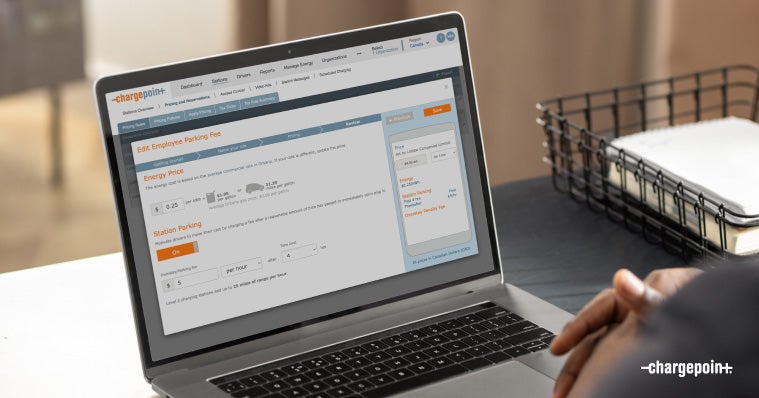 Drive an EV at any time and use a public charging station, and the first thing you'll notice is how you'll be charged for fueling. Until now, in most parts of Canada, drivers have been billed for electric fueling at either a fixed rate or by the hour.  The ability to bill by kWh provides greater flexibility and transparency for EV drivers and station owners. That's why we've been working diligently with Measurement Canada, the agency responsible for ensuring the integrity and accuracy of trade measurement, to enable our customers to bill by kWh in Canada. Here's why this work matters — and what it means for ChargePoint customers and drivers.
What is a kWh?
To provide some context, kWh is short for kilowatt-hour, a common unit of measure for electricity, such as how much energy is dispensed from a charging station to an EV. Your energy bill from your utility will also show how much energy you have used in kWh, for example. Just like a litre (or gallon) of gasoline is burned to move a gas-powered vehicle, an EV uses kWh of electricity dispensed from charging stations to charge the battery that powers the motor. As your battery depletes with vehicle usage, your stored kWh diminishes until you recharge. The kWh stored are dependent upon the size of a vehicle's battery, so cars with smaller batteries may need to charge more often. Different vehicles may also charge, or add kWh to the battery, at different speeds 
Why is the ability to bill by kWh important?
ChargePoint makes it easy for our customers to set pricing for drivers by time, session, kWh (where allowed) or some combination. Billing by the kWh adds transparency and can be more fair because vehicles from different generations, with varying battery sizes and technologies, can draw power from a charging station (particularly a DC fast one) at different speeds. As such, older EVs may require more charging time to add the same amount of power as EVs with the latest battery technologies, increasing charging costs for owners of those vehicles. Dispensing by kWh can provide a more transparent and potentially more equitable way to fuel EVs.
For charging operators, charging drivers by the kWh can lead to a more predictable revenue stream and enable charging at a price that is easier to understand than the variable amount of power provided during time-based billing. To foster fairness and ensure all drivers get a chance to charge, ChargePoint also provides the ability to set "overstay" fees after a certain amount of time, encouraging drivers to move their vehicles once they get enough charge. This is particularly important for DC fast charging, which can slow down after a battery is about 80% charged and also varies more in speed depending on vehicle technology.
What do the new rules mean?
Until recently, it was not legal to bill for EV charging services by the kWh in Canada. New rules — Temporary Dispensation — introduced by Measurement Canada now make this possible for publicly accessible charging stations. Station operators looking to start billing by kWh need to take certain steps like registering with Measurement Canada and agreeing to their terms and conditions, using charging stations that provide a minimum level of accuracy in electric metering and displaying a message to drivers about station approval. We're here to help you understand these steps in more detail.
Where do I start if I want to bill by the kWh?
As of February 20, 2023, customers who operate publicly accessible Level 2 and DC fast charging stations in Canada can offer kWh billing, subject to registering with Measurement Canada and meeting its specific terms and conditions.  
Station owners can register by filling out this form and submitting it to Measurement Canada. There are no fees to register, and Measurement Canada's service standards offer a response time of 30 business days for under 50 stations and 60 business days for over 50 stations. Stations approved to dispense kWh under this program must provide this message to drivers on the display screen or in the app: 
This device is temporarily authorized to be used for the purpose of obtaining the basis of a charge for electricity, under terms and conditions established by Measurement Canada. 
How does ChargePoint help me to do this?
The new Measurement Canada rules require that EV charging stations be certified as meeting a minimum level of accuracy in electric metering and that prices to drivers are clearly displayed and communicated. Fortunately, ChargePoint hardware and software solutions have you covered.
ChargePoint is proud of having developed an extensive EV charging testing program that ensures the reliability, accuracy and durability of our stations, and we were the first provider to earn California Type Evaluation Program (CTEP) approval for AC stations in 2021. Both ChargePoint commercial AC stations, the CT4000 and the CP6000, have been approved by Measurement Canada for accuracy to offer kWh billing. At present, there is no minimum accuracy requirement for DC stations. These requirements will start July 1, 2024, and ChargePoint will be ready for Measurement Canada approval.
ChargePoint software, station displays and driver app make it easy for drivers to see the cost of a charge, including any parking or overstay fees. When the charging session is done, a charging summary receipt is provided on the station screen and in the app.
How do I set pricing?
Once you have received approval from Measurement Canada, you can start billing by kWh. ChargePoint makes it easy for our customers to set pricing by time, kWh and more. For help setting pricing, ChargePoint station owners can view the "How to collect payment" resources accessible from the help section of the ChargePoint cloud software. 
Moving forward 
This opportunity to bill by kWh is entirely under the discretion of the station owner — no one will be forced to change. If you'd like to keep billing by time or a fixed rate, please continue to do so.
If you have any questions about this change or what you need to do, please contact our knowledgeable customer success team, who will help you every step of the way.