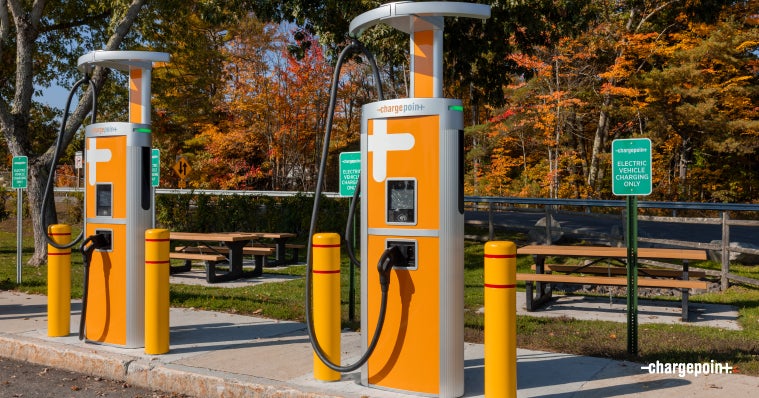 ChargePoint has always worked to make going electric easy for drivers and businesses alike. Now that even Kevin Bacon is driving electric, it's clear that EVs have arrived. As EV sales continue to accelerate, widespread fast charging deployment will become more necessary to help drivers take long trips and support fleet vehicles in making important deliveries.
The Inflation Reduction Act (IRA) and associated National Electric Vehicle Infrastructure (NEVI) program funds are ushering in "a new phase for the North American EV market," according to BloombergNEF. NEVI funds can cover up to 80% of EV charging project costs, and additional IRA provisions include attractive investment tax credits for installing battery energy storage systems.
Integrating charging, battery storage and solar helps control costs
Several factors contribute to the cost of installing and operating DC fast charging sites, including the electrical infrastructure upgrades necessary to supply a large amount of power and the expensive demand charges incurred when demand for power exceeds a certain threshold. For years, ChargePoint energy management software has been helping fleets and other organizations mitigate these demand charges and make EV charging even more affordable.
Now, ChargePoint is partnering with Stem, an AI-driven clean energy solutions provider, to develop an integrated EV charging and battery storage solution to start fast charging buildout prior to completing utility upgrades and avoid demand charges. The integrated approach will also have the potential to support reliability and grid resilience, as battery storage capacity will enable EV charging to continue even in the event of a grid outage. Organizations also have the option to add solar panels to provide affordable clean energy and further reduce greenhouse gas emissions.
Additional partnerships accelerate electric mobility
Working with Stem is just the latest in a series of partnerships that ChargePoint has established to ease the transition to electric for drivers and businesses alike. We're working with Volvo and Starbucks to roll out fast charging at Starbucks stores so drivers can charge up in the time it takes to enjoy their special drink. Mercedes and ChargePoint are also working together to establish more than 400 fast charging hubs to support long-distance electric travel. The breadth of partnerships that we have established is what it will take to make charging an EV as easy as sipping a latte (or some diner coffee).
Get funding for your integrated project
NEVI program funding is becoming available to support the rollout of DC fast charging sites across the United States. Organizations looking to secure NEVI funding, accelerate EV charging rollout and manage costs can work with ChargePoint and Stem to meet their EV charging goals. We'll help identify the best locations for integrated charging and storage, as well as explore the right funding opportunities for you. Ready to get started?