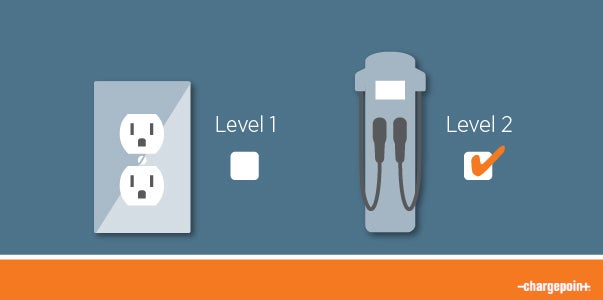 About 25% of vehicles sold are expected to have electric engines by 2025. Around the same time, battery costs will intersect with conventional vehicle costs, accelerating electric vehicle (EV) development. As a result, EV charging is becoming an important amenity for businesses to offer their customers, employees and residents.
EV charging options range from plugging into a regular wall outlet to investing in networked charging stations. All the options can be confusing, but we're here to help you understand what different charging levels and networked charging options mean for your organization. Read on for a crash course in EV charging and get the full details from our guide to making the right EV charging choice.
Tap Into the Top Up Model
Research into EV charging stations starts with understanding the EV driver experience. Recharging an electric vehicle is different from refueling a gas vehicle. Instead of going to a gas station when the tank is empty, EV drivers charge wherever they park, adding range at home, at work, around town or out of town. Known as the "top up" model, this unique approach means that EV charging can happen anywhere, making it a good choice for all kinds of businesses.
"Level Up" for Enough Range
Comparing Level 1 and Level 2 charging shows how much better Level 2 is for the EV driver experience.
Level 1 Charging
Level 2 Charging
Electric and Power Specifications
120 Volt, 20 Amp circuit
1.4 kW
208 – 240 Volt, 40 Amp circuit*
6.2 – 7.6 kW**
Time to Fully Charge an EV with a 100-mile Battery
17 – 25 hours
4 – 5 hours
Drivers Served per Station per Day
1
3 – 4 or more
*For overcurrent protection, the National Electrical Code (NEC) requires conductors and circuit protection to be sized for continuous duty and have a rating for at least 125% of the maximum load. EV charging loads are considered to be continuous.
**The Level 2 standard supports higher charging rates, but stations and cars that support it are not widely available.
EV drivers' desire for reasonable range makes Level 2 charging preferable to Level 1 charging for most organizations. Level 2 charging adds about 25 miles of Range Per Hour (RPH), while Level 1 charging only adds about 4 miles of Range Per Hour. Because it takes nearly a full day to charge an EV, Level 1 is just too slow for the amount of time that most drivers spend at a typical business, so it won't attract them. Level 2 charging also allows an organization to serve many more drivers in a day, bringing in more customers.
"Networked Level 2 charging stations offer features that allow station owners to carefully balance throughput (cars charged) and driver satisfaction (miles per charge)."
– Level 1 Versus Level 2 Charging: Making the Right Choice
Networked Stations Offer Additional Control
Beyond offering faster Level 2 charging to drivers, organizations should look into networked EV charging stations, which have many advantages. EV drivers can find networked stations through a mobile app. Being connected to a network lets station owners manage who can access stations and how much it costs drivers to charge. You can generate reports on who uses networked stations and how often, creating a clear picture of how EV charging is benefiting your business. Networked stations make economic sense because smart power management can share electrical capacity, avoiding expensive infrastructure upgrades. As a final bonus, networked stations can update with new software remotely over the air, so they're always up to date with the latest features for you and your drivers.
By contrast, Level 1 stations are typically not connected to a network, so drivers have no way to find them, and station owners have no way to remotely monitor, manage, repair or update them.
The information in this post should get you off to a good start, but there's still much more to learn about EV charging. Dive into the details in our new guide: Level 1 Versus Level 2 Charging: Making the Right Choice.