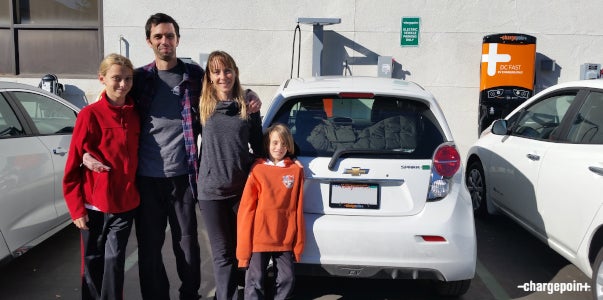 Think you can't go on a road trip in an EV? Think again.
Meet the Van Schmus family, EV enthusiasts all. They live near Santa Barbara, California, own multiple Chevy Spark EVs and choose to drive electric on many road trips, like the one they recently took to Sunnyvale in the Bay Area (about 300 miles from Santa Barbara) for the winter holidays. After packing up the Chevy Spark EV with kids, luggage and holiday gifts, the family set out for the Bay Area armed with the ChargePoint mobile app. The family was able to find enough DC fast charging spots along the way to fill up and stretch their legs, and made it to Sunnyvale with range to spare.
Once the holiday celebrations were over, the family stopped by ChargePoint headquarters in Campbell, California, to recharge before heading back south. We were so excited to meet them, give out a few ChargePoint stickers and license plate frames, and learn more about how they made the transition to electric cars.
The Van Schmuses had been die-hard manual transmission fanatics for many years, and even have a classic Volkswagen bus. They explored getting an EV for environmental and practical reasons when mom Jen had a leg injury that would have made shifting difficult. The Chevy Spark EV delivered on multiple fronts, offering enough leg room and visibility up front for both drivers and enough space for two growing kids in the back. The family bought their first Spark last February and liked it so much they added another in July.
The family charges at home using the charger that came with their Spark EV and has no trouble finding places to charge around town and on road trips using the ChargePoint app. Although home charging and ChargePoint stations have worked well for the most part, Jen looks forward to "when the car ranges go up and it's commonplace to find charging stations." Don't worry, Jen—more range is here! Chevy now has a new 238-mile-range Bolt EV (check out our test drive), and ChargePoint is always adding new places to charge.
Jen's favorite thing about the Spark is "how quiet it is inside," but a "close runner up" is that "you never have to check anything—oil before a road trip, transmission fluid, etc—you just enjoy driving." We're right there with you, Jen. The kids also enjoy the EV and loved getting ChargePoint stickers here at headquarters. The family let us know about some places they'd like to charge near their hometown, like the Costco in Santa Maria. We're always happy to hear from drivers about where they want to charge, and even invite drivers to recommend a station location so we can follow up with the business.
The Van Schmus family's next EV road trip will be from Santa Barbara to San Diego (check out our Express stations that can take EV drivers from Portland to San Diego here). We were thrilled to have them here and we welcome every EV and driver that comes by.
Where's your next electric road trip going to take you? Tell us on social media with hashtag #EVroadtrip.