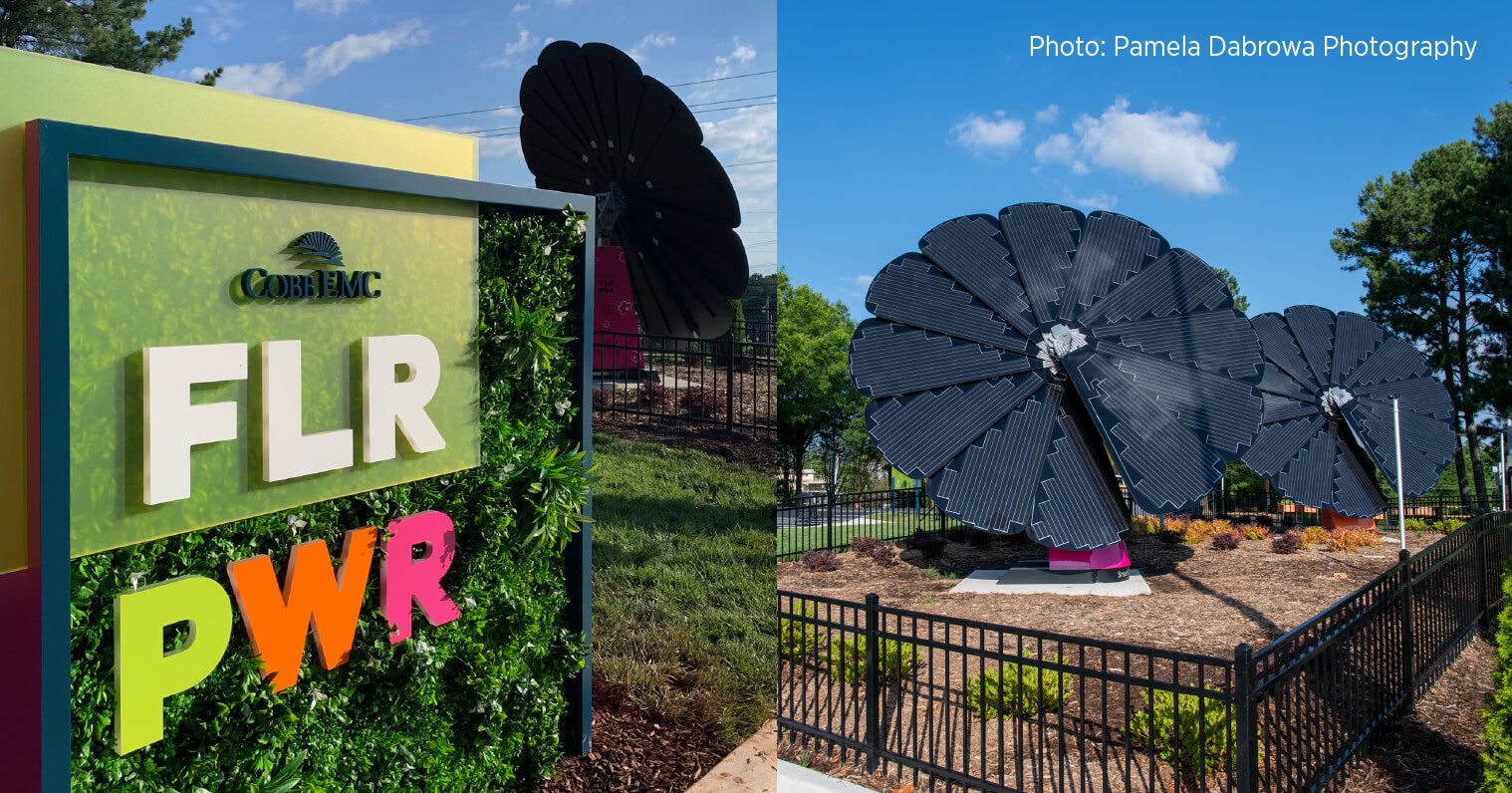 Drive along Highway 41 in Marietta, Georgia and you'll see something unexpected: a 6,000 square foot garden containing three 18-foot tall "Smartflowers." It's a stunning display that could easily be mistaken for modern art. But these flowers are as much function as they are form. They're part of a larger solar project to supply renewable energy to the local power grid. The Smartflowers, which feature solar "petals" that follow the sun—opening each morning and retracting at night—deliver clean energy back to the grid, while also powering a ChargePoint Express 250 DC fast charger at the site. It's the perfect spot to stop, take photos, charge your EV and maybe even learn a little about sustainability.
Smartflowers in the Peach State
"The Solar Flower Garden and Smartflowers are reflections of our sustainability efforts to provide clean, reliable power to our co-op members while educating the community about the importance of solar energy and electric vehicle charging," says Peter Heintzelman, President and CEO of Cobb EMC. Cobb EMC is a not-for-profit, member-owned electric cooperative in Marietta that delivers electricity to nearly 200,000 residential and commercial consumers in Cobb, Bartow, Cherokee, Fulton and Paulding counties.
"The solar flowers are an attractive way to call attention to the three-part project and to serve as an awareness tool for sustainability." – Peter Heintzelman, President and CEO, Cobb EMC

Sun, Sustainability and EV Charging
When Cobb EMC designed the solar project on its corporate campus in Marietta, it had three main goals:
Demonstrate to members the utility's expertise on battery and solar. "We can't be a trusted energy advisor to our members if we don't walk the walk with solar," says Heintzelman. "We wanted to show our hands-on expertise."
Show the community that Cobb EMC is committed to sustainability. "While rooftop solar is amazing, it's hard to see," he says. The signs, which are located throughout the garden, help educate visitors about the Smartflowers while they charge their cars as well.
Create a renewable energy source that paired directly with the ChargePoint DC fast charger.
Pure Power
Today, 75% of people live in places where driving on electricity is cleaner than operating a gasoline car that gets 50 miles per gallon (MPG), according to the Union of Concerned Scientists. If the energy where you live is produced by renewable sources, your EV is 100% emission free. Installed in April, the three Smartflowers can provide an additional 13,140 kWh of energy, while also helping to educate the public about clean energy. After their first year of operation, the Smartflowers will have produced enough energy to avoid 1,193 gallons of gasoline, charge 3,705 smartphones for a year and grow 175 tree seedlings for ten years. Even better, Cobb EMC lets drivers use the ChargePoint DC fast charger for free. Depending on the EV, DC fast solutions can add 80% of range in 20-30 minutes.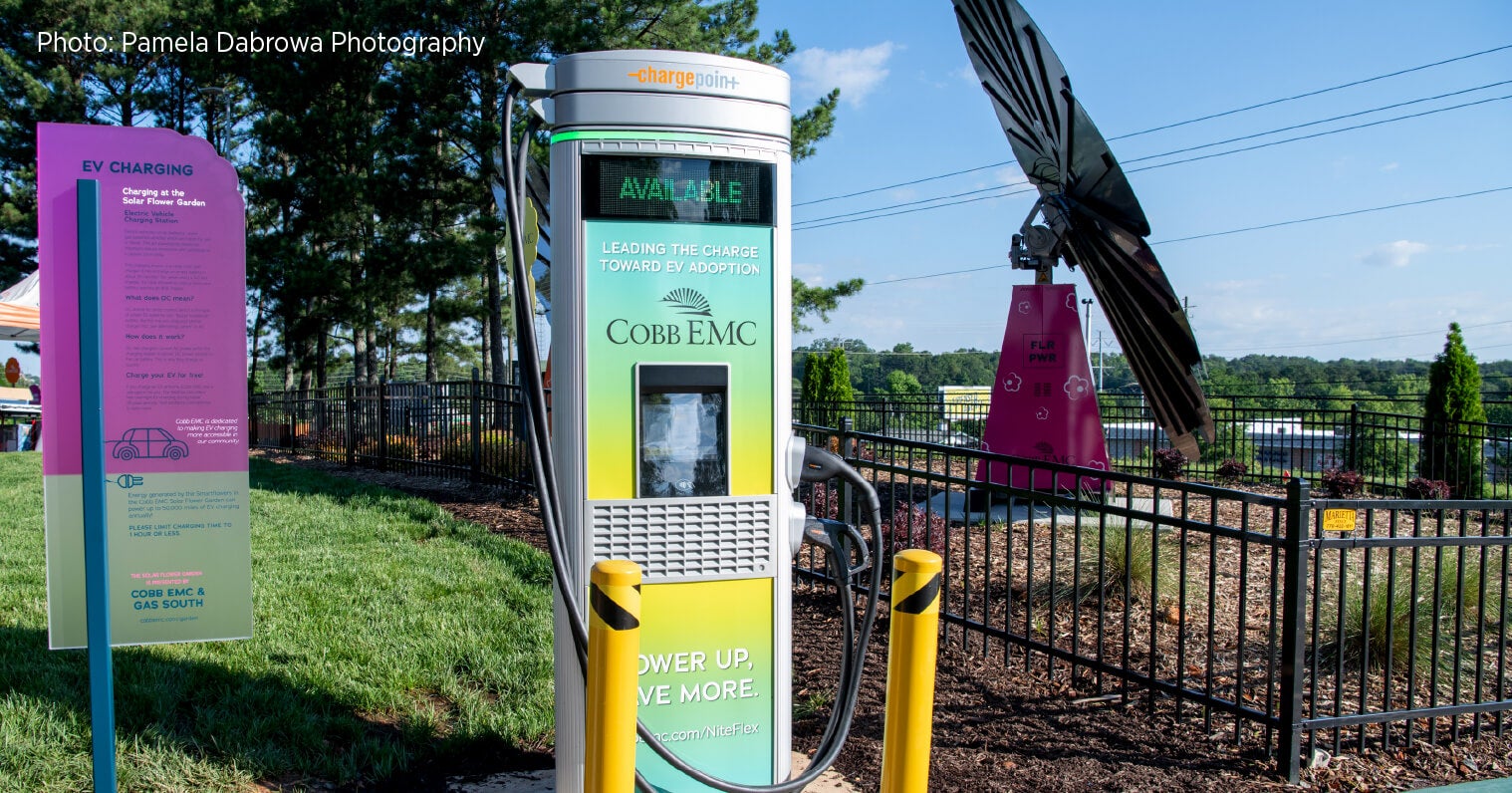 Why ChargePoint
Perennial solutions for every application. Cobb EMC needed a single solution provider that could do everything. It chose ChargePoint to satisfy a variety of use cases, including residential, fleet and community charging. "We have tons of Level 2 chargers on our campus and we've also installed many for our customers as well," says Heintzelman. ChargePoint's built-in data and reporting make managing the stations a breeze.
A bounty of incomparable software. As an EV driver himself, Heintzelman knows first-hand the importance of a state-of-the-art, easy-to-use app. "ChargePoint's EV charging platform is the most ubiquitous platform around the nation," he says. "Almost every EV driver has the app and that's really helpful. The app is very advanced, useful and simple to use."
Quality, reliability and curb appeal. ChargePoint's onsite Advanced Test Facility ensures its stations are the highest quality and most durable in the industry. But another reason Heintzelman likes them is the ability to add custom branding, "The stations work really well, they're very reliable and they look great. The flowers and ChargePoint charger make a winning combo," he says.
Growing Strong
"The Smartflowers just went up this past April, so we are excited about gathering more data to analyze. As more drivers come to charge, we continue looking at the data to see utilization rates, vehicle types, time patterns and other interesting data analysis," says Heintzelman. "This data will help us plan for the next phase of the project where we will turn these three elements into a microgrid."
Check out a cool time lapse of the Smartflowers in action here.
Want to discover more about utility solutions? Connect with our team of experts.