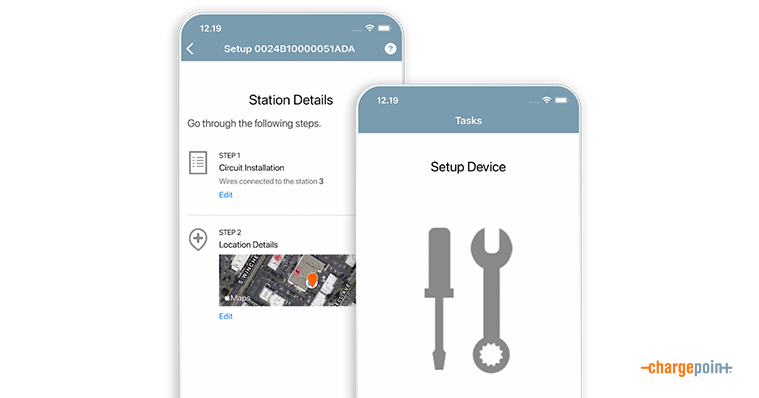 Electrical contractors play a crucial role in the transition to clean, electric mobility: they install, troubleshoot and support EV charging stations in all kinds of places — from single-family homes to commercial properties — and ensure that stations are deployed safely and correctly.
As demand for EV charging continues its exponential growth, ChargePoint is focused on making it simpler and faster for installers to implement EV charging for their customers. That's why we're excited to announce that ChargePoint has launched a new, dedicated Installer app, now available on iOS and Android, that supports both the ChargePoint Home Flex and our newly available CP6000 commercial AC charging station.
Configure, pinpoint and complete installations all within the ChargePoint Installer app
Purpose-built for professional installers
The ChargePoint Installer app is designed with the needs of professional installers in mind and leverages feedback and input from the extensive ChargePoint network of electrical contractors across North America. It transforms how installers work with EV charging stations by making it easy to connect to stations via Bluetooth, and configure and pinpoint stations on the map. The app complies with National Electrical Code (NEC) requirements for EV charging deployments.
Supports residential and commercial deployments
The Installer app is designed to support both the ChargePoint Home Flex residential charging station and the CP6000 Level 2 AC commercial charging station. With a single app, electricians and installers can perform residential installations at single-family homes and commercial installations at workplaces, retailers, auto dealerships and more. Support for additional ChargePoint Level 2 and DC fast stations is coming soon.
Fully control installation
Contractors can configure installation types, define circuit details and set breaker ratings directly from the app. This level of control ensures that stations are installed according to precise specifications set by the partner and customer, ensuring uptime, safety and a great driver experience.
Automatically notify customers when ready
The ChargePoint Installer app also helps simplify communication between installers and their customers. Once the installation is complete, installers can effortlessly notify customers via email or SMS directly from the app, giving customers real-time updates on the status of the installation so they know when they can safely start charging.
As the adoption of electric vehicles continues to grow, the ChargePoint Installer app serves as an invaluable tool to help accelerate the transition toward a cleaner and more sustainable future.
The Installer app is now available for iOS and Android devices in the U.S. and Canada and in beta for our European customers and partners. ChargePoint will launch support for more stations soon, with additional features for advanced diagnostics and troubleshooting.