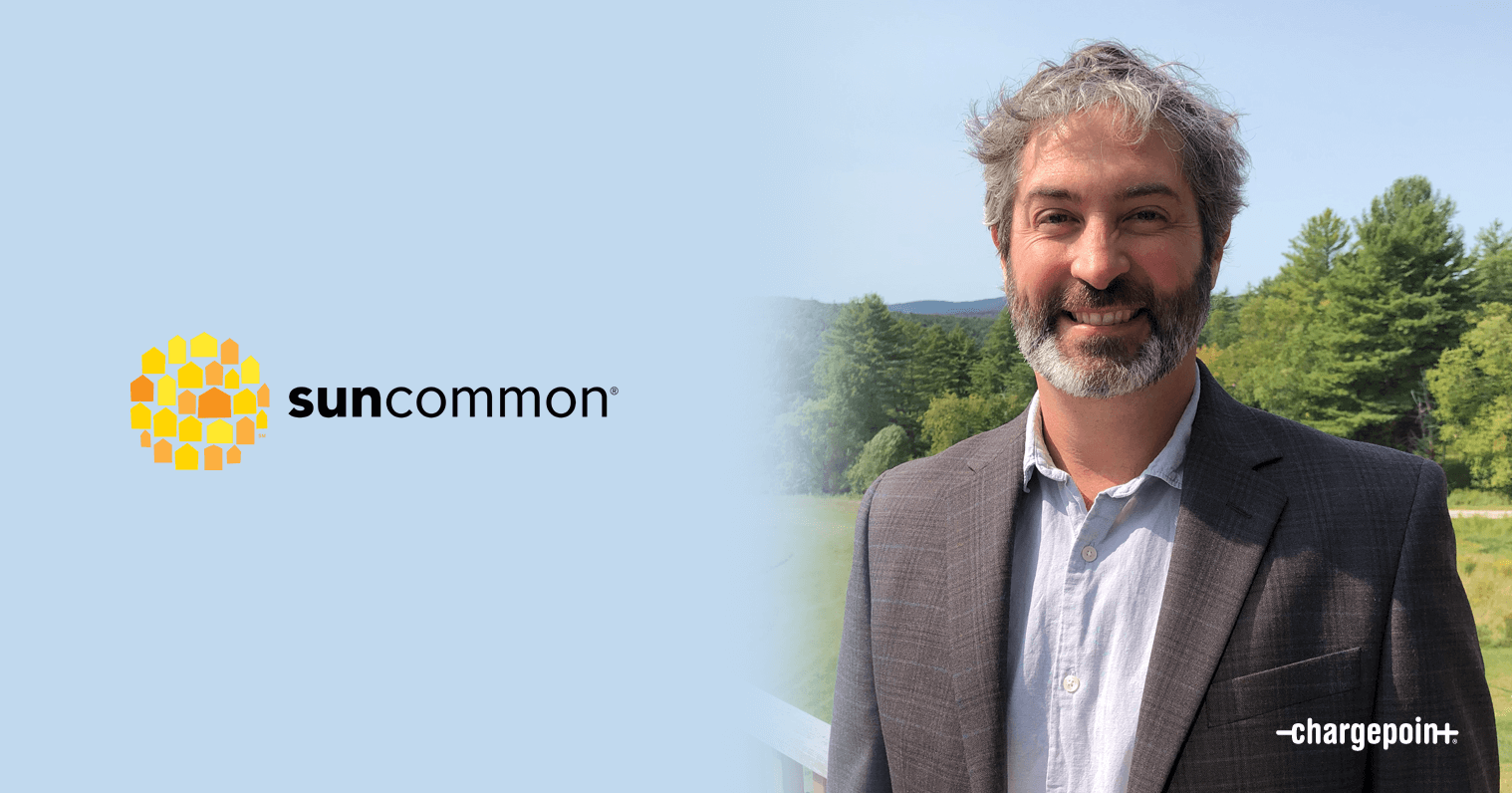 Solar provider SunCommon worked with ChargePoint to fund and install the fastest electric vehicle (EV) charging station in Vermont in partnership with Mad River Taste Place, community solar and state funding for EV charging. The project shows how successful electrification truly takes a village — and benefits everyone in the community. 
The right partners 
Electrification can take a village. From a dedicated solar installer and EV charging provider to policymakers promoting electrification and individual drivers making the decision to plug in, the solar-powered fast charger at Mad River Taste Place in Waitsfield, Vermont, involved many dedicated people coming together to deliver the state's fastest charge. Owned and operated by solar provider SunCommon, the charging location was funded in part by a grant from the Volkswagen Appendix D settlement. ChargePoint played a major role from the start, providing SunCommon with funding application assistance and guidance on where to put a charging spot.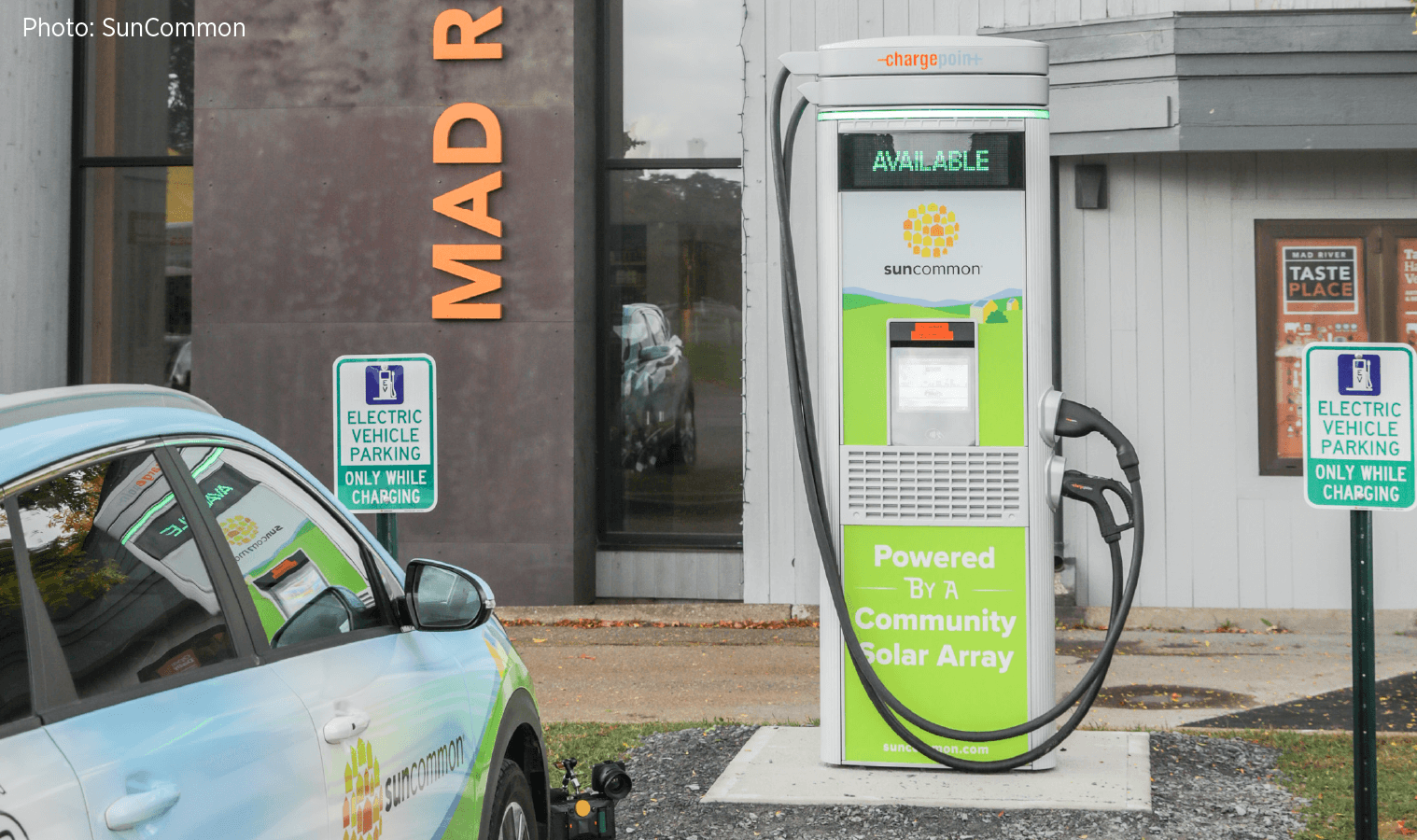 The right location  
 As with real estate, DC fast charging is all about location, location, location. While Level 2 AC charging should be available where drivers are going to be parked for a while, like at single- or multifamily homes, workplaces, hospitality and some retail locations, DC fast charging spots must be conveniently and safety located close to major roadways and amenities like quick stop retail or restaurants. This allows drivers to grab a snack or just hang out in comfort while their vehicles charge, then get back on the road quickly. Property owners and business managers at possible fast charging locations also need to buy in to the importance of EVs and charging to ensure that spots are properly maintained and promoted.  
All of these factors came together at Mad River Taste Place in Waitsfield, Vermont, a gourmet grocery conveniently located between Burlington and Montpelier near Mount Mansfield, the highest mountain in the state. Residents and visitors alike pass through on their way to go skiing or hiking in the mountains, or on trips to Montreal, Boston or New York. The new charger gives residents and visitors alike the confidence they can get to their destination on electricity.  
A quick stop for a fast charge and a bite to eat is just what EV drivers need to get where they're going. While their EVs charge at Mad River Taste Place, drivers can experience a variety of local Vermont products like naturally leavened bread from solar-powered bakery Green Rabbit or maple syrup from Tonewood, where you can adopt a sugar maple. Mad River is clearly dedicated to sustainability, an important convergence of values with ChargePoint and SunCommon. 
The right champion    
SunCommon is a unique solar provider, founded on the notion that everyone deserves a healthy environment and a brighter future. The company led the way in making this charging location a reality. Co-founder James Moore came to solar after realizing through his community organizing work that, while good public policy is necessary to guide markets, "It's going to be businesses that will mobilize the money to repower our economy and solve our climate crisis."  
The installer sees solar power playing a vital role in building vibrant communities and tearing down the barriers to clean energy, so it jumped at the chance to own and operate a DC fast charging location near its headquarters in Waterbury, Vermont. The largest net positive solar energy building in the state, SunCommon headquarters are just down the road from the charging spot at Mad River Taste Place, and feature charging stations as well. 
"We're in the midst of a massive, exciting energy transition changing the way we power our homes, businesses and cars."

- James Moore, Co-Founder, SunCommon
In 2019, SunCommon made a commitment to eliminate new gas-powered vehicles from its company fleet. Charging stations at company headquarters and employees' homes are complemented by convenient fast charging locations to get company fleet vehicles around. Solar power serves a gateway to electric vehicles for SunCommon customers as well: "We use our conversations with our customers to help them start thinking about EV charging as they plan out their energy use," says Moore.    
Moore adds, "We're in the midst of a massive, exciting energy transition changing the way we power our homes, businesses and cars." Once people can count on getting free or near-free clean energy from their own roof, they are often very keen to drive electric. And as the Chevrolet Bolt EV–driving Moore can attest, "It feels so good to drop my daughter off at day care knowing the sun filled up my car. How sweet is that?"   
The right solution  
SunCommon employees often charge their work vehicles at home, typically with ChargePoint Home Flex chargers installed by the company. Familiarity with the company meant it was the perfect opportunity when ChargePoint approached SunCommon about funding assistance for fast charging in Vermont. ChargePoint provided an end-to-end solution, including funding application assistance, installation support and a quality charging solution with a mobile app that drivers can easily use to find the station along their route and start a charge.  
In addition to the right location, part of what delivers confidence in charging is a reliable, tested solution. SunCommon looked at other DC fast charging providers, but had "a higher degree of confidence" in the ChargePoint solution, according to Moore. "We need these chargers to work whenever someone pulls up," emphasizes Moore. "We own that charger and have a long-term relationship with the organization. It was a joy to work with ChargePoint."  
Once the electrical connection was established and the station hardware installed, SunCommon worked with ChargePoint to set up the station access and pricing policies. The experience was "Set it and not quite forget it," says Moore, because "We want to check in from time to time. It's been working well, no challenges." 
While any EV drivers can use the station, SunCommon gives its solar customers 25% off EV charging with a special connection code, another way in which the flexible ChargePoint solution delivered an extra way to encourage a group of likely next EV buyers and say thank you.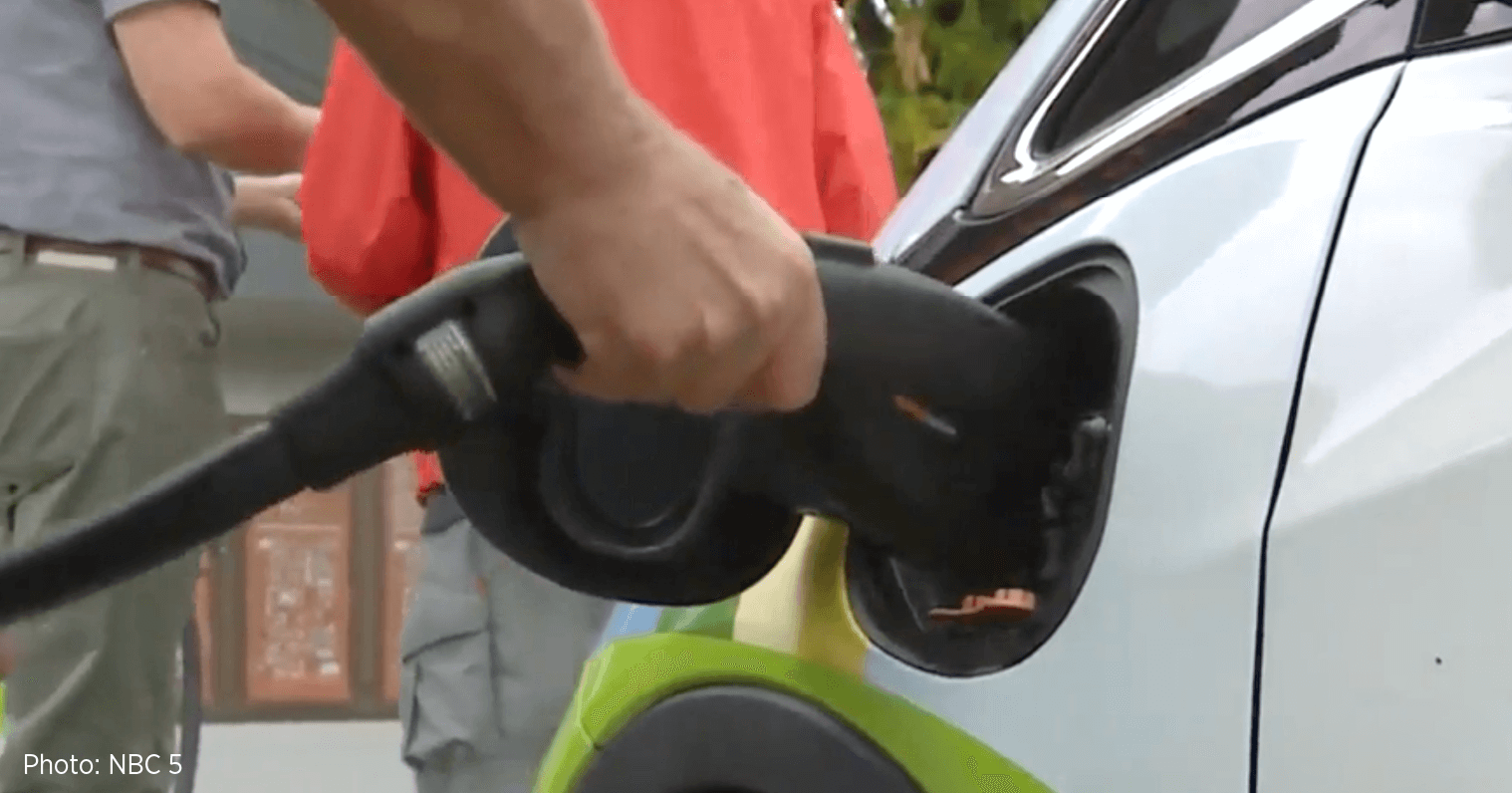 The right results  
 By owning a solar-powered EV charging station, SunCommon, a certified B corporation, is "walking the walk and living our values," says Moore. SunCommon employees, customers, future customers and other EV drivers can all experience firsthand the benefits of charging on sunshine, while also enjoying the best tastes that Vermont has to offer at Mad River. Both companies are happy, drivers are happy and ChargePoint is happy to be part of the project. 
"We're walking the walk and living our values."   

– James Moore, Co-President and Co-Founder, SunCommon  
Is your business interested in living your values? Contact us to find out more about our comprehensive portfolio of charging solutions for any industry.