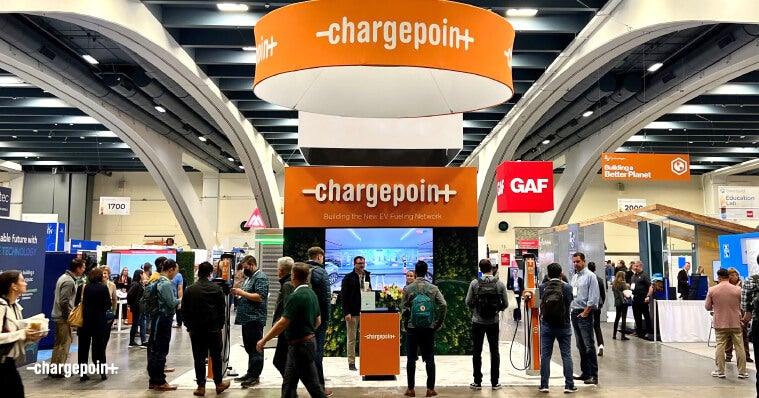 Billed as "the premier event for the green building and green spaces industry," the 20th annual Greenbuild International Conference and Expo was held Nov. 1-3, 2022, in San Francisco. The conference brought together the people responsible for building the sustainable communities of tomorrow, including architects, builders, designers, engineers and sustainability leaders. Past Greenbuild keynote speakers include such luminaries as former U.S. President Barack Obama, human rights lawyer Amal Clooney and astrophysicist Neil deGrasse Tyson, among many others. This year was no different, as entertainment and activist icon Jane Fonda took the stage to share her journey from "climate despair" to environmental action.
ChargePoint was there, too, representing the electric vehicle (EV) industry and educating attendees about the many reasons why the time is now to begin implementing EV charging infrastructure into their projects. The topic of charging infrastructure took center stage in the wake of the Biden-Harris administration's recent executive order requiring half of all new cars sold to be zero-emissions vehicles by 2030. As our own Director of Commercial Real Estate Deana Haynes noted in the ChargePoint moderated breakout session, The Impact EV Charging Has on the Future of Building and Energy Conservation Codes, "Many states and local governments are encouraging the development of EV charging station infrastructure — and it's being incorporated into parking regulations, building codes and transportation demand management plans, and cities are incorporating EV-related topics as part of broader sustainability goals."
There is absolutely a business model for electric vehicle charging within our parking structures. – Don Davis, Vice President of Advocacy and Building Codes, BOMA
Decoding building codes
While the details around current and future requirements may vary depending on the state or local government, the terms themselves are straightforward as follows:
EV-installed: A dedicated "EV-only" parking space that includes full installation of EV charging station(s)
EV-capable: A parking space with the electrical capacity to support future EV infrastructure
EV-ready: A designated parking space with a branch circuit dedicated for EV charging with sufficient capacity for each charging spot
Today, some cities, such as Denver, require new commercial developments to have 5% EV-installed and 10% each of EV-capable and EV-ready parking spaces; others require much more. For instance, some cities — including San Francisco, Seattle and Vancouver, BC — currently mandate that multifamily communities "have 100% of stalls as EV-capable or already installed," says Brent Takahashi, associate principal and project executive at DES Architects + Engineers.
One hundred percent may seem excessive to many commercial real estate professionals. Still, they must consider that electric mobility is set to supplant traditional modes of transportation by mid-century in what will be the biggest transformation in transportation since the first Model T rolled off the assembly line over a century ago. In September 2022 alone, U.S. EV registrations rose 57%. If you remove born-electric OEM Tesla from the mix, it jumps to 71% of cars made by legacy automakers — most of whom have committed to an all-electric future.
EVs = opportunities
Contrary to what some may believe, the commercial real estate industry isn't opposed to new building codes supporting the electrification of transportation, says Don Davis, vice president of advocacy and building codes at the Building Owners and Managers Association (BOMA) International. "We look at this in commercial real estate as a real opportunity for a couple of reasons. In this post-Covid environment, we're trying to reopen our buildings and draw people back [to the workplace] — and one of the ways that we're doing that is to provide better amenities," he says. "The other opportunity is that we're looking for ways to generate revenue. There is absolutely a business model for electric vehicle charging within our parking structures." Another reason is that EV charging solutions increase property values, Haynes says.
Choosing the right solutions
During the panel, Stacy Noblet, vice president of transportation electrification at climate consultancy firm ICF, noted that not all EV charging technologies are created equal and that choosing networked solutions like those from ChargePoint can help provide insights into usage and driver behavior so that developers, architects and building managers can plan for tomorrow while saving on energy costs today. "Smart chargers allow the building manager to have visibility into how they're being used and also sets things up like power sharing. Just because you're installing a bank of 10 chargers doesn't mean they're all blazing at the exact same time," she says. "They can also understand the emissions impacts of their employees charging and things like that. Those are some of the really cool things that are enabled by network-capable chargers."
With so many great industry minds together in one place, it was hard to say goodbye when the conference was over. Peter Templeton, the president of the U.S. Green Building Council (USGBC), the organization overseeing the event, even took time out of his busy schedule to drop by the ChargePoint booth to share his enthusiasm about the EV industry and to let us know he chose a ChargePoint Home Flex to fuel his own car — proof yet again that electrification isn't some far off dream, it's here now. As Takahashi said in the panel discussion, there's already one place in the world where EVs are no longer the exception. "We talk about how great California is with the adoption of EVs," he said. "Norway is at 90% sales and over 90% EVs. If they can do it, I would say we can do it." At ChargePoint, we couldn't agree more, and we're just getting started. So, maybe it's not goodbye after all. Let's just say, "until next time." But don't wait too long — the current EV charging incentives won't last forever.
Ready to start building your own EV future?