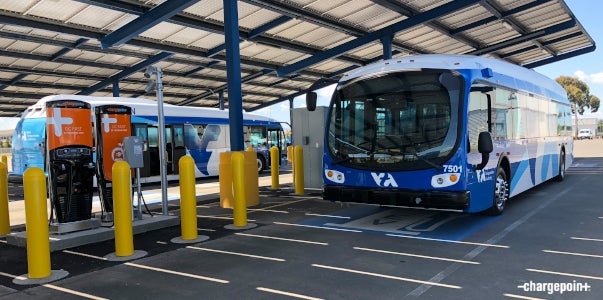 Buses are at the forefront of the e-mobility revolution. That's according to a new study from Bloomberg New Energy Finance, which predicts that nearly 50% of the global city bus fleet—1.2 million buses—will be electric by 2025. By contrast, one in six of all cars sold worldwide that same year will be EVs. While many of those eBuses will be hitting the streets overseas, here at home, Silicon Valley is once again leading the charge.
The Santa Clara Valley Transportation Authority (VTA) is a pioneer in fleet electrification. Working with a $3 million Vehicle-Grid Integration (VGI) grant from the California Energy Commission, VTA has partnered with organizations including Proterra, Kisensum, Energy Solutions, Prospect Silicon Valley and ChargePoint to "research, develop and demonstrate an advanced energy management and grid services system for electric transit bus fleets."
Infrastructure of tomorrow
In addition to showing off its new all-electric buses at a recent press conference at the VTA Cerone Fleet yard, the agency demonstrated its ChargePoint-powered DC fast charging solutions, which offer the VTA the flexibility it needs to grow its fleet infrastructure today and into the future. VTA anticipates its charging infrastructure will help minimize stress on the grid while, at the same time, reducing its environmental impact. "The knowledge gained from the project's execution will facilitate the broad scale commercial adoption of electric buses and the systems that support their deployment," said Prospect Silicon Valley CEO, Ruth Cox.
The advantages of electrifying urban fleets
Buses are predictable, prevalent and necessary, which makes electrifying them an excellent choice for communities seeking to accelerate their sustainability efforts. Municipalities like VTA are also finding they're able to save money with their electrified fleets. With ChargePoint's power management features, fleet managers can schedule charging during off-peak hours and avoid expensive "demand charges." States, cities and counties benefit due to the cost savings associated with EV fleets; utilities win because they have more control over the electricity supply and citizens benefit from reduced air and noise pollution. Rarely has a new technology come along that has solved so many different problems for so many while saving taxpayers money.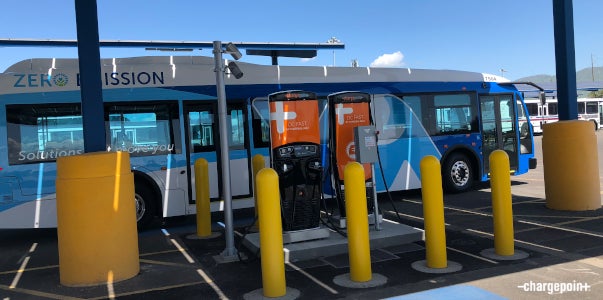 The future of fleetification
Programs like the VTA pilot highlight the increasing inevitability of e-mobility. As more states, cities and counties electrify their fleets—to meet sustainability goals, save money and reduce pollution—more charging infrastructure becomes available to the public. Millions of new drivers are being exposed to the advantages of EVs (including savings on fuel and maintenance costs), and the barriers to adoption are quickly going the way of the dinosaur. It's no surprise then that ChargePoint, which has built the largest and most open electric vehicle (EV) charging network in North America by responding to consumers' needs, is the preferred choice for governments wishing to grow their electric fleets.
By partnering with forward-looking municipalities like VTA to promote VGI strategies and electrification, California is on track to reach its goal of getting 1.5 million ZEVs on the road by 2025—the same year the global eBus fleet crosses that momentous 50% tipping point. And by partnering with e-mobility leaders like ChargePoint, VTA is proving that when a state with the 6th largest economy on earth achieves its climate initiatives, it can be done anywhere.
For more info on our scalable solutions for fleets, check out the Express Plus video.