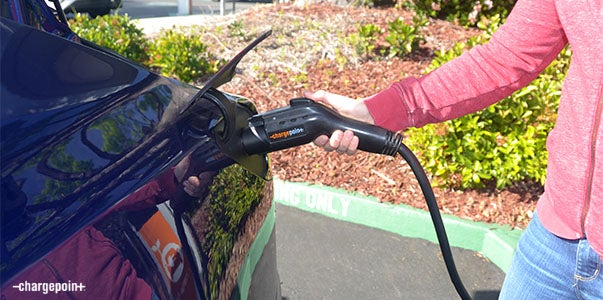 Last summer, when the Tesla Model 3 was launched, we brought you some helpful tips on how to charge the Tesla Model 3 on ChargePoint and specifics about Tesla Model 3 options such as range and price point. Now that flashy Model 3s have been rolling along the streets of California and other U.S. states for nearly a year, we thought we'd bring you a quick update on how much drivers love this game-changing electric vehicle (EV), and how they've been charging it.
Let's start with what one driver, our own ChargePoint marketing team member Danny, loves most about his Model 3. When Danny decided to go electric, Tesla was the only make he considered, and the sportiness of the 3 fit within his price range. Now, he's incredibly happy with his choice:
"The Model 3 is a fantastic car for many reasons, but some of my favorite vehicle features so far include the comfortable seats with driver profiles that save where you want your seat, mirror, steering wheel and more (great for a shared car), the massive amount of storage space and the convenient control hub (the screen in the center). As for the drive, it's got amazing fuel economy and powerful torque, plus autopilot to help me stay in my lane." – Danny from ChargePoint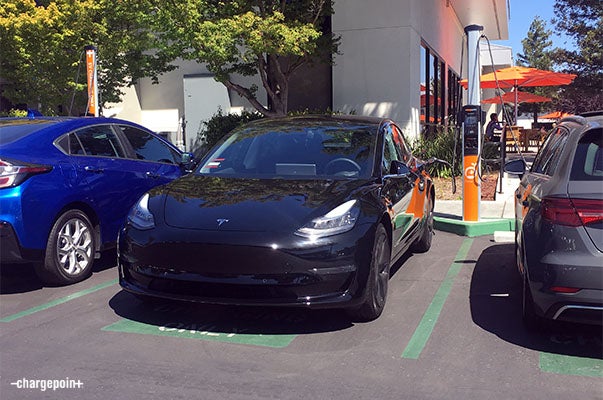 What else do people love about the Model 3?
In addition to the affordable price tag, the impressive range, incredible torque and appealing interior features make the well designed Model 3 stand out. A recent update brought the Model 3 new autopilot features and the ability to summon and park in tight spots automatically, making it even more attractive to all kinds of drivers. You can check out Tesla's guide for more detail about the Model 3 and how it stands out from the Tesla Model S.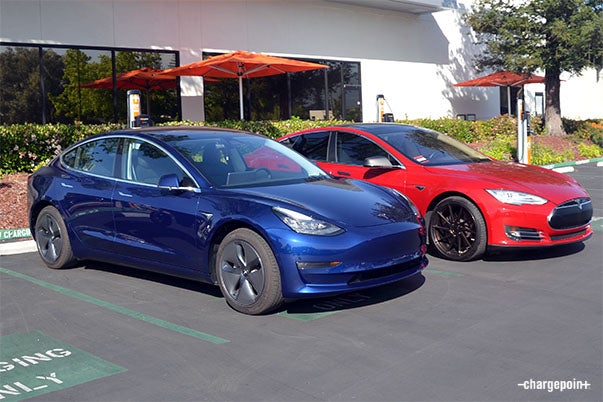 At first glance, the Tesla Model 3 and Model S appear similar, especially if they're zooming by you in the HOV lane. Look a little closer, though, and you'll start to notice a few key differences between both of the stunning designs:
Headlights: more angled on the Model 3, more horizontal on the S

Door handles: L-shaped on the Model 3, flat parallelograms on the Model S

Front end and overall wheelbase: both longer on the Model S
Can you tell which car is which in the image above?
Where have drivers gone in their Model 3s?
Many Tesla Model 3 drivers have joined ChargePoint, and they've been busy charging all over the place. Erza adores her Model 3, which she charges on ChargePoint at work and has taken on a 400-mile round trip journey to Avila Beach, California. Steve drove his Model 3 for an impressive 18,000-mile trip to every MLB park—wow! (Who says EVs can't go on road trips?) It's easy to see that the Model 3's range makes it more than capable of meeting all kinds of driving demands, and that it's simple to charge wherever you go: at ChargePoint, Superchargers or elsewhere.
How long does it take to charge a Model 3, and how much does it cost?
As we've said before, a larger battery doesn't mean longer charging time, as most people will continue to drive about the same number of miles every day. When it comes to Level 2 AC charging, we're seeing similar charging times between the Model S and X, but Model 3 charging sessions are a bit shorter so far, perhaps because the battery is a bit smaller: currently only 75 kWh for the Model 3, with a smaller option to come, versus 75 or 100 kWh options for the S and X. All types of charging sessions have cost around a dollar on average, or even less, because most charging on ChargePoint is free.
Level 2 AC Charging
| Model | Average Charging Time | Average Time Plugged In (Session Length) | Average Cost per Session |
| --- | --- | --- | --- |
| Model 3 | 2 hours 47 minutes | 4 hours | $1.02 |
| Model S | 3 hours 14 minutes | 5 hours 24 minutes | $0.97 |
| Model X | 3 hours 20 minutes | 5 hours 32 minutes | $1.16 |
(Data is for Tesla charging sessions on ChargePoint since the Model 3 was released.)
There you have it: a quick update on what's new with the Tesla Model 3. If you've already got yours, sign up for ChargePoint to find even more charging spots nearby. If you're still debating what EV to get, you might consider the Chevy Bolt EV or Jaguar I-PACE, both with 200+ miles of range.