ChargePoint Offer - Prius Prime
Complimentary Charging With Your New 2017 Prius Prime*
---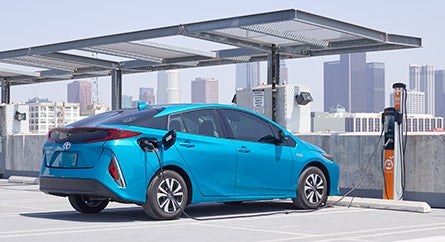 About the Offer
Get even more value out of your 2017 Prius Prime and drive in EV mode more often, thanks to up to 100 days of complimentary charging, up to $100, on ChargePoint, the world's largest electric vehicle (EV) charging network.
After 100 days or $100 of charging (whichever comes first), you'll be familiar with all of the ChargePoint stations in your area, many of which are free to use, and be ready to keep charging with the ChargePoint card or mobile app.
How to Redeem
Each new 2017 Prius Prime comes with a ChargePoint card inside and instructions on how to create your account and take advantage of the complimentary charging.
Already have your Prius Prime?
Learn more in the Offer FAQ
The ChargePoint map (available on the ChargePoint mobile app or online at chargepoint.com) helps you find public places to charge your Prius Prime around town and out of town. You can use your ChargePoint card or the mobile app to start charging.

More About Prius Prime
The Prius Prime is a plug-in hybrid. That means you can charge up your battery and drive Prius Prime in EV Mode, which can greatly reduce your fuel costs and greenhouse gas (GHG) emissions. This saves your wallet, means fewer trips to the gas station and helps the environment. You can rely on the ChargePoint network to find places to charge where you go. And, if you need to go farther, like for road trips, you can use Prius Prime's hybrid mode. Complimentary charging is available only for the 2017 Prius Prime.
Check Out the 2017 Prius Prime
Find a Toyota dealer near you
---
*Offer available for 2017 Prius Prime only. Full disclosures.
Disclosures: Up to $100 ChargePoint electric vehicle charging credit EXPIRES 100 DAYS AFTER ACTIVATION. Up to 100 days or $100 of complimentary charging on the ChargePoint network, whichever comes first. This is a promotional offer with $0 cash value. Card must be activated within 30 days of vehicle delivery to be eligible for full promotional value (up to $100 credit available within 100 days of activation). Any unused portion of the credit will expire at the end of the 100 day promotional period. Does not guarantee charging, subject to availability of charging stations. No fees will be imposed in connection with this promotional offer. See toyota.chargepoint.com/legal for full terms and conditions.