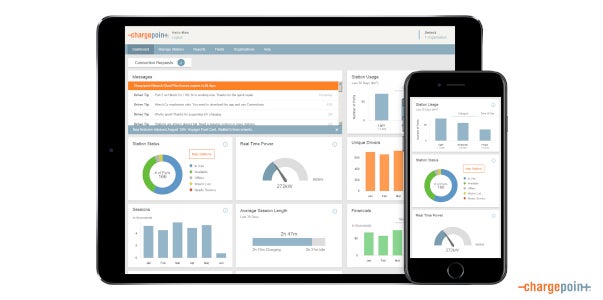 At ChargePoint, we're establishing a whole new market for smart EV charging. As the first and still the only company to deliver a complete range of smart EV charging solutions that work for all types of businesses and EV drivers, we understood from the start that our stations would have to be connected to be useful. When stations aren't connected to a network, there's no way for owners to control who can charge, set fees for charging or collect useful data about driver behavior. All of these smart features improve the charging experience for everyone, from drivers to station owners.
As the largest network with the most complete set of charging solutions, ChargePoint is able to use data about user behavior to continue developing pioneering technology that delivers a great charging experience for every customer, in every context. I've already described how smart software helps our commercial customers charge more EVs. In this post, I share two examples of how our team has used data to enhance the charging experience for businesses and drivers alike.
Simplify Charging Management with a Simple Dashboard
The ChargePoint dashboard delivers real-time data that helps businesses get the most out of our smart EV charging solutions. We recently made the dashboard even more informative and easier to use with clear visuals and a fresh design. To improve the dashboard experience, our UX team researched our customers' needs and behavior, finding that the most common tasks for charging station managers were reporting on station usage, approving driver requests to use stations, reviewing driver feedback, checking station status and filtering stations by location.
Based on this data, the team reconfigured the dashboard to make the most important info and tools easily accessible. Now, new messages and driver requests are highlighted in a dedicated section at the top of the dashboard, empowering station managers to take quick action. The team also optimized the dashboard for mobile devices, so it's easy for managers to check on stations from anywhere. Our customers are already telling us how much they appreciate the simplicity of the new dashboard design and how it speeds up access to the information they need.
"I just wanted to let you know the new dashboard is amazing! It shows the snapshot of information that is very useful."
– Allison Martinez, Kansas City Power & Light
Choose How Charging Works for Your Business with a Pricing Wizard
Years of experience working with customers in every industry have given us a treasure trove of data about how drivers charge their EVs, as well as how they respond to different fees for charging and parking at different locations. When EV drivers stay plugged in long after their vehicles are finished charging, other people aren't able to get a charge when they need one. Over time, we've confirmed that setting a fee for charging is a powerful way to increase station use and discourage drivers from "squatting" at stations long after their EVs are fully charged.
Using our data about driver behavior, my team built a pricing wizard that recommends the best fees to set for parking and charging, based on industry and location. For example, retail stores may want to provide free charging while people are shopping, but add fees after an hour or two so drivers open up spots for more shoppers. The wizard recommends best practices, but charging station owners can always choose the pricing that works best for them, change fees at any time, set different prices for different groups of drivers, vary pricing at different times of day and more. Our top priority is to make pricing work for our customers and their drivers, which is only possible with a connected charging solution.
As we keep collecting more data about how businesses manage stations and how drivers charge, we keep building better solutions that improve the charging experience and give businesses more choices. Are you ready to choose the leading smart EV charging solution?
Already with ChargePoint? Log in to check out your new dashboard.