ChargePoint helps Broadstreet Properties electrify across Canada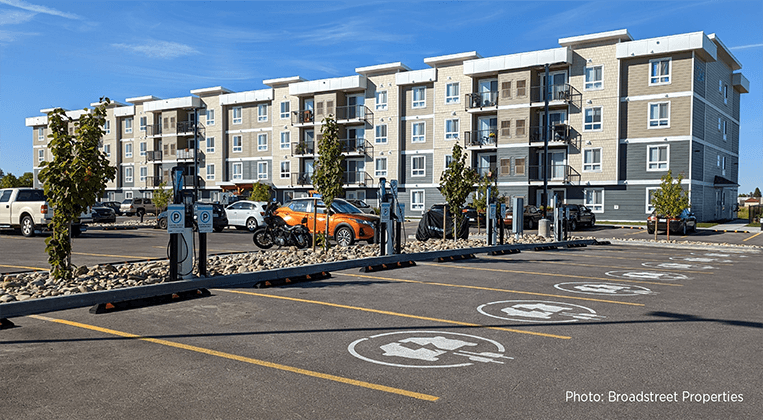 A property may be well cared for, with a beautiful view and secure door service. But for renters with cats or dogs, if a property isn't pet-friendly, it's a deal breaker. Similarly, for the increasing number of people who drive EVs, if a property doesn't offer EV charging, it may not be worth the hassle.
Broadstreet Properties, a family-owned developer and property management business headquartered in Campbell River, British Columbia, realized how important EV charging was becoming when more and more residents and potential renters started asking about it.
All roads lead to EV charging
Broadstreet operates a portfolio of multi-unit residential and mixed-use buildings located in several provinces. The company currently owns and manages 14,000 apartments and townhomes, with approximately 1,350 more in development. In 2020, none of these properties offered EV charging, but that was about to change.
According to Michael Hack, Broadstreet's project planning manager, British Columbia has the highest EV adoption rate of any state or province in all of North America, with EVs accounting for 20% of all new vehicle sales in the province. And, he says, about 85% of charging in Canada takes place while vehicles are parked either at home or work.
"We see providing this amenity — or actually, this necessary infrastructure —  as a competitive advantage for our rental units. If people are going to own these vehicles, they will look for somewhere to call home that has this offering."

Michael Hack
Project Planning Manager
Broadstreet Properties
The Canadian government's goal of reaching 100% zero-emissions for all new light-duty vehicles sold by 2035 is contributing to the increase in EVs on the roads — and the uptick in demand among Broadstreet residents. As that deadline draws near, the need for more charging infrastructure will be significant and, according to Hack, Broadstreet wants to help fill that gap. 
In addition to federal targets, regional building code requirements mean that parking at new residential developments must include a certain percentage of EV charging spots. Broadstreet has been including EV charging infrastructure in the electrical plans for new developments for the past several years, anticipating that this will become the norm in all regions. 
"We also have our own sustainability goals — greenhouse gas reduction, energy efficiency and conservation projects," Hack said. "We're continually striving to be a more sustainable business." 
All these factors were on the minds of Broadstreet leadership in 2019 when they engaged with ChargePoint to begin educating themselves on how to get started with EV charging.  
They were still in the planning stages the following year when federal and provincial funding became available, causing Broadstreet to spring into action.  
Working with ChargePoint, they installed 107 Level 2 AC charging stations across 20 existing and new properties using funding from National Resources Canada under the zero-emission vehicle infrastructure program. These funds enabled them to reduce construction costs by 50%. 
According to Chris Thompson, director of marketing and brand strategy at Broadstreet, offering EV charging to tenants has given them a way to update their company value proposition, both for retaining existing tenants and for attracting new tenants.  
"Having EV charging at our properties is something that stands out," Thompson said. "Our decision to offer free charging to the general public has been a marketing tool and a way to ultimately fill more units — when people visit a site to use our charging stations, they also see the quality of our properties and the friendliness of our people."  
As a way to draw in prospective tenants, Broadstreet uses paid search and general display advertising to promote the free EV charging amenity. "Paid search is one of our primary channels for advertising and filling our buildings," Thompson said. "Our research suggests that search terms like 'apartments with EV charging' are becoming much more prevalent. So we want to make sure that when people search for this term, Broadstreet Properties comes up at the top." 
ChargePoint offered a strong partnership 
Working with ChargePoint for the overall implementation was an easy choice for Broadstreet. Given the number of properties they manage, they needed a solution that could scale readily and provide multifaceted functionality. ChargePoint offered years of experience and a robust solution that includes hardware, charging management software and services — all at an attractive cost. 
"ChargePoint has given us the ability to deal with implementation challenges on the fly while still operating one ubiquitous product across Canada."

Michael Hack
Project Planning Manager
Broadstreet Properties
"If we had different stations at every property," Hack said, "it would be very hard to aggregate data, track usage and manage the solution overall. We really see ChargePoint as an industry-leading technology."  
Each of the 20 Broadstreet sites required its own EV charging design, its own permits, its own construction teams and a full suite of project management services from concept and construction to operation. Because they used federal funding, Broadstreet also had to meet certain construction timelines. 
"We shared our ideal construction timeline with ChargePoint, and they were able to allocate stations from their supplier early on to minimize wait times," Hack said. "We were able to avoid the supply chain constraints that were plaguing the construction industry at large, thanks to our strong partnership." 
ChargePoint gave Broadstreet support throughout the entire charging implementation, beginning with the planning stage, during construction and when it came time to configure stations and get the program up and running. They also helped with incentive applications. 
Retrofit versus new build 
A big consideration for multifamily property owners looking to install EV charging infrastructure is whether the site is a new development or an existing property. For new builds, you can design EV charging infrastructure to position chargers exactly where you want them. You can easily incorporate the electrical capacity for however many EV chargers you think you will need down the road.  
If you are retrofitting an existing property, on the other hand, you'll be somewhat constrained by the site layout and the capacity of existing electrical infrastructure.  
"If you have to upgrade your service or the electrical distribution within your building, it can become significantly more expensive than if you already have enough capacity in that building," Hack said.  
Conversely, with a new property, your electrical design can accommodate future growth and help with the cost of your infrastructure buildout. 
"We want the chargers to be an amenity for all of our tenants and surrounding communities," Hack said. "Our goal is to make them as easily accessible on our properties as possible, which is a lot easier to do if you can design it upfront rather than retrofitting a site." 
How ChargePoint benefits Broadstreet 
"The breadth of offerings from ChargePoint really brings flexibility to how we can build, manage and operate our stations," Hack said.  
Having the ability to manage stations across all their properties has been key for Broadstreet. The ChargePoint Cloud Dashboard gives them visibility into station use and driver behavior, energy usage and costs, greenhouse gas (GHG) emissions reductions and more. Hack and his team can easily manage the charging solution for all properties from their headquarters.  
"We get great data from ChargePoint that enables us to showcase our GHG emissions reductions. And that's a real draw for residents."

Chris Thompson
Director of Marketing and Brand Strategy
Broadstreet Properties
If a site has a limitation in terms of electrical capacity, ChargePoint power-management software allows Broadstreet to share existing energy as needed among charging stations. "The power-sharing capability has given us the flexibility we've needed at every single one of our properties," Hack said.
According to Thompson, Broadstreet's EV charging program has become a foundational element of the company's overall sustainability program. "We get great data from ChargePoint that enables us to showcase our GHG emissions reductions," Thompson said. "And that's a real draw for residents."
Broadstreet scales charging into the future
The ChargePoint solution will allow Broadstreet to scale and grow as demand grows and their business evolves. "Being able to track usage through the dashboard gives us insight into how to manage and scale our solution," Hack said. "Also being able to continually update the station functionality, with support from ChargePoint, is a great feature as our program continues to evolve."
Broadstreet hopes to roll out another 150 ports across 20 additional properties by 2025 to serve the growing needs of residents.
"As we grow, we anticipate that how we manage the network will change," Hack said. "As stations are used more frequently, we will likely begin introducing things like idle fees."
The ChargePoint Cloud Dashboard provides the data needed to make these sorts of strategic decisions. Easy-to-understand reports can be shared with financial and sustainability stakeholders to help justify further investment in the charging program.
"Being able to see the actual usage is critical in justifying future investment, which will continue to help differentiate our offerings and provide an essential service that residents need," Hack said. "In the past year, we've seen an average of 20% growth per month in terms of station use. Even in smaller communities such as Campbell River, the stations are almost always in use. So that really attests to the level of adoption that's happening even here."
Hack says the following considerations are key for getting started with EV charging at multifamily properties:
Identify whether your project is a retrofit or a new build. That will determine everything that follows.
Learn what state, federal, provincial and local funding is available to you and take advantage of it.
Find an experienced EV charging partner to support you throughout the process.
Talk to your residents and prospective new residents to understand their current and future needs.
"The thing we've enjoyed first and foremost about working with ChargePoint has been the customer service," Hack said. "ChargePoint has always listened to our needs, and there has always been a conduit for communication. We have truly felt like a valued customer."