Employee experience is everything at Citrix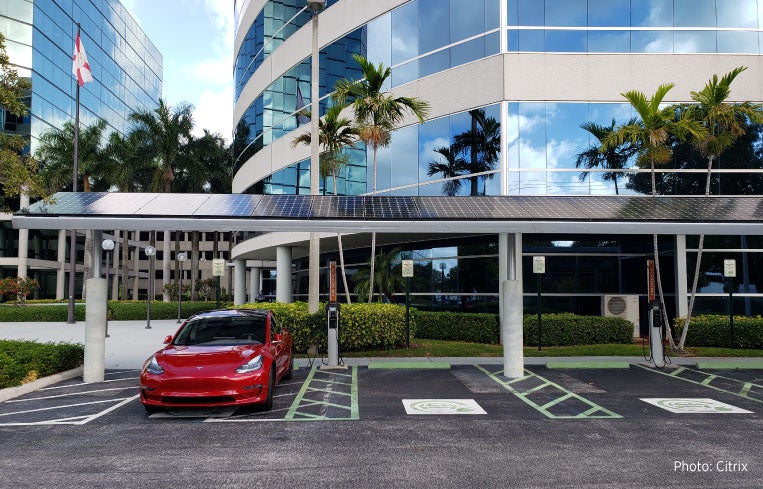 For more than three decades, Citrix Systems has been laser focused on helping customers provide the ideal employee experience. The company's digital workspace technologies create an environment where IT is more agile, apps and data are more secure, and people are more productive. In short, Citrix aims to empower individuals to take control of their workdays, while helping organizations achieve more. And it doesn't stop there. The company prioritizes the employee experience for its own employees just as much as for its customers.
Choice is big at Citrix
During the pandemic, people have been able to work from home, from the beach or any other remote location, with fully customizable workspace technologies helping them stay productive. And once people begin returning to the office, Citrix employees will have options for personalizing not just their computer desktop but every other aspect of their environment — including how they get to and from work.
Frequent employee surveys help the company continually revamp benefits offerings and make decisions around every facet of the employee experience. That's how Citrix came to establish electric vehicle (EV) charging infrastructure at three of their office locations in the U.S.
"We encourage people to travel as sustainably as possible, and EVs just fit right into that philosophy."

Laurie LeLack
Global Director, Corporate Real Estate and Risk Management
Citrix
Growing interest in EVs
Over the years, interest in e-mobility has grown among Citrix employees. The first employee EV adopters were clustered near the Santa Clara, California, campus, so in 2013, the company installed 12 charging ports to accommodate the choice to drive electric. In 2014, Citrix expanded its EV charging program to include four more charging ports in Raleigh, North Carolina. Then in 2018, it was clear that more and more employees in Fort Lauderdale, Florida, wanted to drive their EVs to work, so the company installed four charging ports at that location.
Today as the pandemic wanes, employees are considering when and how to make their way back to the office. For many, on-site EV charging will make returning to the office much more attractive — and not just for the convenience of charging while they work. For workers across many industries, environmental sustainability and corporate social responsibility have become workplace imperatives — and EV charging options fit right in with that, even for people who don't yet drive EVs.
"We not only keep an eye on employee interest in EV adoption but also work to understand what other employers are offering and what's become expected among employees," LeLack says. In fact, she says, environmental sustainability has moved from something that was more or less an aside in conversations at Citrix to now being at the forefront of the company's considerations around real estate and facilities.
In 2020, Citrix formalized their corporate sustainability goals with new targets to reduce total absolute greenhouse gas (GHG) emissions by 30% and emissions per unit of revenue by 50% by 2030. So for Citrix, the benefits of having EV charging infrastructure are even more important. Not only does the amenity keep employees happy, but it is also helping the company make strides toward meeting these overarching sustainability goals.

Why ChargePoint?
Initially, Citrix was looking for standalone charging solutions that would be easy to use at each individual site and that could integrate with other local campus amenities. ChargePoint fit that bill.
According to LeLack, one of the early requirements was to install LeveI 2 chargers that could accommodate Teslas. In Fort Lauderdale specifically more than 80% of registered EV drivers drove Teslas at the time. ChargePoint also fit that bill.
As the company's EV charging program grew, LeLack says, "We decided to network the stations across all locations so we could centrally manage everything. The ChargePoint Cloud Dashboard made that a reality."
But it was all the other benefits of the ChargePoint solution that truly gained the company's loyalty. For Citrix employees, it's the ease of use and the engaging interface of the ChargePoint app. For company leaders, it's the ease of management across all Citrix locations and the detailed reporting capabilities.
For employees: a self-sustaining EV charging program
Citrix wanted to be able to set up a more or less self-serve EV charging program that drivers could easily manage on their own. Because ChargePoint can so easily integrate with existing systems and because Citrix knows a thing or two about collaboration spaces, it was not difficult to set up a driver-managed program.
For the most part, EV drivers at Citrix communicate and build community with other EV drivers using a Citrix-based internal messaging platform. If someone is parked at one station for too long after their vehicle is done charging, another employee will send a friendly reminder and the driver will move their EV to another spot so that someone else can use the charger. The EV charging program at Citrix is now relatively self-sustaining, but LeLack and her team are available if an employee has questions or needs to discuss their EV charging account.
The ease of use of the ChargePoint app has been a big part of making the program flow so smoothly. The Waitlist feature shows drivers which ports are actually available and allows them to get in line if all chargers are busy. Drivers can keep track of their place in line and get a push notification when they are next in line to charge. And if someone has an emergency or time constraint, they can easily use the Citrix EV community messaging channel to swap places in line with another driver.
"It's amazing to be able to just log in, put in the metrics I want to pull and see live data on our portfolio of stations."

Laurie LeLack
Global Director, Corporate Real Estate and Risk Management
Citrix
For Citrix leaders: smart charging that's easy to manage
Being able to centrally manage the networked ChargePoint installations across all three Citrix office locations has been a game changer for Citrix. LeLack and her team can easily set or change policies around who can charge where and for how long.
"We didn't want to charge employees for use of the ChargePoint stations," LeLack says. "Even though that is a control method that is effective for limiting time spent parked at the stations, it's not something that fits with our culture. So instead we imposed a time maximum." They actually invited every driver to the table for a conversation before assigning a constraint. They tested four-hour and two-hour maximum charging windows to see which worked best to ensure they had the best ratio of available chargers to drivers.
LeLack also loves the ChargePoint Cloud Dashboard. She can track driver data, energy usage and other aspects of their charging program and compare data across all stations at all locations. "It's amazing to be able to just log in, put in the metrics I want to pull and see live data on our portfolio of stations."
The reporting feature has been instrumental in helping LeLack and her team make adjustments to the EV charging program. One example was when she pulled data on the number of unique drivers on campus alongside how many connected drivers have actually used each station. This statistic actually revealed that they had more registered drivers than ever actually used the chargers. After investigating, LeLack realized that they had not been updating the system when someone left the company so their numbers were skewed.
By monitoring the number of available stations throughout the day and the average length of each charging session, Citrix can understand whether people are primarily charging at work or elsewhere, such as at home or using public chargers. If the average charge is only an hour or so, that might indicate that the company's time-limit policy could be adjusted to accommodate more drivers. If people are actually charging for four solid hours, however, it would show that employees are relying heavily on the charging stations at work to keep their vehicle charged up.
"I also love the environmental statistics about the carbon offset," LeLack says. "Citrix really takes a science-based approach to how we are monitoring our emissions. I love that I can take a screen grab of the dashboard and transpose it into a PowerPoint for collaboration with our Sustainability and ESG team."
The ChargePoint dashboard allows LeLack to review emissions changes year over year in relation to the total number of registered drivers and the total number of employees during the same time period. "Eventually we would like to pull data from the ChargePoint dashboard into a comprehensive energy management solution for all of our environmental systems."
"We decided to network the stations across all locations so we could centrally manage everything. The ChargePoint Cloud Dashboard made that a reality."

Laurie LeLack
Global Director, Corporate Real Estate and Risk Management
Citrix
The future of EV charging at Citrix
At their Fort Lauderdale campus, two ChargePoint stations sit under a solar panel canopy. Just before the pandemic, LeLack says, drivers plugged in and consumed every kilowatt of power generated by those panels. "We ran the numbers and they were literally an almost 100% offset against the demand."
At that time, LeLack says there was a lot of excitement among employees around which new vehicles were hitting the market. Since so many people are still working from home, however, the solar canopy is generating more power than can be consumed by employees. While the prepandemic demand at the Fort Lauderdale location showed clear EV momentum at that office, the company's overall charging metrics are still in flux. It's difficult to gauge what employees need when most are still working from home and not driving into the offices. Having the ChargePoint dashboard metrics will be a huge part of decision-making as the company continues to evaluate its charging program.
Since Citrix came out with formal emissions reduction goals for 2030, future EV charging infrastructure will also help meet those corporate goals. "Having the ability to track the exact amount of energy consumption and how much offset is being generated by our solar installations and then compare those numbers to the other aspects of our environmental portfolio and the total building grid will be key," LeLack says.
Long-term, Citrix is excited to work with ChargePoint as EV adoption continues to grow and technologies evolve. LeLack knows that she can turn to ChargePoint as a trusted advisor to understand which new technologies and enhancements will make the most sense for Citrix. By the same token, she appreciates that ChargePoint is all ears when it comes to driver feedback.
"I can tell you one thing, there's never a shortage of feedback, both unsolicited and constructive," LeLack says. But at the end of the day, Citrix will always put the employee experience front and center — it informs the way they develop their cutting-edge digital workspace technologies and is at the very core of their company culture.
"Employee feedback," LeLack says, "is what allows us to create something bigger and better than we ever imagined — both for the customers we serve and right in our own offices."
At ChargePoint, we believe stories have the power to change the world.
Our customers share their stories because they're passionate about the often-unforeseen ways the electrification of transportation has impacted their organizations. Like many companies around the globe, they've discovered that what's good for the planet can also be good for business.
E-mobility is here to stay. Perhaps it's time to tell your own story. Reach out to us at
sales@chargepoint.com
and let us know. We'd love to hear it.