ChargePoint helps the County of San Diego meet electrification goals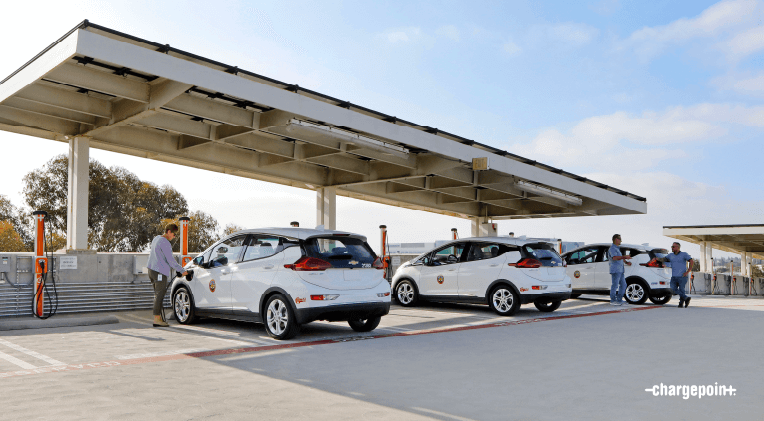 From the more than 70 miles of stunning coastline and leafy San Diego city parks to the snow-capped Laguna Mountains and the expansive Sonoran Desert, the southwesternmost county in the contiguous United States has something for every nature lover. The 4,526-square-mile County of San Diego also has the fifth largest population of any county in the U.S. — and many of these County residents have a bent toward protecting the environment.
It stands to reason then, in a state that's leading the charge on clean energy, San Diego County has been at the top in terms of electric vehicle (EV) adoption. According to IHS Markit/POLK data, at the end of 2021, the county ranked No. 4 in California (as well as across the entire U.S.) with 71,768 registered EV drivers, surpassed only by Santa Clara, Orange and Los Angeles Counties. According to Guidehouse Insights, that number is expected to increase to 771,000 by 2030.
Early adopters
The need for EV charging infrastructure in the County of San Diego was apparent even back in 2013 when there were already more than 7,000 electric vehicles on the road. Susan Freed has been a project manager for the Energy and Sustainability Division at the County of San Diego since that time and helped get their electrification program off the ground.
Her role includes finding opportunities to increase the energy and water efficiency and sustainability of County operations. She has held a LEED AP credential since 2005 and has been a certified energy manager since 2015.
In order to meet San Diego County's greenhouse gas reduction goals as well as to support California's goal of banning sales of new gas-powered vehicles by 2035, Freed knew the County needed to greatly enhance its existing EV charging network. "Back then it was really pretty sparse," she said. "We initially focused on public access charging, though in some spots County employees could also use the chargers. We then later began to transition our fleet."
Choosing ChargePoint
In 2015, Freed applied for and received a $500,000 grant from the California Energy Commission specifically to install EV charging infrastructure. After doing a preliminary cost analysis, the San Diego County team determined they could start with 10 sites using that amount of money. Because they needed an expert partner to help with the process, they put out a request for proposal for an EV charging solution provider and ultimately chose ChargePoint.
" We wanted a vendor who could help with the construction process and also manage the charging business afterward. We appreciated how ChargePoint could streamline everything for us — from design to deployment — and then keep the program running smoothly via the cloud network. "

Susan Freed
Project Manager, Energy and Sustainability Division
County of San Diego
Public charging takes off
In such a large county with many towns spread out over many miles, it was challenging to determine where to install the first public chargers. With the help of an urban planning consulting firm, San Diego County focused on sites that offer other attractions for drivers, such as retail districts, shopping centers, large public buildings like hospitals and libraries, parks and other places where people would want to park for charging and then go about other activities. They also focused on arterials and streets with consistent daily traffic where people would easily see the chargers.
They put in 35 ports at 10 sites around the western part of the county, which got their public EV charging program off the ground. The team continues to expand the County's charging program when new capital projects come online.
The California building code requires that new construction buildings include the necessary infrastructure for adding EV charging. Since the County of San Diego typically constructs two or three new buildings every year, they now automatically install EV chargers at these new locations. This building code requirement has enabled the County to expand its public charging to 56 different sites.
County fleet electrification
The County of San Diego's Electric Vehicle Roadmap, approved by the County Board of Supervisors in 2019, aims to electrify more than 500 of the County's fleet vehicles by 2027. Before the County started down the path toward that goal, Freed and her team knew they needed to install a charging solution first.
In 2017, they were able to partner with their local utility company, SDG&E, under its Power Your Drive program. At the time, SDG&E paid for the entire installation — not just the infrastructure but also the charging equipment. The way the program works is that SDG&E owns the equipment and runs the billing service. "The Power Your Drive program allowed us to get started with fleet electrification at seven sites for a total of 70 charging ports," Freed said.
At the same time, the County of San Diego committed the necessary funding to purchase 14 ChargePoint® CPF50 dual-port chargers apart from the utility program and installed them at the County Operations Center, the largest County campus with 3,000 employees, to encourage County departments to transition their light-duty fleets to electric.
"The transition to an electric fleet has been a focal point for everyone at every level within the County," said David Fernandez, chief of fleet services for the Department of General Services in the County of San Diego.
Fernandez is ultimately responsible for the 4,300 vehicles within the County fleet — the fueling, the maintenance and also helping all the departments acquire new vehicles. "Our goal is to see how and when we can best meet state requirements without compromising each department's vehicle needs and capabilities," he said.
Fernandez is encouraging County departments that use fleet vehicles for administrative purposes to transition to electric right away. The administrative fleets are all light-duty vehicles and primarily used to get from one local site to another, meaning they can easily be charged with the infrastructure the County already has in place. Early adopters have included Public Safety Departments and the Health and Human Services Agency.
In addition, the arrival of the Ford F-150 Lightning has been a game changer for many County entities, such as General Services and the Land Use and Environment Group, which includes Public Works, Planning & Development Services, Environmental Health & Quality, Parks & Recreation, the Library, Agriculture and Weights & Measures. The library will even be putting two electric bookmobiles on the road.
As technology evolves, San Diego County plans to convert operational vehicles and equipment such as the Sheriff Department's patrol cars, the County Fire's apparatus fleet and the Department of Public Works' medium- and heavy-duty vehicles, including cranes, high-reach trucks and maintenance trucks as these options become viable.
"We're still waiting for the technology to enable extensive travel across the County in an emergency before we can move in those areas right now," Fernandez said. He's excited to see the pursuit vehicle options coming out for the Sheriff's Department, such as the Chevrolet Blazer EV SS, slated for release in 2024.
"It's critical that the patrol cars don't compromise their operational capability when converting to electric," he said. "But when a vehicle comes available that's rated to meet those needs, I have no doubt that the Sheriff's Department will be all over it."
Fleet charging meets fleet needs
Starting out as a master fleet tech in 2009, Jim Gamboa is San Diego County's electric vehicle coordinator, helping ensure that all vehicle transitions and charging station installations are aligned for the different types of fleet vehicles in use across the County. That includes administrative vehicles, vehicles for Public Works, the Sheriff's Department, the District Attorney's office, Parks and Recreation and several other County departments.
"A lot of my job is helping demystify the preconceived notions about EVs," Gamboa said. He helps people overcome range and electrical capacity anxiety, explains how to right-size the appropriate vehicle for each use case, and educates drivers on how to drive an EV and keep it charged up and running according to current operations. "Some County employees are skeptical about transitioning to electric," Gamboa said, "but once they drive one and overcome some of their fears, they get excited."
Most recently, the County installed 119 CPF50 chargers on the top deck of the County Operations Center parking structure, bringing the total number of fleet charging ports to more than 200 at that location.
"We've really done a lot of strategic thinking in terms of the infrastructure we've laid out and the planning for the next five to seven years so that we can get to a point where the majority of our fleet is electric," Fernandez said. "The County is already getting close to meeting its 2025 goal of having 250 vehicles converted."
The County's current goal is to provide one port per fleet vehicle because all of the County fleet vehicles go out during the day, and each will need to charge overnight. This strategy may evolve, however, as the County transitions to subscription-based charging, which will allow some fleet vehicles to charge using the County's public chargers as well.
Freed says the County initially installed ChargePoint CPF50 AC chargers for its fleet depot but has plans to implement the next generation CP6000 fleet chargers in the future because they deliver more power, which is critical for refueling the County's medium- and heavy-duty vehicles. The County also plans to install a number of DC fast chargers in strategic locations so that fleet vehicles can quickly refuel while out in the remote areas of the county.
Connection is key
The ChargePoint Cloud Dashboard has made it easy for the County of San Diego to manage its EV charging solution for the entire County's fleet from one place. With so many chargers, the County needs robust tools to keep track of them. The sustainability team and other departments use the ChargePoint Cloud Dashboard to run monthly reports on station utilization, number of charging sessions, energy usage, greenhouse gas emissions and more. All metrics are displayed using easy-to-understand graphics.
" I love the ability to look at the data using the ChargePoint Cloud Dashboard —  even something as simple as viewing all the EV charging locations throughout our county. "

David Fernandez
Chief of Fleet Services, Department of General Services
County of San Diego
"We have really been able to track how usage has grown since 2013," Gamboa said. "It dropped off during the pandemic, of course, but it's coming back even stronger now."
Freed likes the consistency the County has with subscription-based charging. ChargePoint as a Service® (CPaaS®) has helped the County of San Diego streamline everything in its charging program — from equipment acquisition and activation to the cloud-based network, reporting and maintenance service. Charging for the County fleet, the public and employees is housed under one umbrella solution.
" The best part about the ChargePoint solution is that we can set it and just monitor it. Having everything connected on a single network has been key. We check the dashboard every morning to make sure things are running smoothly, and that's it in terms of managing the solution. "

Jim Gamboa
Electric Vehicle Coordinator
County of San Diego
Assure®, the five-year warranty plan included with CPaaS gives the County confidence that if the network goes down or any other issue arises, someone at ChargePoint will take care of it right away.
"ChargePoint has done a fantastic job in meeting our needs in terms of responding when we have an issue," Fernandez said. "And the app makes it super easy to find a charger when going from one location in the county to another."
The future of EV charging in San Diego County
"I fully expect us to exceed our electrification goals," Gamboa said. The County is expanding its charging infrastructure to allow all fleets to charge wherever a driver happens to go. The team plans to update the County's Green Fleet Action Plan by summer 2023 to highlight the County's electrification goals along with other sustainability targets for the fleet.
"The County of San Diego chose ChargePoint as its charging provider for the flexibility it offers," Fernandez said. "ChargePoint has the ability to adapt to our needs as technology changes and as our customers' needs change within each department. I'm excited about the ability to scale the solution, to install more chargers at different locations to increase public charging as well as to accommodate our fleets."
The County's focus is on getting plenty of high-power Level 2 AC chargers at County facilities and along vehicle routes to accommodate larger batteries that can go greater distances. They will also install DC fast chargers at strategic locations for quick fueling for their fleet vehicles as well as some for public use.
"The fast chargers are really good for places that are remote around the county," Gamboa said. "No one wants to be limited by travel range or the length of time needed to charge, so we are installing fast chargers to give our fleet drivers the confidence that they can go out 200 miles and come back in the same day." The County Board of Supervisors also approved a Charge + Go solution enabling County fleet vehicles to charge at any of the more than 2,500 ChargePoint chargers in San Diego County in the event they need to top off while in an area without County EV infrastructure.
As for public charging, Freed says charging station utilization throughout San Diego County has doubled in 2022 compared with 2021, partly because, as the pandemic has eased, more people are returning to the office and there is more in-person activity throughout the County. Freed says she also believes simply more people are driving EVs than before the pandemic.
Advice for the public sector
If you're just getting started with setting up EV charging infrastructure, Freed says to be sure you understand the electrical capacity at the sites you choose. She also recommends that you find a partner you can trust who can walk you through the requirements and help determine what software, equipment and services you'll need for your specific situation.
According to Gamboa, when it comes to public sector fleet electrification, you've got to grow the fleet at the same time you grow your charging infrastructure. Being able to integrate your charging solution with telematics software is key to enabling you to track your fleet during the transition.
"The great thing about ChargePoint is that, in San Diego at least, the broader network of chargers is already established," Gamboa said. "So, as we transition our fleet, we can make use of the network for more remote charging until we are able to get our own charging infrastructure set up at more County-owned locations."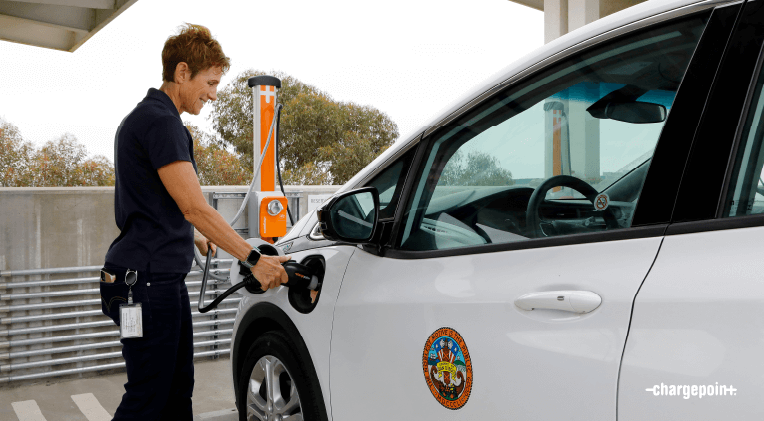 Since installing its first EV charging infrastructure in 2013, the County of San Diego has reduced its GHG footprint by 426,956 kilograms. That's the equivalent of growing 10,948 trees and watching them flourish for 10 years.
"Even though we have much to celebrate in terms of our GHG emissions reduction," Fernandez said, "there's still a lot of work to do. That's why we're grateful we have partners like ChargePoint to help us continue moving toward electrification."
At ChargePoint, we believe stories have the power to change the world.
Our customers share their stories because they're passionate about the often-unforeseen ways the electrification of transportation has impacted their organizations. Like many companies around the globe, they've discovered that what's good for the planet can also be good for business.
E-mobility is here to stay. Perhaps it's time to tell your own story. Reach out to us at sales@chargepoint.com and let us know. We'd love to hear it.