Oxford Collection's path to EV charging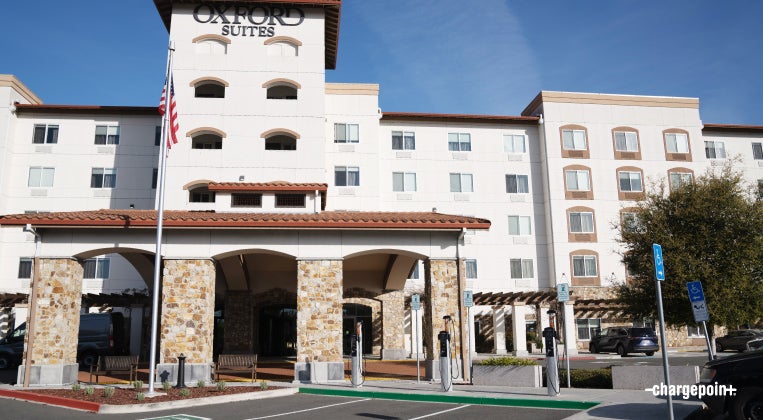 Heated pools, continental breakfasts, free Wi-Fi and high-end bedding — many hotel guests have come to expect these amenities. Nowadays, hotel owners who want to stay competitive need unique offerings that help their properties stand out among run-of-the-mill accommodations. That's why many are taking a serious look at EV charging.
The reality is, electric vehicles are becoming mainstream, and this "amenity" will soon be a necessity as more hotel guests need to plug in during an overnight stay. According to the BloombergNEF Electric Vehicle Outlook of June 1, 2022, global sales of passenger EVs are expected to increase from 10.6 million in 2022 to 20.5 million in 2025 — a more than 93% increase in just three years. Recently passed legislation mandating an end to sales of new internal combustion engines (ICE) along with federal and state incentives for EV charging infrastructure will only hasten the transition to electric. 
Owners of the Oxford Collection recognized this trend early on and worked with ChargePoint to establish an EV charging solution across their portfolio of hotels. Read on to see how this amenity upgrade created a 5-star experience for Oxford guests — as well as the Oxford team.
Why EV charging for hospitality? 
These days, many people seek out hotels that follow sustainable business practices and offer an earth-friendly environment. Since 1988, the Oxford Collection has prioritized environmental sustainability alongside creating a superior guest experience. As more guests began asking about on-site EV charging, it was an easy commitment to install the necessary infrastructure and take additional steps toward meeting the company's own sustainability goals.
"Even before it became such a big trend in the industry and in the world, our owners were very much early adopters of EV charging. It was important for them to offer charging stations."

Katie Marskey
Vice President of Sales
Oxford Collection
The company started small, with just a few standalone chargers at a couple locations. As EV adoption increased among guests, it became apparent that the company needed not only more chargers, but also a robust, networked solution that would be easy to manage across multiple properties. They also wanted the ability to track charging data in real time and prepare detailed reports for stakeholders. 
After a lengthy evaluation process that compared the hardware, software, management and reporting capabilities of four EV charging solution providers, Oxford went with ChargePoint. "We created a matrix of strengths and weaknesses for each provider and went through a whole functionality overview to select the one we wanted to partner with for the long term," said Christian Boerger, vice president of Revenue Strategy at Oxford.   
ChargePoint ticked a lot of boxes for Oxford. Established in 2007, the company has years of experience in EV charging hardware, software and services, and, according to Boerger, "We wanted to align ourselves with one of the market leaders." 
From the beginning, ChargePoint has been solely focused on creating the best EV charging experience for everyone involved in the shift to electric mobility. For Oxford that means guests who drive EVs as well as the staff members who manage the hotel's charging program. 
The best guest experience 
When thinking about how to provide the best EV charging experience possible to guests, ChargePoint fit the bill for several reasons: 
A leading charging network in the United States
Easy-to-use driver app
High adoption of ChargePoint among guests
Real-time visibility into driver usage behavior
Customized station messaging to guests
24/7 driver support
Thanks to the ChargePoint app's ease of use and the fact that most EV drivers already have it on their phones, guests at Oxford have a seamless parking and charging experience. "We wanted to complement and enhance our guests' experience, not overcomplicate it," Boerger said. "All they have to do is pull up to the charger, plug in their car, check in and go about their business. In the morning, after a restful night's sleep, their car is ready to drive to their next destination." 
EV drivers attending events and meetings at the hotels also have a great charging experience. "Attendees can charge their cars while they're at an event," said Katie Marskey, vice president of sales at Oxford. "Or get in line using the Waitlist feature and receive a notification when a charger comes available." Drivers also get an alert when charging is complete so they can move their car to free up charging for another driver. 
"We fully anticipate that in all the various platforms we utilize to measure customer sentiment and feedback, we will see not only EV charging itself but also ChargePoint being mentioned. "

Christian Boerger
Vice President of Revenue Strategy
Oxford Collection 
"The ChargePoint Cloud Dashboard gives us a clear understanding of what's going on with our chargers at all times," said Gennero Filice, general manager at the Oxford Suites of Sonoma County. "We can see which guests are using them and for how long, who's waiting in line — we can track every aspect of what's going on within the charging system." And that helps his team provide more customized service to guests as they use the hotel's facilities.  
From the dashboard, Filice can send customized messages to the station display informing guests about other amenities and special offers at the hotel. "We send a personalized welcome message to each guest as soon as they plug into one of our chargers," Filice said. "We can also let them know if we're running a breakfast special in our restaurant or offering a discount at the nearby Starbucks." 
Offering EV charging has also helped set Oxford up for success with their corporate guests. "We deal with a lot of corporate, group and government accounts," Marskey said. "More and more, we're seeing corporate customers transition their travel programs to include EV fleets. In order to stay competitive and win these accounts, we have to provide EV charging."  
According to Marskey, if hoteliers want to participate in corporate programs, EV charging is quickly becoming a requirement. "If you can capture that loyalty by offering EV charging now, you'll be setting yourself up for success with these types of customers in the long run." 
Charging management made easy 
On the management side, the 15 years of industry expertise that ChargePoint brings to the table was a key selling point for Oxford. Having a networked solution that can be deployed across multiple properties throughout California, Idaho, Oregon and Washington has also been valuable. 
With ChargePoint, Oxford can count on: 
Real-time visibility into station activity
Cloud-based charging management software
Detailed data tracking and report creation
Flexible subscription service model
Ease of installation
Dedicated and responsive support
In addition to enabling the team to better serve guests, the ChargePoint Cloud Dashboard provides useful information to the business, such as station status, how much electricity is being consumed and overall energy costs. Detailed reports from the dashboard can be customized for financial or sustainability stakeholders. 
"The great thing about ChargePoint," Filice said, "is it allows me to step away and stop focusing on whether we have a working EV charging system. It gives me the confidence and the freedom to really focus on the guests." 
"For others in the hospitality industry looking for EV charging options, I would point them to ChargePoint. It's reliable, it's reputable, it's the largest in the nation — and the customer service is top-notch. "

Gennero Filice
General Manager
Oxford Suites of Sonoma County
Another key benefit for Oxford has been the flexibility that comes with the ChargePoint as a Service® (CPaaS) subscription model, which includes software, hardware, installation and expert service. CPaaS allows businesses to conserve capital expenses and instead use operating expenses to set up charging infrastructure. Monitoring and automatic updates are covered in a simple monthly fee, saving business owners both time and money. CPaaS also includes top-tier service, a full warranty and maintenance options. "Because it's an annual subscription model instead of a straight-up investment, we could keep our ongoing operating cost low and attractive as well," Boerger said.  
According to Filice, the installation process itself took minimal effort on Oxford's part. "It was very easy from start to finish. We had some basic prep work to do — just setting up the ground and being ready to go." Oxford hired an electrical contractor to ensure they had the proper electrical infrastructure, but from there, ChargePoint certified installers completed the entire implementation. 
A scalable solution 
Oxford leadership sees e-mobility as something that's here to stay. They wanted to make sure their charging infrastructure could scale as demand grows and their business evolves — not only vertically to add more stations at individual locations but also horizontally across all their properties. Understanding when to scale the solution requires data, which is something ChargePoint began providing from day one. 
At the Oxford Suites Sonoma County, they installed enough infrastructure to eventually expand the number of charging stations to three times the number currently in operation. As for the bigger picture, with chargers now at six of their 17 locations, ChargePoint has given Oxford access to a raft of new data they can use to make more strategic decisions about scaling while ensuring a healthy ROI. 
"As a revenue professional, it's true bliss being able to log into a centralized dashboard, see all the different sites with all the linked associated charges at a glance and know instantly whether we need to scale further. "

Christian Boerger
Vice President of Revenue Strategy
Oxford Collection 
Ownership and management at the Oxford Collection share a foundational desire to amplify sustainable operations across all properties while enhancing the overall guest experience, so working with ChargePoint was an obvious choice.
"I encourage my fellow hoteliers and the industry as a whole not to look at EV charging as the shiny, new object," Boerger said. "It's going to become a standard. So do your due diligence, look at what has already been proven to be successful, talk to your colleagues who have gone down the path before you and start the process. Run, don't walk."