PSTA leads the way in sustainable transportation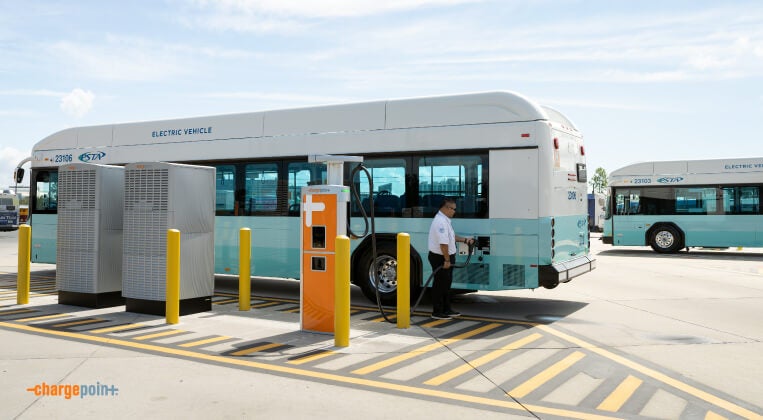 Pinellas Suncoast Transit Authority (PSTA) in Pinellas County, Florida, serves sunny St. Petersburg, Clearwater and beyond with 36 local routes, two trolley and two express routes. The agency aims to be a leader in sustainable transit, and it has set a bold goal of going 100% electric, using electric buses to provide a clean, safe, comfortable ride to passengers who depend on the agency for life-sustaining trips to work, doctor's appointments, the grocery store and beyond.
To meet its electrification goals, PSTA chose ChargePoint as its EV charging partner and leveraged federal funding to install reliable bus charging infrastructure that it will count on for years to come. Powerful ChargePoint software simplifies monitoring eBuses in transit and in the depot, making any necessary changes on the fly and reporting on sustainability results. Everyone in the community benefits from reliable electric bus service. It can really brighten anyone's day.
"PSTA is committed to making a meaningful difference in the community in which it operates, works and lives."
PSTA Sustainable Strategic Plan
,
Hear PSTA leaders share lessons learned from making their sustainability goals a reality through transit bus electrification.
Why PSTA made its fleet even greener
Public transit is already an environmentally friendly way to get around — one that benefits riders and surrounding communities alike. Zero-emission vehicles make transit even greener. That's why PSTA is leveraging federal funds and grants to meet its goal of 100% electrification and achieve sustainability goals for the agency and the broader community it serves.
How to choose a reliable charging partner for transit electrification 
Going electric can be complicated. Working with the right partners makes it easier. PSTA collaborated with ChargePoint and Gillig to ensure that the agency would have resilient, reliable EV charging infrastructure in place from the start. Having the right infrastructure in place helps ensure that electric buses operate on time and on budget, now and for the nearly 20 years they are expected to stay in service.
"ChargePoint was able to check all of the boxes for our requirements but most important to go the long haul and meet our goals. There's no better people to maintain the equipment than the people who built the equipment. For as long as we want to run the vehicles, which is typically 18 years, the charging provider needs to be around."

Henry Lukasik
Director of Maintenance
PSTA
Software powers the electric future
Powerful charge management software and telematics from ChargePoint provide the data that transit agencies like PSTA need to easily monitor performance, manage charging and optimize route readiness to ensure that passenger service is never affected by any charging issues. ChargePoint software also empowers PSTA to easily report on the greenhouse gas emissions avoided by its clean bus fleet and track its larger progress toward sustainability goals.
"Even though physically people from ChargePoint aren't here, they actually are here through the use of their system."

Henry Lukasik
Director of Maintenance
PSTA
An electric bus fleet makes an impact now and in the future
The future of transit is electric. To bring that future about, transit agencies need reliable EV charging partners to develop reliable infrastructure for the zero-emission bus fleets that deliver cleaner, safer and more comfortable rides for a sustainable future. By working with ChargePoint, PSTA has been able to install reliable EV charging infrastructure and operate electric bus routes successfully, making measurable progress toward sustainability goals and providing life-sustaining service to the community.
At ChargePoint, we believe stories have the power to change the world.
Our customers share their stories because they're passionate about the often-unforeseen ways the electrification of transportation has impacted their organizations. Like many companies around the globe, they've discovered that what's good for the planet can also be good for business.
E-mobility is here to stay. Perhaps it's time to tell your own story. Reach out to us and let us know. We'd love to hear it.