Stevens Creek BMW Attracts Prospects and Strengthens Customer Relationships with ChargePoint EV Charging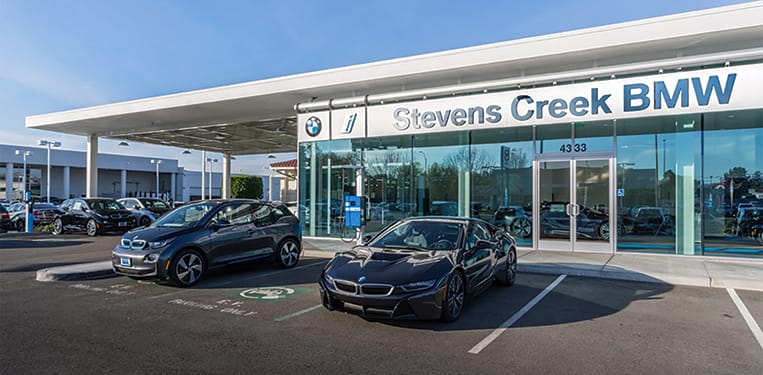 Located in Santa Clara, California, Stevens Creek BMW is the first BMW i Center serving EV drivers and prospective EV drivers throughout the Bay Area and Northern California. The Stevens Creek BMW i Center strives to offer an informative and no-pressure environment where potential EV drivers can come to gather information about switching from gas to electric, see the increasing availability of public charging and gain exposure to the BMW i brand and vehicles.
The EV Trend
Stevens Creek BMW wanted to attract environmentally conscious, tech-savvy early adopters to the BMW i Center to build relationships and educate prospective customers about the benefits of driving electric. Offering EV charging as a guest service was motivated by goals to:
Establish touch points with existing drivers
Attract EV drivers from other brands to the showroom
Offer a premium experience with superior amenities
Differentiate the dealership from competition
Establish sustainability leadership Drive both new and repeat business
The ChargePoint Solution
Stevens Creek BMW started with one networked commercial Level 2 station for use in the service bay and for charging BMW i3 and i8 vehicles in inventory. When it launched the BMW i Center, Stevens Creek BMW added more Level 2 ports to accommodate public charging as well. In addition to its three Level 2 commercial stations, Stevens Creek BMW installed an Express 100 DC fast charging station to offer existing and prospective EV drivers a place to charge up fast close to home or while shopping for a new BMW. The Express 100 station also lets Stevens Creek BMW demonstrate DC fast charging to customers buying BMW i3 vehicles.
"As the only BMW i Center in Northern California, we wanted to set the standard and showcase our commitment to EVs through the infrastructure we provide at our dealership. We are pleased with the ChargePoint stations and already see the potential to add more. I've worked closely with ChargePoint since opening and customer service has shone, providing convenient and user-friendly ways to educate our new clients on finding and using their stations. This is truly a relationship I value. Our dealership could not fully function without the service ChargePoint provides."
Tiffani Wyatt
Sales Manager
Stevens Creek BMW i Center
ChargePoint Delivered
Completed thousands of EV charging sessions
Attracted prospective buyers to the dealership
Strengthened relationships with new EV drivers
Broadened awareness of the BMW i brand vehicle lineup
Results
In just over a year, the Stevens Creek Level 2 stations were used more than 3,100 times by 354 different drivers. The stations charged vehicles for test drives and employee vehicles, and Stevens Creek even let prospective customers charge while browsing at the dealership. In the first six months of operation, 275 EV drivers charged at the Express 100 station more than 1,100 times. These drivers were primarily BMW i owners, but drivers of many other EVs charged at the dealership as well. By offering a complimentary charge to all drivers, the BMW i Center is able to establish relationships and expand awareness of the BMW i brand, so drivers know where to turn when they're ready for a new EV.
---
At ChargePoint, we believe stories have the power to change the world.
Our customers share their stories because they're passionate about the often-unforeseen ways the electrification of transportation has impacted their organizations. Like many companies around the globe, they've discovered that what's good for the planet can also be good for business.
E-mobility is here to stay. Perhaps it's time to tell your own story. Reach out to us at sales@chargepoint.com and let us know. We'd love to hear it.