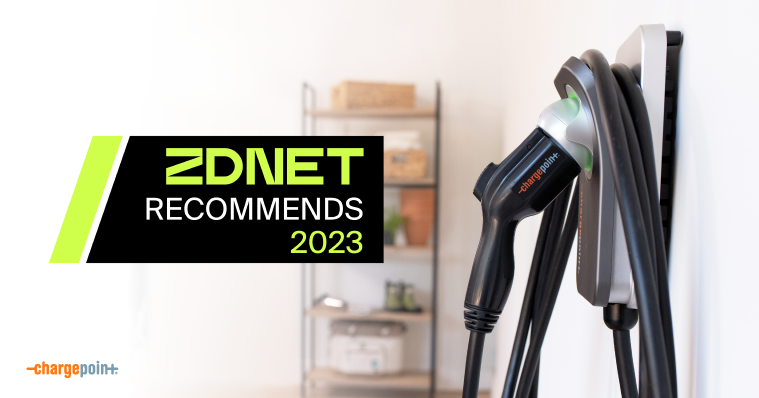 Growing awareness of climate change and the widespread availability of convenient EV models have ignited interest in sustainable choices, including electric mobility. As EV adoption rises, home charging has become increasingly important, and the market has been flooded with various charging options. Among the sea of choices, we like to think the ChargePoint Home Flex stands out for innovation, convenience and efficiency — and ZDNet agrees, ranking Home Flex one of the best home chargers you can buy. In this blog post, we delve into the reasons why ChargePoint Home Flex deserves to be called the best overall home charger for EV owners.
Wondering why you need a home charger? Check out some reasons home charging is convenient and fun.
1. Flexibility and compatibility
One of the standout features of the ChargePoint Home Flex is its flexibility to work with various EV models and charging standards. With adjustable amperage from 16 to 50 amps, this charger is designed to suit both current and future EV models, ensuring compatibility and efficiency as EV technology evolves. This versatility ensures Home Flex will work with any electrical supply, making it a good long-term investment. Plus, Home Flex uses a universal J1772 connector compatible with every EV (including vehicles with a NACS connector, when an adapter is used) on the market.
2. Charging at the speed of life
In a fast-paced world, time can be of the essence. The ChargePoint Home Flex is able to deliver up to 12 kW of power (adding 37 miles of range per hour), enabling faster charging than many other home charging stations. This feature is particularly beneficial if you have an EV with a large battery and a super busy lifestyle, ensuring your EV will be ready to hit the road with minimal downtime.
3. Smart connectivity
The ChargePoint Home Flex isn't just a charger — it's a smart charging solution. Wi-Fi connectivity means your charger is easy to manage remotely through the ChargePoint app so you can start, stop or schedule charging sessions, monitor energy consumption and even receive real-time notifications — all from the convenience of your smartphone. The integration of smart technology like Alexa and Siri gives you an extra layer of convenience and control over your charging.
4. Convenient, user-friendly experience
Installing and using the ChargePoint Home Flex is a breeze. The sleek and modern design is complemented by a user-friendly LED display that provides instant feedback on charging status. Everything you need to know about home charging is easy to manage in the app, from scheduling charging when energy rates are low to setting reminders to ensure you never forget to plug in.
5. Access to public charging
Getting ChargePoint Home Flex is your first step toward understanding the larger EV charging ecosystem. By using our app to explore the ChargePoint network, you can get access to hundreds of thousands of public charging stations, including both ChargePoint and roaming partner network stations. This enables your overall charging experience, providing peace of mind for longer trips and ensuring a seamless transition between home and public charging, with all your details in one place.
The ChargePoint Home Flex is more than just a home charging station — it's a game-changer in home EV charging thanks to its innovative adaptability, quick charging speeds, connectivity, convenience and network integration. For EV owners looking to maximize convenience and efficiency as well as future-proof their driving experience, Home Flex emerges as the undeniable frontrunner and the best overall home charger on the market. Embrace the power of innovation and make your transition to electric mobility a seamless and exciting one with the ChargePoint Home Flex.