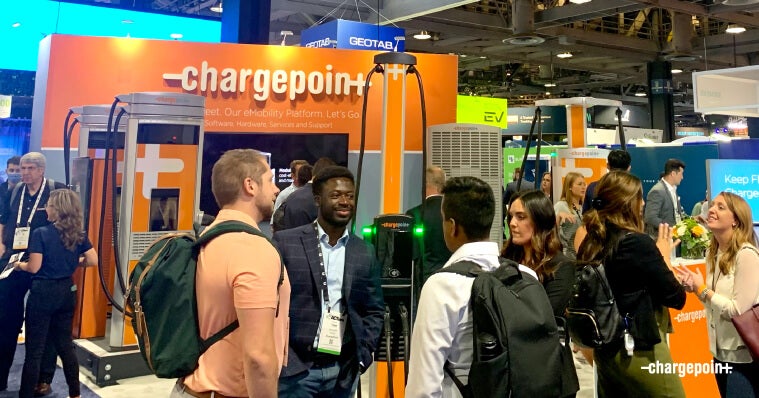 If ACT Expo 2021 was the year of ChargePoint fleet charging solutions, ACT Expo 2022 was all about the (electric) vehicle models. At and around ACT, leading OEMs made announcements about their plans to electrify medium- and heavy-duty vehicles, including established industry players like Daimler and Volvo as well as upstarts like Xos and Zeus Electric. On our side, we kept up strong momentum by engaging with visitors in our booth, speaking on a panel with other industry leaders and interviewing our customers about their electrification challenges and successes in preparation for helping fleets stay charged. Some notable EV announcements from the event include:
BlueBird enters the commercial vehicle market with a new medium-duty EV chassis.
Daimler advances battery-electric trucks, including the Class 8 battery electric Freightliner eCascadia for short-haul routes with in-depot charging entering series production at about 230 miles of range.
Mack LR Electric refuse trucks are rolling out around the country, including in Santa Cruz.
Volvo Trucks celebrates progress with battery-electric trucks across its brands and shares some large customer orders for the VNR Electric truck.
Xos will begin production on medium- and heavy-duty vehicles in 2023, including the HDXT Class 8 tractor up to 230 miles, Xos MDXT Class 6 or 7 up to 270 miles.
Zeus Electric Chassis is entering the Australia work truck market.
Alongside these advancements in zero-emission vehicles, organizations of all types are building out plans for the infrastructure to support these vehicles. Here's where ChargePoint can help. Whether you need to analyze your fleet, choose the right vehicle models for your needs, build out charging infrastructure to keep vehicles operating or finance your entry into EV fleets, we're available to advise on the most effective and affordable approach to electrification. Ready to get started?