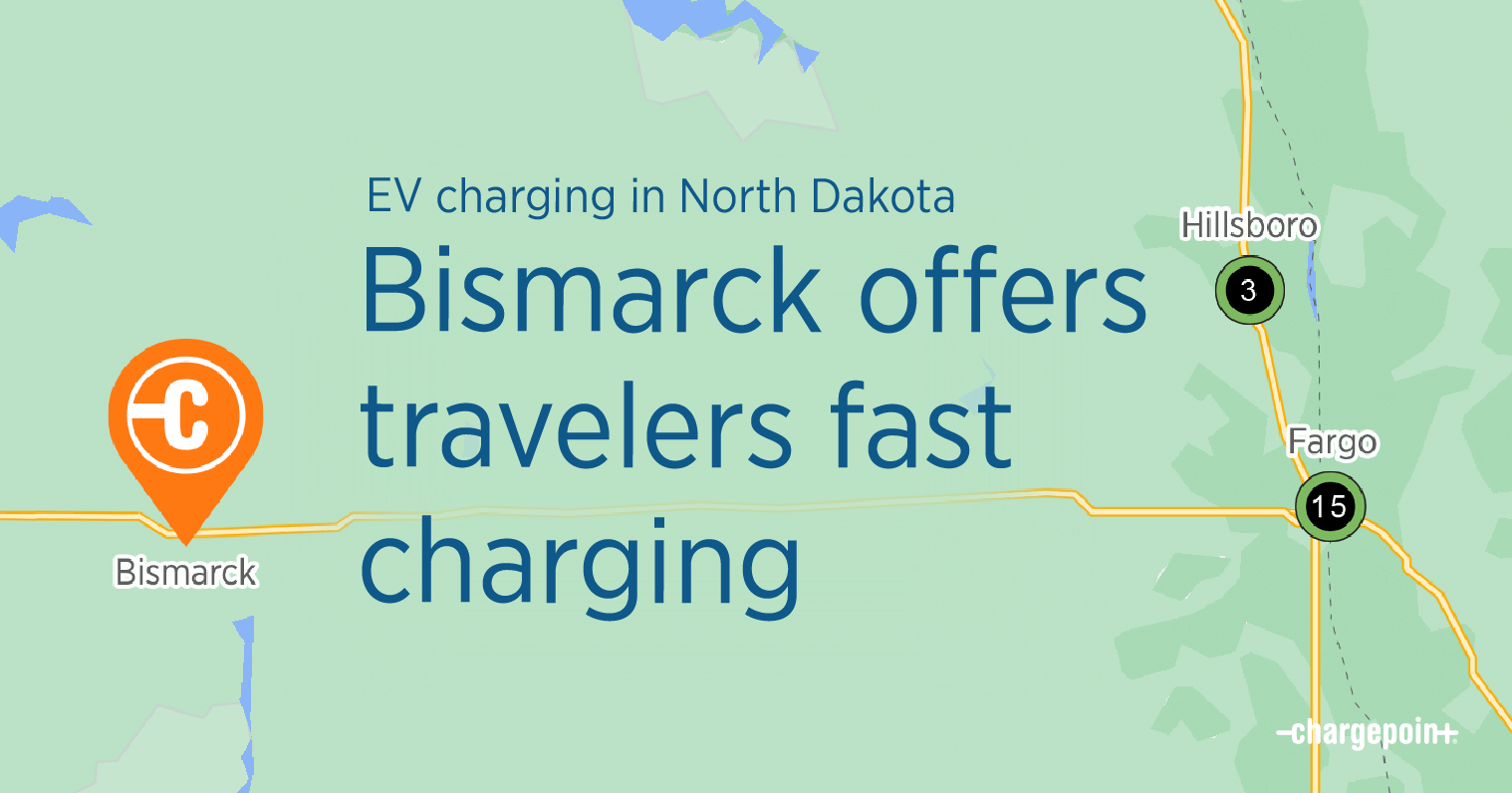 If we've learned anything about North Dakotans during this three-part series on electric vehicle (EV) charging in the state, it's that they defy expectations. Sure, they're friendly, hard-working and resilient folks, but they're also ingenious, innovative and forward-looking. In the state's largest city, Fargo, we met parking commissioner Mike Williams, who traveled the world to make sure his team got electric fueling right the first time. From there, we headed up I-29 to the small farming community of Hillsboro to speak with de facto mayor Terry Sando about why he believes the town's two brand new ChargePoint EV charging stations will be a boon for economic development, attracting both visitors and talent to the area.
We're about to wrap up our road trip through North Dakota, but we'd be remiss if we didn't pay a visit to the state capital, Bismarck, to discover how that city spent its portion of the $2.7 billion in Schedule D (Volkswagen Environmental Mitigation Trust) funds dedicated to investments in emissions reduction projects across the U.S. This city used its share to purchase a pair of dual-port ChargePoint Express Plus DC fast charging stations — the first of their kind there.
"I was tasked as the lead to apply for settlement funding that was administrated from the North Dakota Department of Environmental Quality (DEQ)," says Will Hutchings, a planner with the city's Community Development Department. "After the award, I continued my role as the lead project manager and coordinated the purchase and installation of the charging stations."
Stop, stay, spend
The stations, located at the Bismarck-Mandan Convention and Visitors Bureau (CVB) and the Bismarck Airport, were recently unveiled in a public ribbon-cutting ceremony at which Mayor Steve Bakken declared, "We now have laid the groundwork for EV charging to be a connecting point across the region, ensuring that EV travel is possible across the entire state of North Dakota."
Echoing what we've heard across the state, Hutchings says he expects EV charging to attract both visitors and economic opportunity to the city. "With the CVB location, we were looking at not only how we can bring some of those travelers off the interstate, but how we can capitalize on getting them to stimulate the economy by shopping locally or taking advantage of some of our regional attractions. We want them to be able to experience all the great things our community has to offer."
One thing that was great about ChargePoint is that everything was all in one package and available for us to just plug and play with the help of a qualified installer. — Will Hutchings, Planner, Bismarck Community Development Department

Endless opportunities ahead
With regards to the community, Hutchings says locals are as excited about the opportunities the charging stations will bring to Bismarck as EV drivers are. "North Dakotans are a very hardy people," he says, citing the state's long winters. "Bismarck residents are innovative and open to technological advancements. They're not into shutting down ideas, and so there's been nothing but support that I've heard and seen from people in the community. Providing adequate infrastructure for EV drivers to travel across the state is affording possibilities for a lot of people."
Why ChargePoint?
Hutchings says the city considered several different charging networks before ultimately deciding to go with ChargePoint. "First and foremost, I knew that looking into all the different manufacturers and the variety of services they offered was going to be critical for a successful outcome. What I found with a lot of them reminded me of the early 2000s when you'd get a kit of parts to build your own computer," he says. "You'd buy your own motherboard. You'd buy your own sound card, and you'd get the case and you'd put it all together. But if you didn't know what you were doing when it came to setting up the computer, you were on your own. One thing that was great about ChargePoint is that everything was all in one package and available for us to just plug and play with the help of a qualified installer."
And there you have it — three cities in North Dakota that are making a difference for their state, their citizens and the planet. We're grateful to all the people who participated in bringing this series to life and who took the time to talk to us. Thank you.
Ready to invest in e-mobility? ChargePoint can help you find incentives in your area.