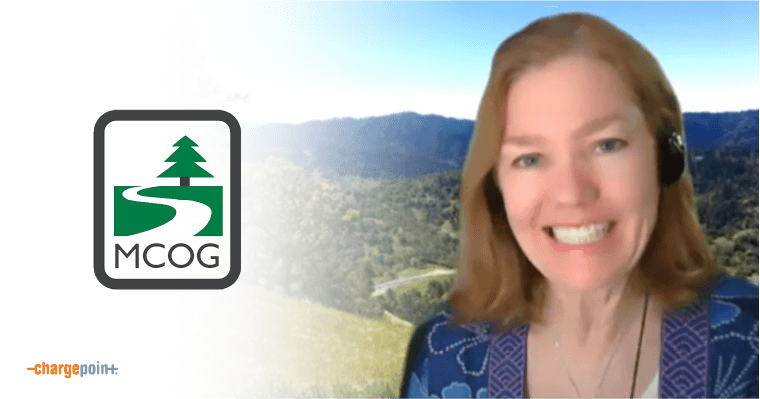 The Mendocino Council of Governments (MCOG) is the regional transportation planning agency for Mendocino County, including the cities of Ukiah, Fort Bragg, Willits and Point Arena in Northern California. Among MCOG's goals is to provide regional, community and intercommunity transportation planning and develop transportation projects for future funding to the region.
California's North Coast has been a hotbed of renewable energy innovation, beginning with the "solar pioneers" and back-to-the-land movements of the 1970s and 1980s, says Janet Orth, MCOG's deputy director and CFO. I recently caught up with Janet to find out how electric vehicle (EV) charging fits into the organization's sustainability goals.
Organization and location

Mendocino Council of Governments

Mendocino County, California

Population
85,445 residents
Industry 
Cities and Towns
Website
mendocinocog.org
Tell me about yourself, your role and areas of responsibility at Mendocino Council of Governments.
I'm responsible for the core administrative functions of the agency. Since we're a small organization, my job also calls for knowledge of a broad range of issues in regional transportation planning, and often has involved managing special projects. When I started 25 years ago, I came from years of environmental and renewable energy work in the political and nonprofit sectors. So, finding myself in the public planning sphere, I initiated a unique project to test the feasibility of EVs in a rural area, positioning us well for the climate action work we do today.
Do you drive electric yourself?
Naturally! I've been road testing EVs since the mid-1990s and have owned two since 2013. I nabbed the first Chevy Spark EV to arrive at the regional dealership. Then in 2017, I traded up to the Chevy Bolt for the additional battery range. My husband Tony and I love taking the Bolt on trips to the coast and redwoods and wine country around here, free from range-anxiety.

What are your organization's sustainability goals and how does EV charging fit into them?
Our zero-emission vehicle (ZEV) infrastructure planning work is consistent with the Mendocino County Regional Transportation Plan policies on climate change and the environment. A main goal is to build a combination of transportation facilities that, when evaluated as a group, will result in improved air quality, reduced transportation-related air toxins and greenhouse gas (GHG) emissions in Mendocino County, as well as a more resilient transportation network. One policy is to encourage private and public investment in a countywide EV charging network and to seek funding to fill gaps in the network. For example, in 2016 we partnered with ChargePoint on the Mendocino Express Interregional Corridor Project to install fast chargers along US-101 through northern Sonoma and Mendocino counties as part of a statewide network, funded by the California Energy Commission (CEC).
How many chargers do you have and who uses them?
MCOG does not own any chargers. Currently, there are 147 public chargers in Mendocino County, according to CEC data. They are used by locals, travelers and tourists. The CEC identifies 924 plug-in EVs registered in the county, of which 377 are battery-electric models.
How did you originally become familiar with ChargePoint?
I must have seen you along the way, but what stands out in my mind is that an account was offered with the purchase of my first new EV, so I signed up. Soon after, when MCOG was involved with a state grant to install EV charging stations in Mendocino County state parks, ChargePoint was the equipment provider for that project and, later, for the 101 corridor project.
Who was involved in the decision-making and implementation process?
With MCOG's planning, as staff, I was deeply involved in nearly every aspect, including providing grant writing, management, networking and recommendations to elected decision-makers. We assembled a Zero Emission Vehicle Advisory Group — or ZAG for short — of technical professionals from our local city and county planning and public works departments, Caltrans, MCAQMD, Mendocino Transit Authority, neighboring county agencies, PG&E, Sonoma Clean Power and ChargePoint. We hired consultants to write the ZEV plans. Community engagement was always an essential part of our planning work. Those plans have supported the implementation of actual infrastructure by underpinning grant proposals that led to funding.
What were the most important criteria for MCOG when it came to evaluating charging solutions?
Our residents have been early adopters of EVs, so we started with Level 2 stations that increased opportunity charging to help meet local needs. Serving tourism as a major economic driver was another top consideration, along with inter-regional travel corridors on the inland US-101 and coastal SR-1 for commuters and access to neighboring counties. We also looked at where people live and work in Mendocino County. MCOG's 2019 Mendocino County ZEV and Alternative Fuels Readiness Plan Update mapped travel contours, for both Level 2 and DC fast chargers, to show approximate distances an EV can cover after one hour of charging.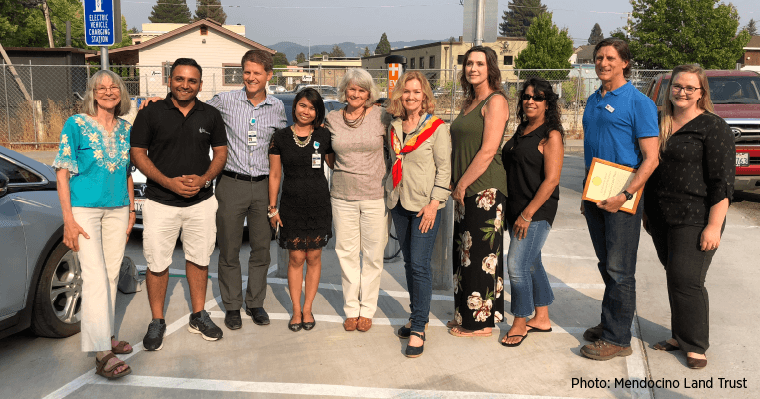 Describe your experience with grants and incentives.
In addition to local transportation funds and state Caltrans grants for planning, MCOG has been a partner on several implementation grants over the years. Recently, on the day of launch, the Sonoma Coast Incentive Project was instantly oversubscribed, with applications for rebates far outpacing the available funds. We look forward to seeing more charging infrastructure in Mendocino County as a result. Personally, I got a deep discount on equipment for home charging as an incentive that came with my EV purchase.
What are MCOG's plans for the future with regard to EV charging?
MCOG will continue to build partnerships to decarbonize Mendocino County and beyond. The 2019 ZEV Plan's Implementation Strategy calls for completing the core EV charging station network and supporting additional EV charger development, as well as ongoing infrastructure planning. As also recommended, we've convened a remote ZEV working group of California's 16-county North State Super Region, as a forum to exchange knowledge and resources.
What advice do you have for your peers related to EV charging?
First, if you've never driven an EV, get a test drive! It's fun and can answer many questions. Also, go for all the incentives you can. I bought a new EV at essentially a $40,000 value for less than $25,000. Leasing is often cheap and can pay for itself with savings on gasoline and maintenance. Demonstrate the cars, assist lower income people with finding affordable options and share best practices. There is still much education and action needed to reach the ambitious goals set by our state and federal leaders to mitigate the climate crisis. Let's work together and make the transition to clean, renewable transportation for all.
Interested in starting your own EV journey? ChargePoint can help you find charging incentives in your area.