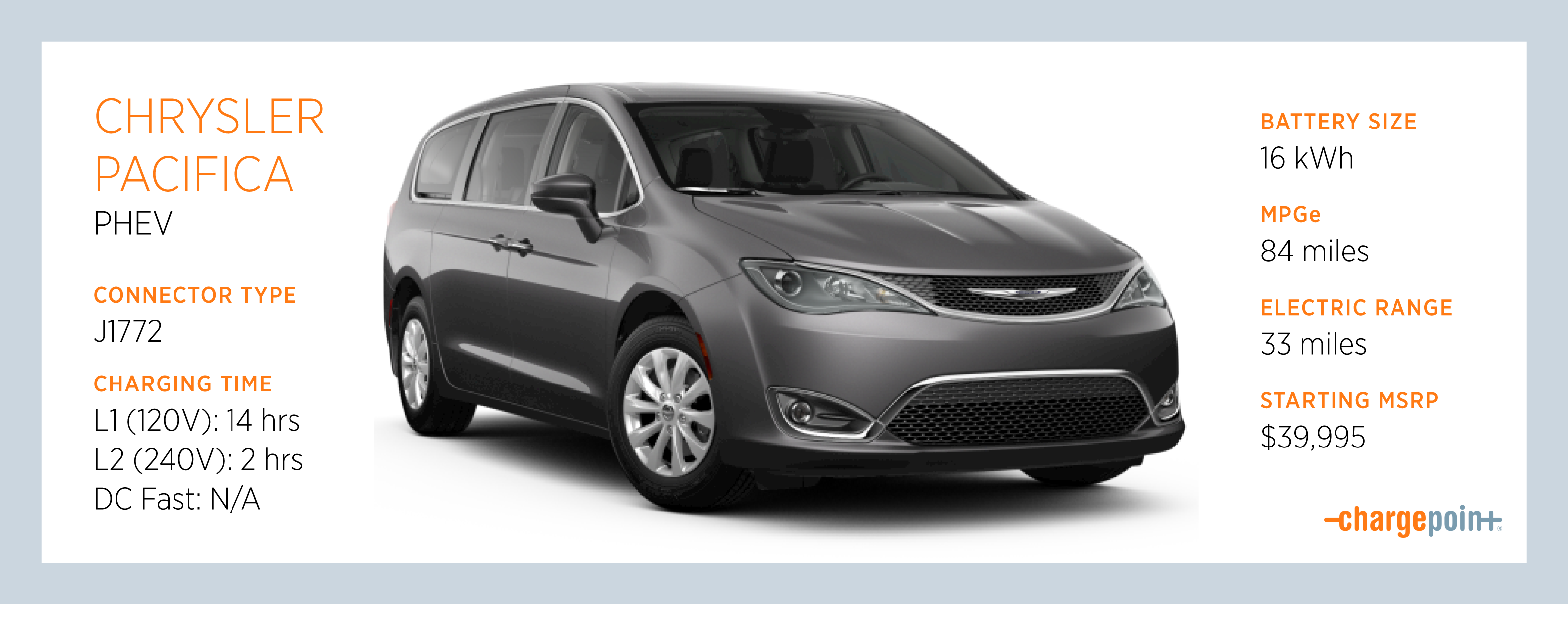 The Chrysler Pacifica is the first plug-in hybrid minivan available, finally giving parents who want to reduce emissions a great way to cart around their kids without getting gas. The 33 miles of electric range are more than enough for the average daily drive, covering commuting and kid duty. Starting at $39,995, the Pacifica is affordable, seats 7 and charges up in just two hours with a Level 2 charger. Being able to drive electric most of the time, but access the convenience of gas when needed, can give families the peace of mind to transition to electric mobility.
| | |
| --- | --- |
| Starting MSRP | $39,995 |
| All-electric Range (battery size) | About 33 miles of electric range (16 kWh battery) |
| Level 1 Charging (120V outlet) | 14 hours |
| Level 2 Charging (240V outlet) | 2 hours |
| DC Fast Charging | N/A |
| MPGe* | 84 MPGe |
| Seats | 7 |
| Notable Features | More than 100 available safety and security features, Hands-Free Power Sliding Side Doors and Power Liftgate, 360° Surround View Camera, Forward Collision Warning, Lane Departure Warning with Lane Keep Assist, UConnect Theater with two 10-inch Touchscreens (on two seats!) |
| Battery Warranty | 10-Year/150,000-Mile Limited Warranty or 10-Year/100,000-Mile Limited Warranty by state |
| Awards and Recognition | Best Environmental Performance and Best All-around Performance (Automotive Science Group); Best New Car Award, Hybrid category (Good Housekeeping in partnership with Car and Driver) |
*MPGe or miles per gallon gasoline equivalent measures the average distance traveled per unit of energy consumed. It's used instead of miles per gallon for electric and hybrid vehicles.
Why Choose a Plug-in Hybrid Electric Vehicle (PHEV)?
If you want to try going electric but don't have access to charging at home or work, or if you want to take long family trips without doing much charging, a hybrid may be a good choice for you. Plug-in hybrids have both a gas engine and an electric motor, so they can plug in to charge the battery, but can also run on gas only when needed. If you want to drive electric most of the time to reduce your emissions and save on fuel costs, it's very possible with a PHEV.
Why Choose a Hybrid Minivan?
For families, the advantages are obvious: more space for kids, especially multiple kids, and all of their stuff. Having a third row of seats that kids can access through the middle seats is super helpful, and hands-free sliding doors, available on many minivans, can be a lifesaver when your hands are full of kids, gear or groceries. Carting around the family pets gets easier with a minivan, too. Many people think they won't take the plunge and go minivan, but are happy when they do.
Don't think an EV could fit with your family? Meet the Morgans, a family of four taking road trips with their Chrysler Pacifica!
How to Charge the Chrysler Pacifica Plug-in Hybrid
With a Pacifica, you can top off the minivan's battery anytime you're parked, at home or around town, instead of making a separate trip to refuel. Topping off your Pacifica Hybrid helps give you as much range as possible and makes each charging session shorter. It takes just a few seconds to plug in, and then you can go about your day (or night) while your Pacifica gets some charge.

Charging Your Chrysler Pacifica Minivan at Home
Charging a plug-in hybrid at home is not much different from charging your cell phone or laptop. Just plug the cord that comes with the van into a regular wall outlet. It will take about 14 hours to fully charge your Chrysler Pacifica Hybrid this way, which may be more time than you want to spend. If you want to make multiple longer trips in a day (say, to get groceries, visit friends and go to soccer practice), upgrading to a Level 2 home charger that can fill up the minivan in about two hours makes a lot of sense.
If you don't live in a single-family home, we'd love to help you get EV charging at your apartment or condo. A hybrid can be a great choice if you can't charge at home because you'll have a gas tank if you really need it. You can live the EV lifestyle with any car if you charge at work or Level 2 stations around town. Just check the ChargePoint app to find convenient places to charge near you.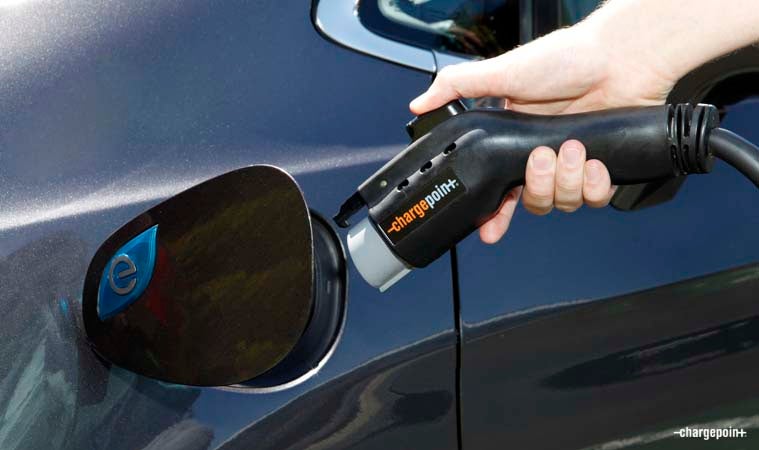 Charging Your Chrysler Pacifica at Work and Around Town
They can be hard to spot if you're not an EV driver yet, but there may be many charging stations at nearby workplaces, restaurants, retail stores and other places you spend time. These locations usually have Level 2 stations with a universal connector that can charge your Pacifica in about two hours.
The best part about charging around town, especially with kids in tow, is that you can go about your day while charging, instead of waiting around for your EV to refuel. Discover places to charge near you in the ChargePoint app and just tap your phone to charge.
Fast Charging and PHEVs
Like most plug-in hybrids, the Pacifica doesn't have fast charging as an option. Don't worry, you won't need it. Fast charging is generally for long trips and PHEVs have a gas engine available for those. You might not want to wait at a fast charger with bored kiddos anyway, although the dual DVD screens in the Pacifica will go a long way toward keeping them entertained.
How Much Will It Cost to Charge the Chrysler Pacifica Hybrid?
Get a sense of how much you could save by switching to the Pacifica using our calculator, or see how much Chrysler thinks you'll keep in your wallet. We've found that, on average, it costs just $8.64 to travel 100 miles on electricity in the Pacifica Hybrid.**
The cost of charging can vary widely between different EV charging stations and networks. ChargePoint station owners set their own fees, and you can always check the station details page in the app for the latest pricing information.
Many businesses offer charging for free or at their cost because they want you to come in.
When charging at home, the cost of charging will vary depending on how much you drive and how much electricity costs in your area (and if you can get a special EV charging rate plan, like me).
Have I won you over to driving (mostly) electric yet? Don't forget to sign up for ChargePoint to charge your Chrysler Pacifica minivan.
Already driving the Pacifica and want to share your experience? Come find us on Facebook or Twitter.
**Cost estimate based on historical charging data from the ChargePoint network and assumption of 3 full charges to go 100 miles, at an energy rate of $0.18 per kWH.