The Mitsubishi Outlander Plug-in Hybrid Electric Vehicle (PHEV) is a crossover utility vehicle with DC fast charging. Already the world's best-selling PHEV, it went on sale in the U.S. and Canada earlier this year. So far, 2018 has seen lots of activity for electric and hybrid SUVs and CUVs, including the launch of the Jaguar I-PACE, Kia Niro and Hyundai Kona, with the Mercedes EQC and Audi e-tron being unveiled soon. Mitsubishi says the Outlander PHEV offers the best of both worlds, with a gas engine and electric motor, plus plenty of cargo space, all-wheel drive, seating for five and towing capability. Plus, it's competitively priced, starting at $34,595. Here's a quick overview of the details:
| | |
| --- | --- |
| Starting MSRP | $34,595 |
| All-electric Range (battery size) | About 36 miles (12 kWh battery) |
| Level 1 Charging (120V) | Full charge in under 8 hours |
| Level 2 Charging (240V) | Full charge in under 4 hours |
| DC Fast Charging (CHAdeMO connector) | 80% in 25 minutes |
| MPGe* | 74 |
| Seats | 5 |
| Notable Features | AWD and towing capability |
| Powertrain Limited Warranty | 10 years, 100,000 miles |
| Awards and Recognition | Automotive Service Group All-Around Performance |
*MPGe or miles per gallon gasoline equivalent measures the average distance traveled per unit of energy consumed. It's used instead of miles per gallon for electric and hybrid vehicles.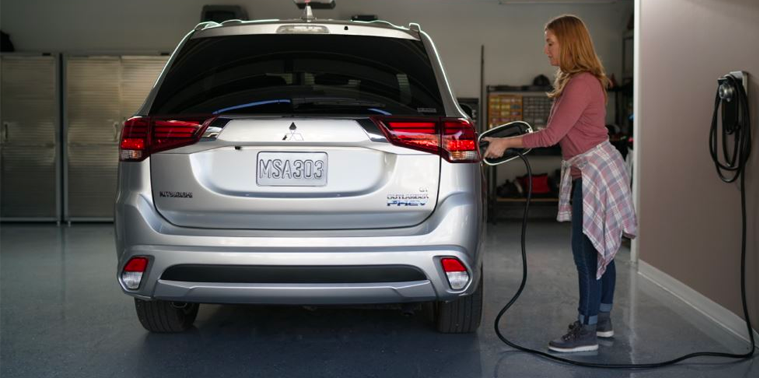 Charging the Mitsubishi Outlander PHEV at Home
A PHEV is a great choice for any family looking to reduce the gas bill without thinking about charging on long trips. It's easy and convenient to charge the Outlander at home using the Level 1 charger that comes with the car (takes about 8 hours) or a Level 2 home charger you can buy and install at a 240V outlet. A full charge for the Outlander will take under 4 hours with the Level 2 charger, which will also let you more easily top off throughout the day. ChargePoint Home is simple to install indoors or out using our network of trusted installers.
Tip: If you don't live in a single-family home, we can help you get EV charging at your apartment or condo, as well as find places to charge around town with the ChargePoint app.
Charging the Mitsubishi Outlander PHEV at Work and Around Town
More and more workplaces are offering EV charging as an amenity for employees. If your company doesn't yet, ask about the option and you may soon enjoy the convenience of charging up while you work the day away. You may not have noticed them if you don't already drive an EV, but there are often charging spots at restaurants, stores and other places you spend time. Charging at work or around town is a great way to keep your PHEV running on electricity. Many PHEV drivers quickly discover that they prefer to keep their cars running on electricity instead of using gas, because it's more efficient and typically much less expensive.
For Level 2 charging at work and around town, the Outlander uses the universal J1772 connector, which is supported at every ChargePoint Level 2 charging station. Like charging at home, the best part about charging at work or around town is that you can just go about your day while charging, instead of waiting around for your EV to refuel. You can discover places to charge near you in the ChargePoint app and just tap your phone on any station to start charging.
Fast Charging the Mitsubishi Outlander PHEV
Fast charging is perfect for adding mileage quickly during long trips or when you really need a quick charge to get around town using electricity instead of gas. You'll be able to charge to about 80% capacity in under 25 minutes with the Outlander PHEV, the only PHEV to offer fast charging.
The Outlander plug-in hybrid uses the CHAdeMO connector for DC fast charging, and it's simple to find fast charging spots and check the cost of fast charging in the ChargePoint app. If you select the Outlander as your EV model when setting up your ChargePoint account, the app will only show you fast charging spots that work with your EV. Or, you can filter for CHAdeMO stations in the app (click the three dots at the upper right to access filters). Once you find a station, you can check the estimated cost to charge in the app, then start a fast charge just like any other charge: simply tap your phone on a ChargePoint Express station, then plug in.
How Much Will It Cost to Charge the Mitsubishi Outlander PHEV?
Here's what it has cost drivers to charge the Outlander on the ChargePoint network so far, in hundreds of sessions across multiple states and provinces:
| | | | |
| --- | --- | --- | --- |
|   | Level 2 | DC Fast | Gallon of Gas |
| Average Charging Session Cost** | $1.65 | $2.22 | $2.86*** |
**Data for paid Outlander PHEV charging sessions on the ChargePoint network in 2018. Most Outlander charging has been free.
***Based on average gas price of $2.86 per gallon as of July 30, 2018, and average mileage of 24 miles per gallon.
Keep in mind that most ChargePoint stations are free to use, so you won't always be paying to charge. Many businesses offer charging for free or at their cost because they want you to visit. The cost of charging can vary between different EV charging stations and networks. ChargePoint station owners set their own charging and parking fees, and you can always check station details in the app for the latest pricing information.
The cost to charge at home will vary depending on how much you drive and how much electricity costs in your area (and if you can get a special EV charging rate plan). Get a sense of how much it will cost you to drive the Outlander PHEV using our EV savings calculator.
Are you excited about the Outlander plug-in hybrid? Don't forget to sign up for ChargePoint when you get yours.