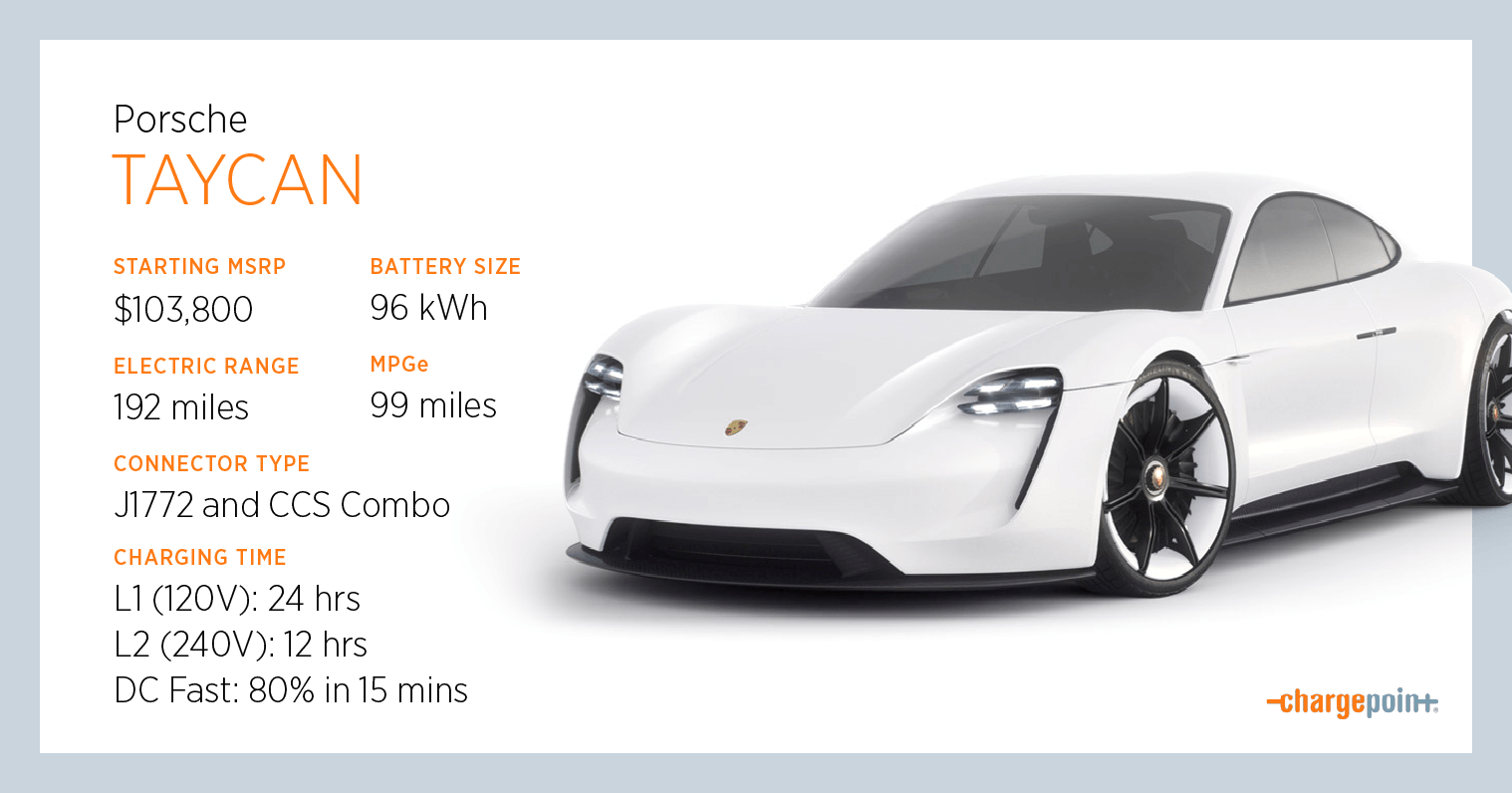 As Porsche's first venture into the field of electric vehicles, the Taycan makes big promises with fast charging and delivering an enjoyable driving experience. Previously known as the Mission E concept car, the Taycan has a range of 192 miles and a 96 kWh battery. This model will be one of the first all-electric sports sedans on the market and is an appealing car for Porsche and EV enthusiasts alike (with the price tag to prove it).
Fun fact: the word Taycan means "lively young horse" and is pronounced "Tie-Con." It's also a reference to the horse in the Porsche logo.
Check out how the Porsche Taycan stacks up and the best way to charge this speedy new EV.​​
MSRP
$103,800
Electric Range
192 miles (estimated)
Connector Types
J1772 and CCS 
Level 1 Charging (120V)
24 hours
Level 2 Charging (240V)
12 hours (10.5 hours at 9.6 kW)
DC Fast Charging (CCS Combo connector)
93 minutes at 50 kW (60 miles in 4 minutes using 800V, 350-kW fast chargers) 
0 to 60 mph
3 seconds (2.6 seconds for Turbo S)
Battery Size
96 kWh 
MPGe
Around 99  
Seats
4
Available Features 

616 horsepower and 626 lb-ft of torque 

Probably 4-wheel steering and torque vectoring 

Apple Music Integration 

Two-speed gearbox

Top Track Speed
161 mph

Wheels

21" wheel and tire package 

Styles ​​​​​​

Porsche Taycan Turbo $150,900 

Porsche Taycan Turbo S $185,000 
*MPGe  or miles per gallon gasoline equivalent measures the average distance traveled per unit of energy consumed. It's used instead of miles per gallon for electric and hybrid vehicles.  
Charging the Porsche Taycan at Home
The Porsche Taycan is super easy to charge at home when you install a Level 2 charger like ChargePoint Home and can charge to full range in 12 hours. If you only have access to a Level 1 charger or simple wall outlet, it's simple (though slower) to charge the Taycan and can take up to a day to charge the full range.  
Tip: If you don't live in a single-family home, we can help you get EV charging at your  apartment or condo, as well as find places to charge around town with the  ChargePoint app.  
Charging the Porsche Taycan at Work and Around Town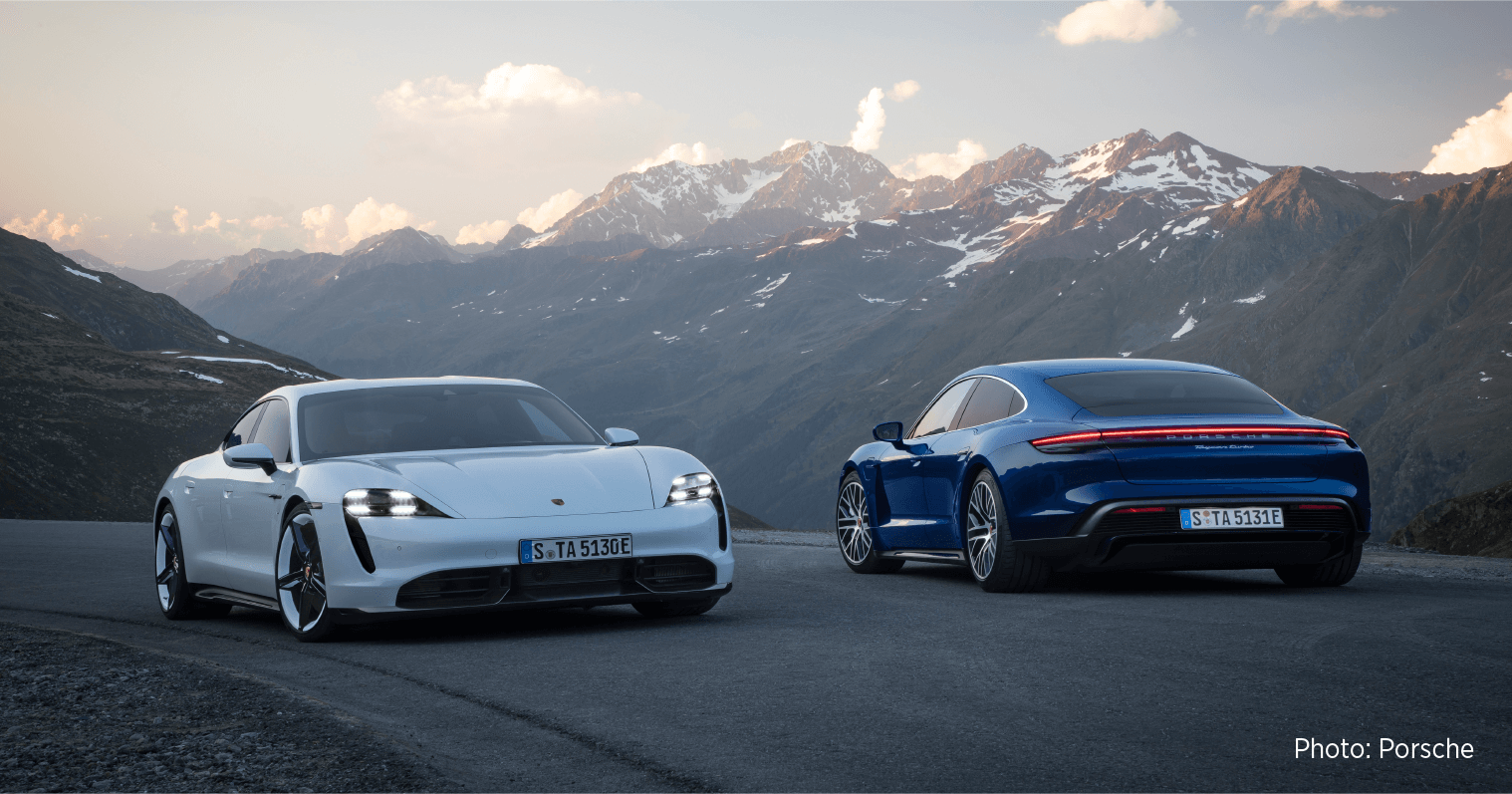 In addition to charging at home, charging at work is the one of the most convenient ways to make sure you always have range. More and more workplaces are offering electric vehicle charging as an amenity for their employees and customers. If your workplace doesn't already offer EV charging, make sure to ask and you may soon be able to enjoy charging at work. 
Charging around town is another great way to charge since many places around town offer EV charging to keep customers coming back to charge and spend more time at their businesses. All ChargePoint stations feature a universal J1772 connector so you can charge the Taycan wherever you see a station. Once you get to your destination, tap your phone on the station to start charging, then go about your day. 
Fast Charging the Porsche Taycan
DC fast chargers offer more power to give you a healthy range in a short amount of time. The Taycan stands out for its advanced fast charging capabilities. At high-speed chargers, Porsche claims that the Taycan can add 60 miles in 4 minutes and 80% range in 15 minutes (most chargers offer 80% range in double the time).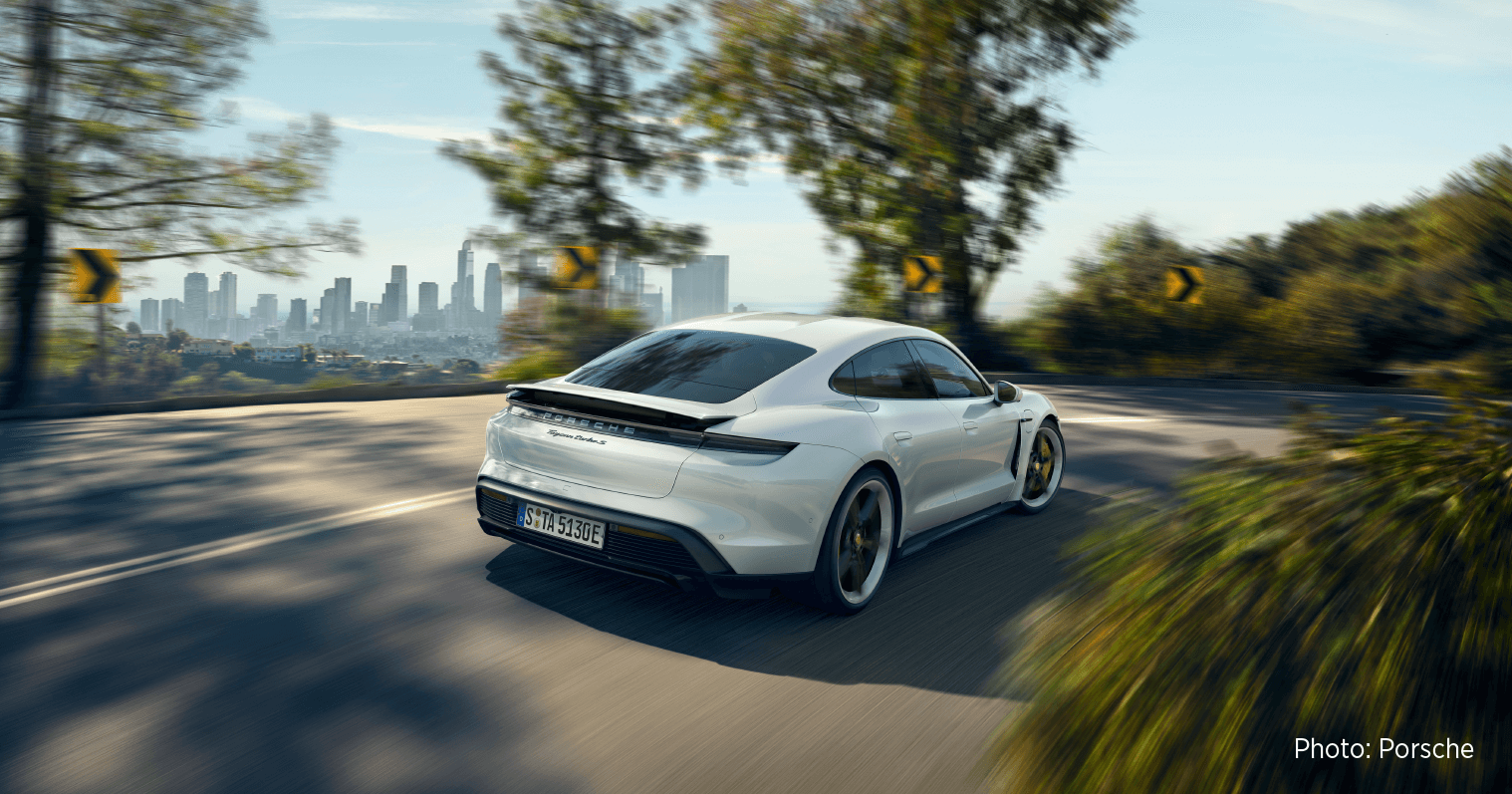 The Taycan uses a CCS charging port that is supported at ChargePoint Express fast charging stations. Make sure to enter in the Taycan's information when signing up for your ChargePoint account to find stations that will work with your car.   
How Much Will It Cost to Charge the Porsche Taycan?
It will cost** drivers about $5.40 to go 100 miles in the new Porsche Taycan. This is slightly higher than other all-electric cars since the battery capacity is larger than most EVs, but is still cheaper than driving on gas and might help (eventually) make up for the high price point of the Taycan. The cost to fuel up on electrons could be even cheaper depending on where you charge, as many public ChargePoint stations offer free or discounted charging. Check the station info in the app for the most up-to-date pricing and find out how much you could save when driving the Porsche Taycan using our EV savings calculator.   
The cost of charging at home will differ based on how much you drive and the price of electricity in your area, but it will most likely be cheaper than gas. If you buy an EV or home charger, you may be eligible for incentives in your state or a special EV charging rate plan.
What's Next?
The Taycan is just the beginning from Porsche and the company has already confirmed plans for more electric vehicles. According to electrek, Porsche CEO Oliver Blume "expects half of Porsche's production to be electric by 2023" so watch out for more from the luxury German brand. 
Are you excited about zooming from 0-60 in 3 seconds with the Porsche Taycan? Don't forget to sign up for ChargePoint to stay charged up when you get yours.  
**Cost to drive X miles = (X miles / electric range of vehicle) * size of battery pack * cost of electricity (average $0.18/kWh on paid charging sessions on ChargePoint)