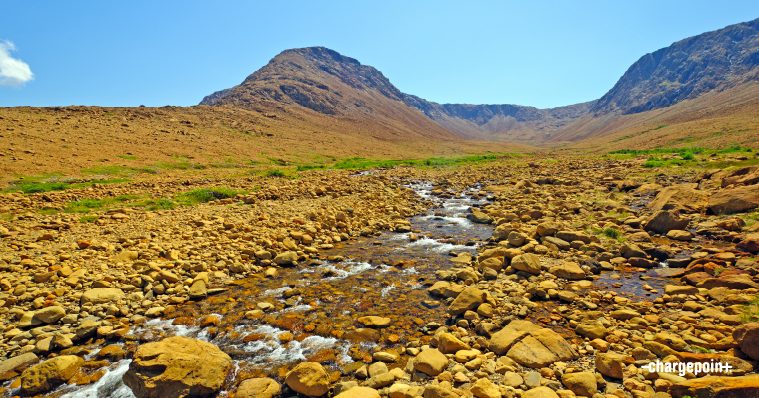 Where CAN you go with ChargePoint, eh? Our Canadian team put together these amazing spots to visit across the second-largest (and, some would argue, most beautiful) country in the world. You can now extend your Northeast EV road trip across Canada to the Pacific! We provide information on where to charge and what to expect at each attraction. Before you head out, charge up fully at home with ChargePoint Home Flex, now available for purchase in Canada (content available in French as well). Make sure to confirm open hours, too.
Atlantic Canada
Newfoundland and Labrador
Gros Morne National Park
This UNESCO World Heritage Site (pictured above) offers soaring fjords, mountains, beaches and barren cliffs shaped by colliding continents and shifting glaciers. Home to the famous Tablelands. Several hotels offer shuttle services from this location to the Gros Morne Visitor Centre and parking lot.
AC and DC fast charging spots: Hydro Rocky Harbour, 33 West Link Road, Rocky Harbour, NFL (DC fast, CHAdeMO and Combo, 62.5 kW; Level 2, J1772, 6.6 kW; $3, always open)
Nova Scotia
Halifax waterfront
Enjoy the centre of Halifax's waterfront hub! Walk along the boardwalk and explore various shops, eateries, museums and tourist must-sees, including the Maritime Museum of the Atlantic and the HMCS Sackville. Jump on the Harbour Hopper, an amphibious vehicle that hits Halifax's historic sites by land and water, or walk to the Citadel Historic Site.
AC charging spots: NOVA CENTRE STATION 1, 1671 Market St P1, Halifax, NS (Level 2, J1772, 6.6 kW; $6, always open)
Port of Halifax
Park and charge here for easy access to the Nova Scotia Discovery Centre, an interactive museum of science, technology and engineering, and other popular destinations, including the Seaport Farmer's Market, Pier 22 Pavilion and the Canadian Museum of Immigration at Pier 21.
Level 2 charging spot: NSP 1H LWS 3, 1233 Lower Water St, Halifax, NS (Level 2, J1772, 6.6 kW; free, always open)             
New Brunswick
Resurgo Place
Park in the heart of Moncton and walk along the water toward Resurgo Place, home of the Moncton Museum and Transportation Discovery Centre. Resurgo Place offers visitors an interactive experience dedicated to local history, science and transportation.
DC fast and AC charging spots: CBC MONCTON 1, 165 Main St, Moncton, NB (Level 2, J1772, 6.6 kW; $0.50, always open)
Quebec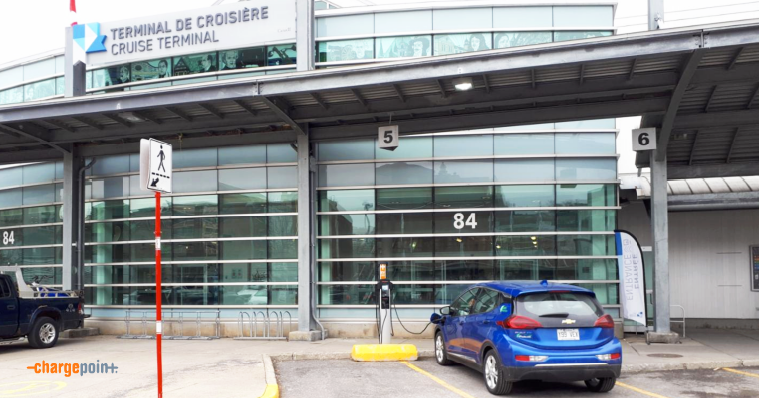 Downtown Montreal
A cultural hub of downtown Montreal, the popular St. Laurent Blvd houses the Monument National, Quebec's oldest theatre still in use today. Locals and tourists often frequent the Place des Arts and the Agora de la danse for performing arts events and shows and the Musée d'art contemporain de Montréal to see Quebec-based and international art.
AC charging spot: 400 DOWD MTL STATION 6, 390 Rue Dowd Montréal, QC (J1772, 6.6 kW; $6, always open)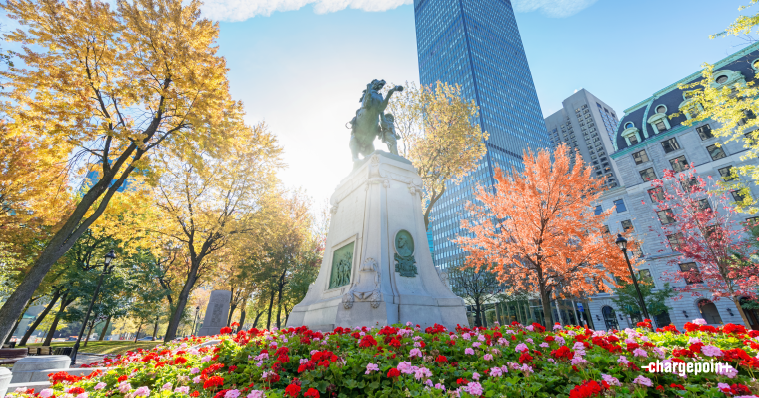 Old Port of Montreal
Park near the Vieux-Port de Montreal to explore noteworthy destinations, including the Montreal Science Centre, the Notre Dame Basilica of Montreal and the Montreal Museum of Archeology and History. Hop on a ferry to St. Helen's Island to visit La Ronde, explore walking paths, pavilions and beach areas, or ride around the famous Circuit Gilles-Villeneuve, home to the Canadian Formula 1 Grand Prix.
Various AC charging spots: 407 Rue McGill, Montréal, QC (Level 2, J1772; $6, always open); CBC Montreal 2, 1400 Boulevard René-Lévesque E., Montréal, QC (Level 2, J1772, 6.6 kW; $0.50); TDC2 STATION 7, 1188 St-Antoine Ouest 1, Montréal, QC (Level 2, J1772, 6.6 kW; $2, always open)
Bassin Brown and the Plains of Abraham
Park and charge within Bassin Brown, a lush park along the St. Lawrence River with walking paths and sweeping views. The Park is walking distance to the Cap-Blanc Stairs, the city's longest staircase (built in the 19th century), the Musée national des beaux-arts du Québec and the Plains of Abraham, a historic park and battle site of the Seven Years' War.
AC charging spot: APQ Bassin Brown, 597 Boulevard Champlain, Québec City, QC (Level 2, J1772, 6.6 kW; $1; always open)
Quebec City Old Port
Choose from several ChargePoint stations within Vieux-Port in Quebec City to explore the HMCS Montcalm, the Naval Museum of Quebec or the Museum of Civilizations, or just wander the Vieux-Port Marina.
AC charging: APQ terminal, 84 Rue Dalhousie, Ville de Québec, QC (Level 2, J1772, 6.6 kW; $1, always open); APQ St-Andre, 80 Quai Saint-André, Québec, QC (Level 2, J1772, 6.6 kW; $1, always open); APQ Marina (135 Rue Abraham Martin, Québec, QC, Level 2, J1772, 6.6 kW; $1, always open)
Parc de la Rivière-du-Moulin
Park near the Parc de la Rivièere-du-Moulin for hiking and biking trails, fishing, kayaking, paddle boarding and canoeing in the warmer months, and cross-country skiing, ice skating and snowshoeing in the winter.
AC charging spot: CBC SRC Sageunay, 500 Rue des Saguenéens, Saguenay, QC (Level 2, J1772, 6.6 kW; $0.50, always open)
Ontario
Blue Mountain, Collingwood
Park and charge in the scenic Blue Mountain Village, Ontario's only year-round mountain resort and spa. Seasonal activities include skiing, hiking, golfing, swimming, climbing, tennis, Segway tours, ropes courses and the famous open-air gondola.
AC charging spot: Blue Mountain, 100 Wintergreen Place, The Blue Mountains, Ontario (Level 2, J1772; $5, always open)
Long Beach, Port Stanley
This popular lakefront beach features picnic areas, a boat launch and the Port Stanley Pier, making it a great spot for tourists and locals alike.
AC charging spot: 337 Edith Cavell Blvd, Port Stanley, Ontario (Level 2, J1772; $5, always open)
Toronto Island
From Queens Quay E, walk to the Jack Layton Ferry Terminal and hop on a ferry to the Centre Island of the Toronto Islands. The island hosts various activities including multiple beaches, Gibraltar Point Lighthouse, eateries, bike rentals and walking beaches. 
AC charging: Waterfront North, 130 Queens Quay E, Toronto, ON (Level 2, J1772; $2, always open)
Canada's Wonderland
There are two charging spots across the street from this popular (and massive) amusement park with over 200 attractions, rides and a water park. Home to the record-breaking Leviathan, Canada's tallest and fastest roller coaster standing at 306 ft. with an 80-degree drop. (Note that Canada's Wonderland opened on April 30 in 2022.)
AC charging spot: CVH EV1, 3268 Major MacKenzie Dr. W 1, Vaughan, ON (Level 2, J1772; $5, always open)
Waterfront (Bayfront Park, Pier 4), Hamilton
From James St N, jump onto the Waterfront Trail, which takes you through Pier 4 Park, Bayfront Park and around Burlington Bay. In the opposite direction, find the Pier 7 Boardwalk, the outdoor rink at Pier 8 (roller or ice skating, depending on the season) and the HMCS Haida National Historic Site, featuring a former Royal Canadian Navy destroyer.
AC charging spot: Hamilton Port station 2, 605 James St N, Hamilton, ON (Level 2, J1772; free, always open)
Downtown core, Ottawa
Park along Lyon Street N and embark on a walking tour of the downtown core of the National Capital. Wellington Street houses several must-see spots, including the Canadian War Museum, the Supreme Court of Canada, Parliament Hill, the Centennial Flame and the Senate. Each historic spot conducts educational tours for all ages and in both official languages.
AC charging spot: P-1 EV Chargers, 185 Lyon St N, Ottawa, ON (Level 2, J1772; free, always open)
Prairies
Manitoba
Winnipeg
It may not be the most historic destination, but you can stop for a charge and some Swedish meatballs at IKEA in Winnipeg. After your shopping and eating trip, check out the Bison Butte Mountain Bike Course or nearby Van Walleghem Park or Muys Park.
Four Level 2 AC ports at 500 Sterling Lyon Pkwy, Winnipeg, Manitoba (Level 2, J1772, 6.6 kW; free) 
Saskatchewan
River Landing
Park across from the Remai Modern art museum and walk to the River Landing Spray Park. Wander along the Meewasin Trail to the Kiwanis Memorial Park and the Saskatoon Boat Launch while taking in views of the South Saskatchewan River.
AC charging: VMI,  480 2 Ave S, Saskatoon, SK (Level 2, J1772; $2, always open)
Alberta
The Calgary Tower
Calgary's downtown commercial offers access to shopping, eateries and the soaring Calgary Tower. Reaching 191 metres above the downtown core, the Calgary Tower allows locals and tourists a 360-degree view of the city and the Rocky Mountains on their observation deck or seated in their revolving restaurant.
AC charging spot: UPTEN, 201 10 Ave SE, P1, Calgary, AB (Level 2, J1772; free, always open)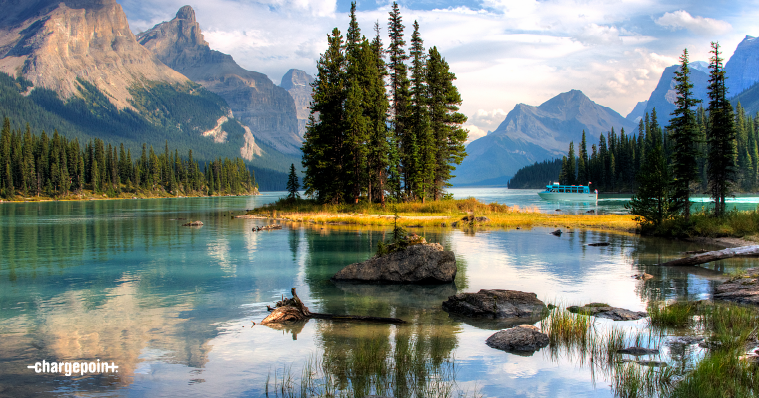 Jasper National Park
Nestled between the mountains, Jasper National Park is the largest national park in the Canadian Rockies and part of UNESCO's Canadian Rocky Mountain Parks World Heritage Site. Extending over 11,000 square kilometres, Jasper is known across the country for its wildlife opportunities, sports for all seasons, star gazing, camping, climbing, photography and for offering some of Canada's best scenery. And you can park and charge right in the middle of it!
AC charging: HI Jasper, 708 Sleepy Hollow Road, Jasper, AB (Level 2, J1772; $4, always open)
Sandy Beach Park
Park within walking distance of the 33-hectare Sandy Beach Park along the Elbow River with playgrounds, a raft and boat launch and numerous walking trails.
AC charging: DWI station, 5112 Elbow Dr SW Calgary, AB (Level 2, J1772; free, always open)
British Columbia 
Whistler Mountain
Explore Whistler's Olympic Plaza and everything Whistler Mountain has to offer. A famous spot for outdoor enthusiasts, Whistler Village also offers visitors a collection of spas, museums, parks and the Squamish Lil'wat Cultural Centre.
AC charging spot: 4365 Blackcomb Way, Whistler, BC (Level 2, J1772; free, always open)
Stanley Park
Park at the Vancouver Aquarium and explore everything this famous park has to offer including the rose gardens, the Vancouver Sea Wall and several lookouts. Discover Stanley Park by foot, bike or rent an e-scooter.
AC charging spot: City of Vancouver, 845 Avison Way, Vancouver, BC (Level 2, J1772; $1/hour, always open)
George Wainborn Park and Granville island
Park by George Wainborn Park and walk through the park to catch a ferry heading over to Granville Island. Granville Island is a cultural and artistic mainstay for locals and tourists, with theatres, galleries, eateries and a public market with over 50 food vendors.
DC fast charging spot: City of Vancouver George Wainborn, 465 Beach Crescent Vancouver, BC ($3 for 15 minutes, always open)
Olympic Village
Park at Quebec Street and East 2nd Ave and walk over to the famous Olympic Village Square, where athletes stayed during the 2010 Winter Games. Nearby must-see spots include Science World and Hinge Park. Pathways along False Creek connect Olympic Village with several ferry stations and extend to Granville Island.
AC charging spot: MEC Canada Station 2, 115 E 2nd Ave, Vancouver, BC (Level 2, J1772; free, always open)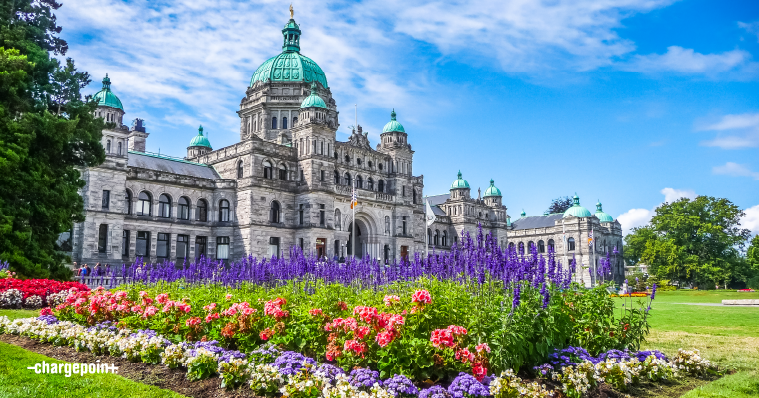 Downtown Victoria
Park at the ChargePoint station at the Victoria Conference Centre and explore all the must-see spots in downtown Victoria. Visit the Royal BC Museum, Miniature World, Victoria Bug Zoo, Inner Harbour Causeway, Maritime Museum or the Legislative Assembly of British Columbia.
AC charging spot: Victoria Conference Centre, 702 Douglas St, Victoria, BC (Level 2, J1772; free, always open)
Cranbrook Community Forest
Park at the ChargePoint station connected by several footpaths to the Cranbook Community Forest, a hidden gem in East Kootenay, BC. This 2,000-hectare protected forest gives locals and tourists an expansive network of trails, lakes and walking paths. 
AC charging spot: COTR Charger 1, 2700 College Way, Cranbrook, BC (Level 2, J1772; free, always open)
Cedar Creek Winery and Lebanon Creek Greenway Regional Park
Park off of Lakeshore Road at Cedar Creek Estate Winery and enjoy a wine tasting or walk over to the Lebanon Creek Greenway Regional Park for great intermediate-level hiking trails. Visitors can walk all the way up to the John's Family Nature Conservancy for spectacular views of Kelowna. 
AC charging spot: Cedar Creek Winery, 5445 Lakeshore Rd Kelowna, BC (Level 2, J1772; free, always open)
Kamloops Bike Ranch
Park off the Trans-Canada Highway and bike up to the Kamloops Bike Ranch to experience a local favourite. With an expansive network of beginner trails up to expert jump lines, this bike ranch is the ideal place to learn new mountain biking skills, develop and enjoy the spectacular views. Visitors can bike up or take a shuttle to the top. 
AC charging spot: Kamloops Volkswagen station 2, 2483 Trans-Canada Hwy East Frontage Rd, Kamloops, BC (Level 2, J1772; free, always open)
Have a favorite place to charge in Canada that we didn't feature? Snap a pic and post with #ChargePoint on Instagram.