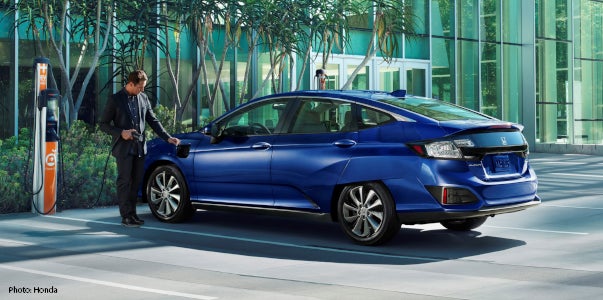 The new Honda Clarity comes in three versions: full battery electric, fuel cell and now, plug-in hybrid, so there's something for everyone. Here's a summary of your options as you evaluate this appealing new line.
The Clarity Fuel Cell runs on hydrogen (not electricity), has about 366 miles of range and is quick to refuel at one of the growing number of hydrogen fueling stations in California. There's no way to refuel using hydrogen at work or at home, and fuel cell vehicles (FCVs) must be serviced at a specialized dealer. 
Clarity vehicles you can charge on ChargePoint:
| | | |
| --- | --- | --- |
| Model | Honda Clarity Electric | Honda Clarity Plug-in Hybrid |
| Electric Range | 89 miles | 47 miles (340 combined gas and electric) |
| Charging Time (Level 2 Charging) | | |
| Lease | Lease for $199/month, $899 due at signing (select CA and OR dealers) | MSRP starting at $33,400 |
| Fast Charging | SAE Combo (CCS) | Not needed because you have a backup gas engine |
| MPGe* | 114 | 105 |
| Maintenance | Very little | Similar maintenance needs to a gas car, potentially with fewer oil changes if you drive mostly on electricity |
| Great for... | Commuting or around town driving, especially if you have a place to charge at home. | Driving electric most of the time, even if you don't have charging at home and need to do a lot of long drives. |
*MPGe or miles per gallon gasoline equivalent measures the average distance traveled per unit of energy consumed. It's used instead of miles per gallon for electric and hybrid vehicles.
Electric vs. Plug-in Hybrid: How to Choose
You may already know that EVs use a different fueling model: EV drivers top off the battery anytime they're parked, at home or around town, instead of making a separate trip to refuel. Topping off helps give you as much range as possible and makes each charging session shorter. It takes just a few seconds to plug in, and then you can go about your day (or night) while the Clarity charges.
Charging Your Honda Clarity at Home
Whether you go with the all-electric or the plug-in hybrid, you'll be able to charge your Clarity right from the comfort of home. Even if you choose a hybrid, you won't have to make many trips to the gas station if you charge up regularly. Some people charge their EVs at home by plugging into a regular wall outlet, which adds about 4 miles of Range Per Hour, meaning it would take a full day to recharge the Clarity Electric this way. That makes upgrading to a Level 2 home charger like ChargePoint Home especially helpful if you get the Clarity Electric.
Home lets you add about 25 miles of range per hour, easily filling up your Clarity Electric or Plug-in Hybrid in just three hours. The Clarity Electric's faster "on-board charger" adds energy to the battery more quickly, letting you charge the larger battery faster compared with the Plug-in Hybrid. If you don't have a single-family home, ChargePoint can help you get EV charging at apartments and condos.Even if you can't charge at home, you can still live the EV lifestyle if you're able to charge at work or at Level 2 charging spots around town. Check the ChargePoint app to see if there are places to charge near you.
Charging the Honda Clarity at Work and Around Town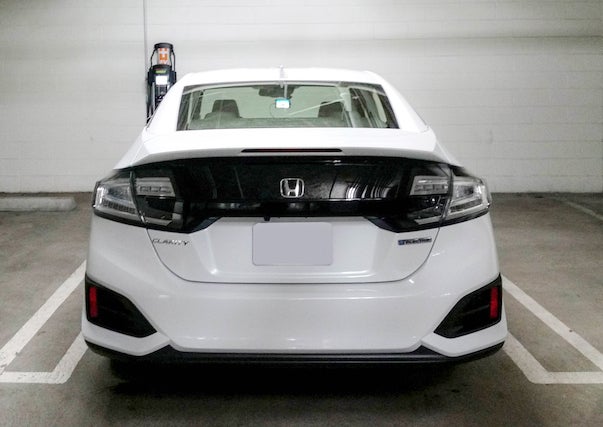 You might not have spotted them if you're not an EV driver yet, but there may be charging stations at nearby workplaces, restaurants, retail stores and other places you spend time. These locations usually feature Level 2 stations with a universal connector that can add about 25 miles of Range Per Hour to your new Clarity.
The best part about charging around town is that you can go about your day while charging, instead of waiting around for your EV to refuel. Discover places to charge near you in the ChargePoint app.
To start charging at a ChargePoint station, just tap your phone or use the ChargePoint card that comes in the glovebox of the Honda Clarity Electric or Plug-in Hybrid.
Fast Charging the Honda Clarity Electric
Fast charging is good for adding mileage quickly during long trips or when you really need a charge to get around town. You'll be able to charge to about 80% in 30 minutes to the Honda Clarity Electric with DC fast charging, adding around 70 miles. The hybrid doesn't come with a DC fast charging option, because it has a gas engine for long trips.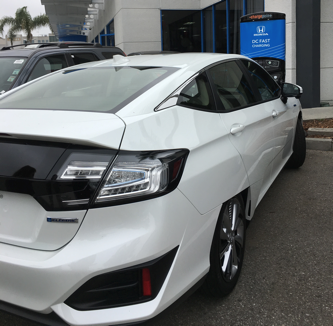 The Clarity Electric is one of the only cars on the market with DC fast charging standard, so you can count on taking road trips along our Express charging corridors and anywhere else DC fast charging is available. The Clarity Electric uses the SAE Combo/CCS connector for DC fast charging. If you select a Clarity when setting up your ChargePoint account, the app will only show you fast charging spots that work with your EV.
Once you find a station, you'll be able to begin a fast charge just like any other charge. Simply use your phone or card to authenticate and plug the connector into your car.
How Much Will It Cost to Charge the Honda Clarity?
We've already had over 500 Clarity Electric charging sessions on ChargePoint since the car launched this summer. The average charging session for Clarity Electric drivers on ChargePoint so far cost just $0.88 and more than 80% of sessions have been free.*
We don't have much data on the plug-in hybrid yet, since it's just hitting dealerships now, but we can compare with the Chevy Volt, another plug-in hybrid that gets about 50 miles of electric range. Across 2,300,000 Chevy Volt charging sessions, the average fee was just $0.70 per session, and more than 70% of sessions were free.
The cost of charging can vary widely between different EV charging stations and networks. ChargePoint station owners set their own fees, and you can always check the station details page in the app for the latest pricing information.
Most businesses offer charging for free or at their cost because they want you to come in.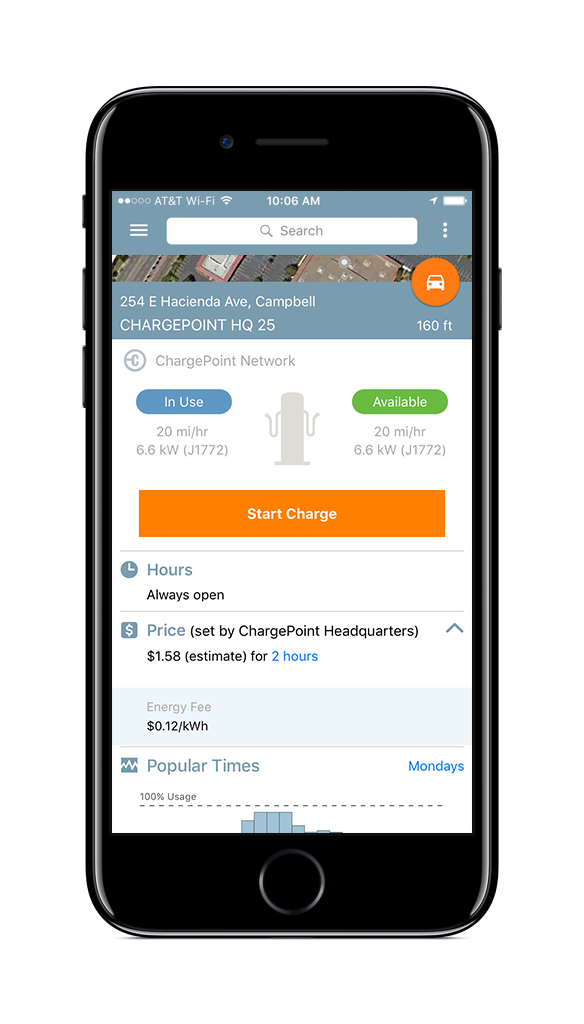 When charging at home, the cost of charging will vary depending on how much you drive and how much electricity costs in your area (and if you can get a special EV charging rate plan). You can get a sense of how much it will cost you to charge the Clarity Electric or Plug-in Hybrid using our EV savings calculator.
Have we won you over to driving electric yet? Don't forget to sign up for ChargePoint to charge your new Honda Clarity.
Any questions? Want to share your experience with the Clarity? Come find us on Facebook or Twitter.
*Based on historical charging data from the ChargePoint Network.  This historical data is not a guarantee on pricing and ChargePoint makes not representation on current or future pricing.