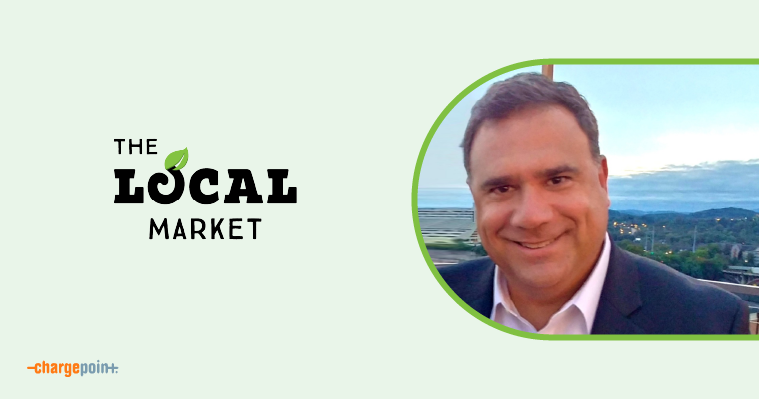 The Local Market is a chain of 26 convenience stores serving East Tennessee and western North Carolina. Owned by H.T. Hackney, one of the largest wholesale distributors in the U.S., The Local Market stores are popular destinations for drivers to fuel up on coffee, tea and snacks as they traverse one of the most scenic regions of the country that includes the Great Smoky Mountains. Now EV drivers can fuel up their cars, too.
Recently, The Local Market partnered with electric cooperative Haywood EMC, the North Carolina Department of Environmental Quality (NCDEQ) and ChargePoint to install two DC fast charging stations at its Waynesville, NC location. They're the first such solutions in the state located west of Asheville and fill a gap in EV fueling for drivers traveling on Interstate 40 (I-40) along the Pigeon River Gorge on their way to Knoxville and beyond.
We sat down with Russell Biven, digital marketing director of Hackney Brands, to discuss his organization's experience working with ChargePoint.
| | |
| --- | --- |
| Organization | The Local Market |
| Locations | 26 stores in East Tennessee and North Carolina |
| Industry | Fueling and convenience |
| Website | thelocalmarket.us |
We see the trends with electric vehicles, and we want to stay on the front end of that and get the best technology possible to make sure we're taking care of our customers at The Local Market. – Russell Biven, digital marketing director, Hackney Brands
Why did you decide to install EV charging at The Local Market in Waynesville?
We see a growing trend for electric vehicles and that's something we want to make sure we're involved in. Our whole goal is to provide the best service we possibly can to our customers who come to The Local Market. Waynesville is a perfect location because there's a need for people who are traveling from Nashville to Asheville or vice versa to have access to EV chargers directly off I-40 between those locations.
Can you talk about your collaboration with Haywood EMC and how that came together?
They obviously have great knowledge in that Waynesville area. They were huge in implementing the plan from start to finish and guiding us through working with the state of North Carolina as well. Haywood helped provide the infrastructure that's in place now — where we currently have the EV chargers — and also helped build the infrastructure to add more in the future. Haywood and ChargePoint were really good council as we were making decisions throughout this whole process.
We're not too proud to lean on other people and their knowledge — and ChargePoint really had it with this particular project and we're really glad we partnered with them. – Russell Biven, digital marketing director, Hackney Brands
What was your experience like working with ChargePoint?
They would bring technology to help us make the best decision possible. They really did that from the time that we first met, as it was being finished and then continuing to follow through with us or answer any questions that we might have. It's definitely a relationship and a partnership that we've appreciated. I don't feel like it was just a one-time thing. I can pick up the phone at any time and call and ask what I would think would be a dumb question; ChargePoint is there to answer in a way that is understandable. This is a new world and so their expertise is invaluable. The way they communicate that to their customers like us has been really helpful as we made decisions — and continue to decide — where to add stations in the future.
Can you talk a little bit about the stations themselves and how they're being utilized?
We're still looking at the data, but our main goal was to provide something we saw a need for. From a business standpoint, when people come to charge their vehicles, you hope they're going to come into your stores. We also realize when you have this it's going to help the communities in that area as well. What's really neat to see is the amount of people who have come to just see the chargers.
The stations are set away from The Local Market in comparison to a typical gas station. What was the strategy around where to locate them on the property?
We didn't want to just put it into a place that was good for today, we try to do things for tomorrow, so we put a lot of thought into it. We're fortunate to have a lot of land on both sides of the convenience store and there's a mountain to left of that. One of things I like about it is, from a design standpoint, is the wooden canopy we put in — at night it looks really cool. We put in rocking chairs so people can sit and look out at the mountains as they charge. We tried to make it fit in with the surroundings and put it in a place we feel is optimal as we continue to build out that store and make it even better.
At The Local Market we make decisions for tomorrow, not just for today. We have two EV charging stations, but we also did the infrastructure for more charging stations to be added at that location. – Russell Biven, digital marketing director, Hackney Brands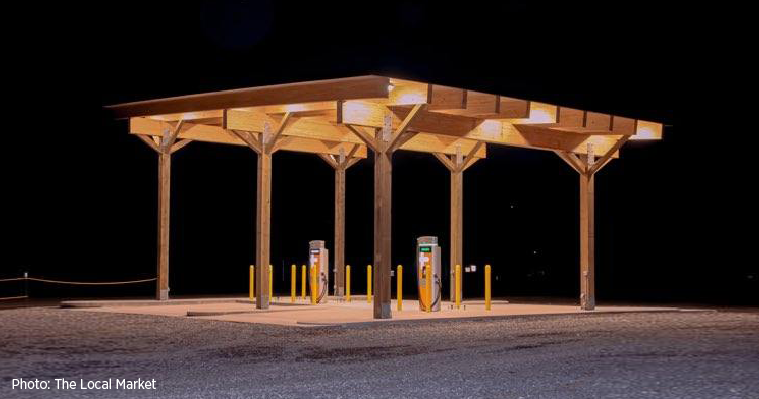 What are some of the current benefits you're seeing from having EV charging?
We're in a good position with that particular store because it offers food service. People were coming in to eat even before the chargers. I think it's important when you stop to charge your electric vehicle that you have a place to go in that's comfortable. You can come into a place where everybody's nice and sit down and take a little breather and eat quality food when you're on the road. We're obviously a convenience store too, so you can stop and get a full meal if you'd like, or you can get a snack.
What do you envision for the future?
As we continue to see the rise in electric vehicles, we've put ourselves in a position to add to the ones that are already in Waynesville and the infrastructure is already in place. We thought about all of that on the front end and, again, we don't build things just for today, we build for the future and where we think the future is going. I think that'll have a tremendous benefit moving forward to bring drivers into our business. Maggie Valley is a popular tourist destination; Asheville is right up the road and Knoxville isn't too far away. As we continue to look at adding more EV charging in the future — and it obviously looks like it's going to continue to grow — we want to be ready to stay on the front lines and help our customers in any way we can.
Ready to join the charge?