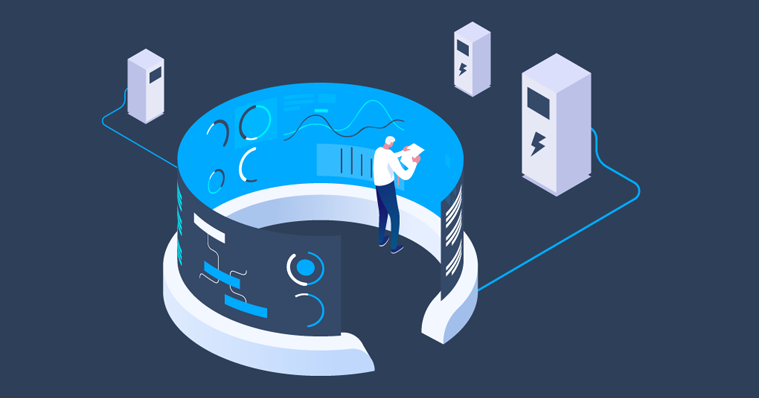 How Retailers are Cashing in on the eMobility Boom
The days of private eDrivers being the only ones with an interest in eMobility are long gone. Charging technology has well and truly arrived in the commercial world, which is witnessing an ongoing explosion in the number of charge points. And nowhere is this more true than in the retail sector. The German Retail Federation (GRF) wants to see a million eCars on the country's streets by the end of 2020. To achieve this, politicians are appealing to the retail industry to play its part. And it's working: figures from the GRF say that an eighth of the nation's approximately 30,000 charge points – a third of which already run on the be.ENERGISED platform – are located in retailer parking areas.
And now, in keeping with policy targets, the number of charge points needs to grow even further. Since the start of this year, new commercial premises with more than 10 parking spaces are required to have a least one charge point, while one in five of them needs to be capable of an electricity connection. Existing premises with more than 20 parking spots will need to provide at least one charge point by 2025.
The Road Ahead for eMobility in Retail
As the third-largest branch of the economy, the retail sector plays an influential role for individuals, society, and the environment. As such, it's taking responsibility by trying to follow sustainable and environmentally sound principles. And not only with regard to supply chains and products – but mobility too. According to the EHI Retail Institute, 39% of retailers in the German-speaking DACH region have already installed charge stations in their parking lots, while 29% are already working on charging infrastructure. When you compare those numbers with those from previous years, the upward trend is as crystal-clear as it is striking.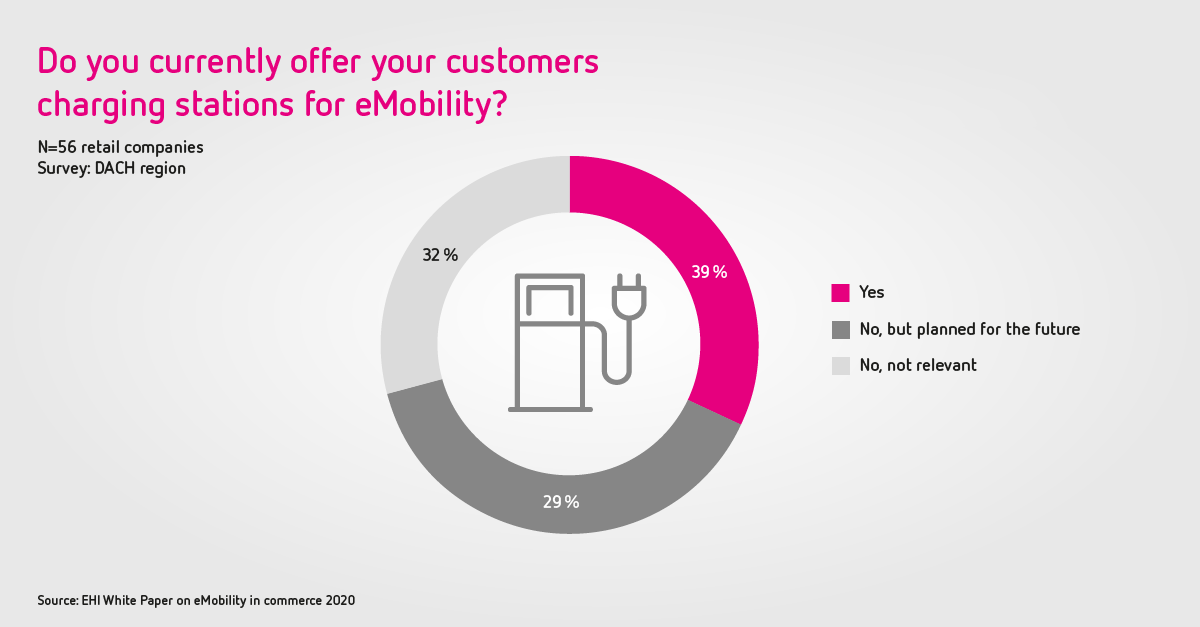 But what do retailers wanting to run and manage a charge station really need? In our experience, the following five things are always on their wishlist.
Personalised Tariffs and Billing Plans for Retailers
It's important for retailers to be able to offer charging at a variety of prices. This allows them to differentiate between customers and non-customers. That in turn means they can allow customers to benefit from free charging while they shop, for example. If these users charge beyond that time, then the supply could be automatically cut off or the extra electricity billed. Equally, should the charge point be made available to the public, then the owner can offer non-customers a fixed price in advance. Our flexible tariff management lets retailers define personalized tariffs, billing models, and offers for every situation.
Opening Hours and Access – The power to choose who can charge and when
Charging should be included as part of the shopping experience for eDrivers. Most charge point operators (CPOs) only want to make free charging available during opening hours – otherwise, anybody could charge up at the company's expense after the close of business! Using our backend, access times for charging stations can be individually defined to follow the opening times of the premises. Among other things, a grace period can also be set up. What does that mean in practice? Say for example a retailer offers its customers free charging during shopping hours and closes at 7 pm. If a customer begins charging in the last few minutes before that time, they can still go beyond the usual cutoff at no charge. The same can apply if the customer begins charging ahead of trading hours. We can configure charge stations to allow for exactly these eventualities.
There's also the option to turn the charging infrastructure into an additional revenue stream by opening it up to other eDrivers. For example, charge points can be made available at a Plug & Pay price determined by the CPO.
Loyalty Scheme Integration for Retailers
More and more retailers are spicing up their offerings by setting up customer loyalty programs. Using a membership card, they can register purchases and offer corresponding rewards. This idea also works for retailers offering eMobility services. Using the has·to·be API retailers can add a mobility category to their existing apps – then reward eDrivers with bonuses or store vouchers. The option to charge without any hassle while they shop means more satisfied customers ready to spend more money. has·to·be also offers a White Label app, which can be made available to customers in the retailer's own branding. When customers sign up for the app, the business builds up and retains a base of regular clients. Thus the concept isn't just good for gaining new customers, but – thanks to the data available in the app – for keeping them on board too. Those who can charge up easily tend to return again and again!
Scalability and Flexibility
When it comes to operating thousands of charge points across multiple premises, scalability and adaptability are essential. Large retail companies are often represented across Europe, or even worldwide. You need a backend that can display individual installations. The be.ENERGISED backend sorts the charge points by area and premises, allowing them to be easily managed in isolation. Bear in mind that retailers operating at this kind of scale usually come up against all kinds of national-level legislation and regulations. Here it's often the case that particular areas shouldn't be allowed access to each other's information. Our backend saves the information for each geographic area independently, whilst also limiting the access rights only to those authorized.
Thanks to its scalability and modular construction, be.ENERGISED adapts to retailers' needs as they develop. We can provide for the efficient, automated management of larger charging stations and offer useful retailer features such as charging area clusters and automated billing (including Europe-wide sales tax accounting).
Comprehensive Support
Retailers want to concentrate on their core business whilst using eMobility to offer added value. Operating charge points should be a background process that doesn't cause any unnecessary internal work. We take care of billing, operation, and monitoring of the charging infrastructure – which means no additional staff or training costs for the retailer. Our 24/7 Hotline ensures end-users always get a straightforward customer experience – no matter how unsociable the hour!
Apart from that, the charging station owner can also offer their clients access to Europe's largest charging network, whilst they themselves benefit from visibility in the be.ENERGISED brand network.
Major Presence: has·to·be in the European retail market
eMobility's ongoing explosion in the retail sector is reflected in the be.ENERGISED Community. Over the past year, the number of charge stations at retailers has grown tenfold. Coping with these calls not only for flexibility but for plenty of industry knowledge and experience. has·to·be already manages over 3,000 charge points for a multitude of retailers, with more than 200,000 charges carried out every month. And with charging installations and upgrades at retail premises continuing apace, the number of charge points across Europe just keeps growing.