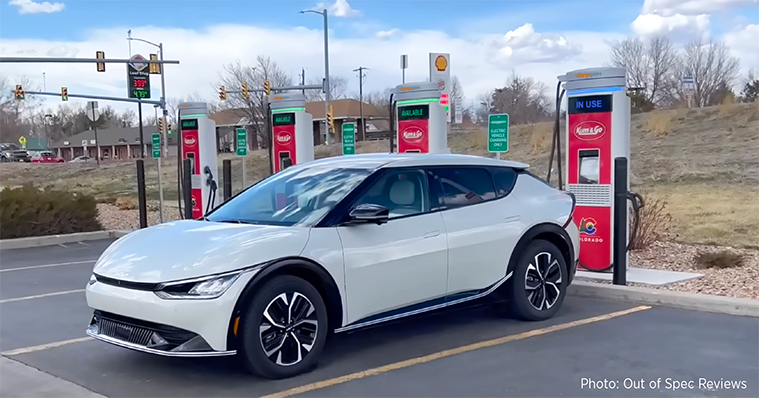 Fueling and convenience stores are all about delivering a great guest experience. EV charging offers an emerging opportunity to attract EV drivers to your location and provide a premium experience that will get drivers coming into your store and coming back on a regular basis. As mobility evolves, fueling and convenience retailers should be thinking about how their facilities can modernize to attract a growing universe of EV drivers. Recently, ChargePoint joined our customer Kum & Go to host a webinar with tips on developing a strategy to drive revenue with EV charging. Here are some answers to questions that surfaced during the discussion. 
How do I select the right EV charging site?  
Success with EV charging starts with selecting the right location. We help our customers select sites in areas with high EV adoption, high traffic, highway proximity and access to amenities. For DC fast charging, it is important to access grant money and programs to reduce capital expenditures. Locations along alternative fuel corridors (AFCs), where drivers look for charging on long trips, are eligible for NEVI funding support, among other possible EV charging incentives. At the same time, urban charging spots can be heavily used for local trips and are important to drivers who don't have access to charging at home. Keep in mind that fast charging also requires significant power availability, typically 480V service. If you're not sure which of your locations to start with, we're happy to help advise.  
What should I consider when creating a premium EV charging experience? 
Once you have selected your location(s), it's time to think about designing a premium charging experience for your guests. You have already invested significant resources creating and controlling a quality guest experience, and EV charging shouldn't be viewed any differently from the rest of the experience. Considerations include number of chargers, power capacity, location, coverage, pricing policies, loyalty program and point of sale (POS) integration.  
Drivers have developed certain expectations for gas fueling, including basics such as a canopy, trash cans and even a squeegee to clean windows while fueling. Meeting those basic expectations for guests while also accounting for a 15- to 30-minute dwell time is the goal. And of course, like filling up with gas, drivers want EV charging to be reliable and easy to use, so it's important to select an EV charging provider with serviceable product design and proven performance.   
What do I charge for EV charging?  
EV charging is different from gas fueling in a number of ways, including how you elect to charge your guests for EV charging. You'll want to familiarize yourself with your utility bill and rate structure before embarking on your EV charging project. Approach pricing as you would with your current fuel supplier, with one notable advantage being that the price of electricity doesn't change every day. Find out if you are subject to demand charges or high rates for using a lot of energy. Fast charging uses a lot of power, so you will want to have an approach in mind to mitigate such charges.  
Many utilities are exploring demand charge reform in the interest of enabling fast charging, so contact your utility to see if you can enroll in a special program or modify your rate plan to save money. ChargePoint software includes useful power management features, including sharing power between stations, delivering the right amount of power to different vehicles and setting power ceilings to avoid demand charges. These features will help you make the most of power output and set prices for charging that will help maximize return on investment. Finally, remember that there are other important ways to monetize charging beyond just electron-related margin. 
How do I get guests to come into the store?  
A key way to monetize charging, particularly since the guest dwell-time for EV charging is three to six times longer than a gas-buying customer, is to get them into the store. The best way to do this is by engaging the customer first through the ChargePoint app then by integrating the app into your own loyalty app. Once done, you can entice them with a wide variety of options limited only by your imagination and vendor relationships. At the very least, the charging station user-interface should present an offer to encourage them to enter the store while the car charges. Once you've integrated your app with the ChargePoint app, you will have access to valuable charging data and customer analytics you can use to create a customized relationship with each guest. However, this level of integration and access to data is only possible when you own and operate the charging station — another reason to choose this approach. 
You can watch the webinar for more tips on driving revenue with EV charging, or explore our DC fast solutions for fueling and convenience.