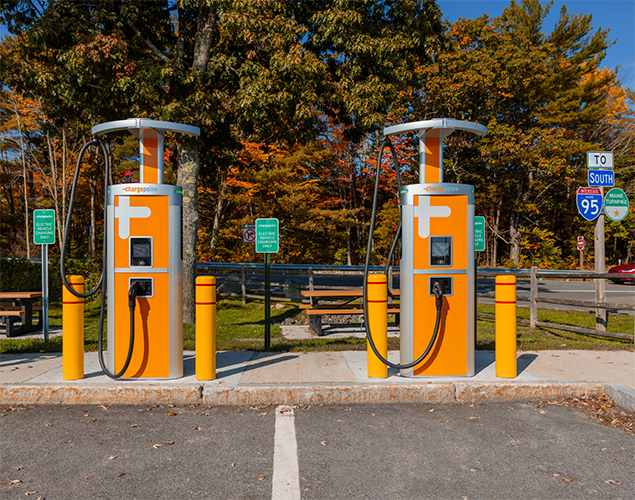 Discover NEVI program funding requirements
Find out if you may qualify for NEVI program funds for DC fast charging
What is NEVI?
The National Electric Vehicle Infrastructure (NEVI) Formula Program, part of the Infrastructure Investment and Jobs Act (IIJA), allocates $7.5 billion for EV charging projects: $5 billion for nationwide funding and $2.5 billion anticipated for corridor and community charging grants. NEVI is designed to promote equitable access to electric vehicles, reduce emissions from transportation and progress toward a federal goal of net zero emissions by 2050.
How do I know if I meet NEVI funding requirements?
NEVI requirements were designed to provide convenient, reliable, affordable and equitable charging for EV drivers who need fast charging locally or while on a trip. To be eligible for NEVI funding of up to 80% of project costs, locations must:
Be within 1 mile of established alternative fuel corridors (AFCs)
Accommodate the power requirements for DC solutions
Charge four vehicles at 150 kW at the same time
Cover remaining total project costs
NEVI Program FAQ
Get answers to common questions about NEVI funding
What can NEVI funding be used for?
NEVI funding can cover a portion of installation costs, including the "make-ready" work needed to prepare a site for EV charging, such as utility upgrades, running wiring to charging station locations and associated construction work. NEVI funding will also cover a portion of the cost of EV charging hardware and software.
---
What are the additional state requirements?
---
When is NEVI funding available?
NEVI program funding availability varies by state. ChargePoint is working with customers nationally to evaluate funding mechanisms, identify potentially applicable sites and build strategies now to make the most of funding opportunities.
---
What other incentives are available?
In addition to federal NEVI program funds, individual states may offer their own incentives. The federal government is also finalizing the details of what's known as the 30C tax credit for EV charging, which can provide up to 30% tax credit for the costs of installing EV charging. Find available incentives in your area.
Why EV charging?
EV adoption is growing, with nearly 20 million passenger EVs already on the road and gas car sales in decline (BloombergNEF). NEVI program funding provides an unprecedented opportunity to get funding to build your business with EV charging.
Attract new customers to your business

Strengthen existing customer relationships

Create a new source of revenue

Support sustainability goals

Showcase your business as a green brand
Why ChargePoint is the right partner for your NEVI program application
Increase your chances of a successful application for NEVI program funding. Choose the industry leader in EV charging.
Express Plus: Your building block for corridor charging success
What locations are well suited for NEVI?
Fueling and convenience
Highway corridor
Quick-stop retail
Ready to get started with NEVI or other incentive programs?
Talk to an EV charging expert who can help you evaluate your EV charging needs and match you with the right solution.
K+
activated ChargePoint ports
188M
charges delivered (and
counting)
76%
of the Fortune 50 are ChargePoint
customers