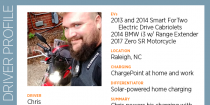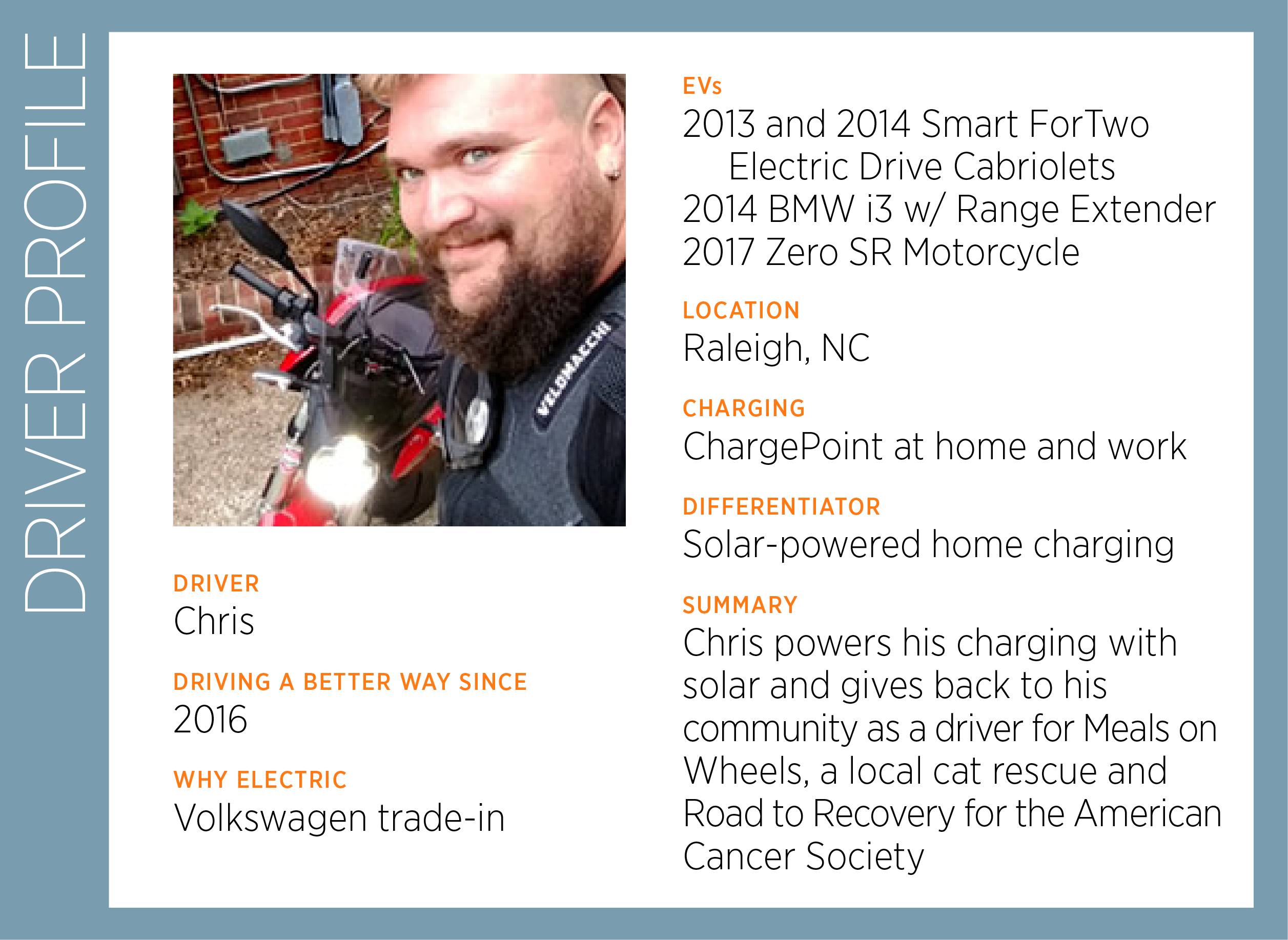 This post is part of a series of EV Driver Spotlights that shine a light on why people choose to drive electric. Want to be profiled? Tell us your EV story.
We recently talked with "Eco Chris" about how he came to drive electric. Now, we take a look at how he charges his four EVs at home and on the road with ChargePoint.
Do you have a home charger?
I have two ChargePoint Home home chargers: 16A and 32A, installed outside and connected to my solar panels so I can charge for cheap.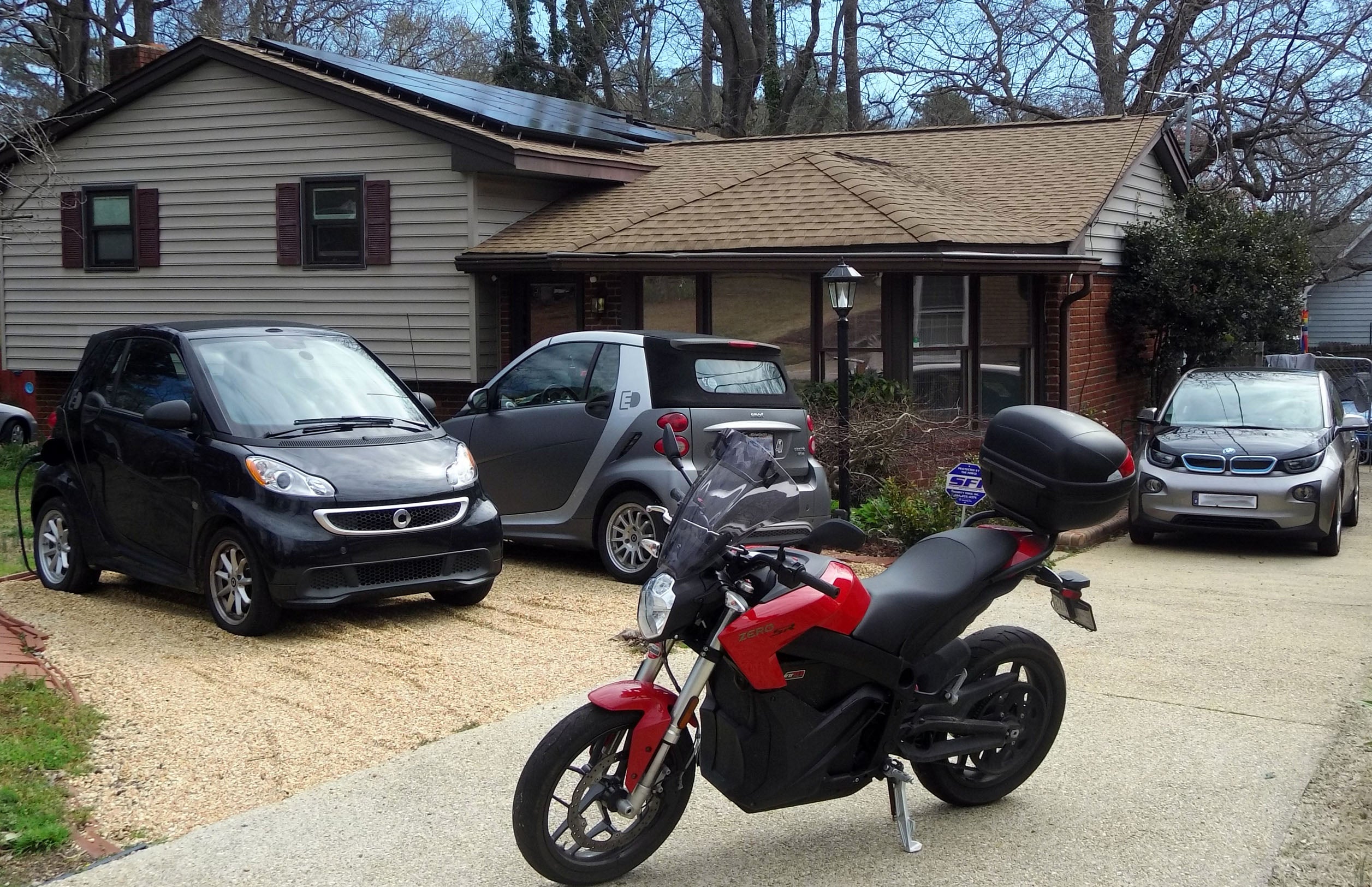 What made you choose ChargePoint Home? How do you like it so far?
My friend Bradley bought a 16A pluggable unit for his LEAF. He showed me how the home charging data integrated with the public charging (ChargePoint is installed at my work, so I already had an account), and I was sold on ChargePoint.
I bought a 32A ChargePoint Home, knowing that eventually we'd have a car that could take advantage of it. When Bradley moved to Colorado, he sold me his 16A unit and I had it hardwired next to the 32A. Now we have two chargers, one per two EVs, and each is used to its full potential.
How was the installation process?
It got off to a bit of a rocky start, but once the 300 feet of conduit was run and the wire plumbed, the actual charger install was 10 minutes at most. The second charger (16A) was much easier because the conduit we had installed was large enough to allow for the 20A circuit (for the 16A charger) to be run alongside the 40A line that was already there (for the 32A charger). It took them about 4 hours start to finish.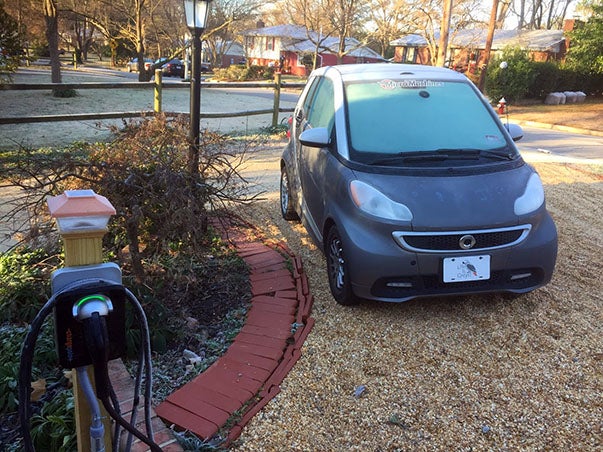 How is it using two Homes?
The two chargers are great. It was initially frustrating that they had to have their own accounts, but I later discovered this was a blessing in disguise. Now I have detailed data on each vehicle and can easily show the exact energy usage based on vehicle, instead of charger. We have an account for the second Smart and the Zero, with their own cards. It would be nice if I could integrate all the data into a single view (like a family account model, wink wink nudge nudge), but I'm happy with how it is.
When did you install solar at home? Is all your charging supported by solar energy?
The original solar array (12 260W panels) was installed June 2016. We estimated that 12 panels would more than cover all our annual charging, putting ROI/payoff at around 4 years (factoring in savings from gasoline). In October 2017, we expanded the system with 4 new 300W panels. Now we're at the maximum capacity for the size of the roof and the shade that hits it.
All of our charging is supported by solar. I used to spend about $3500 on gas each year. Now I spent about $100 on charging yearly, thanks to the savings from solar. That's a pretty big deal.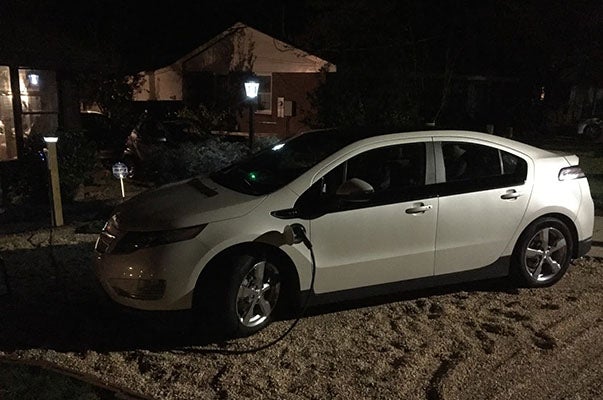 Tell us about your Airbnb listing. Do you get many EV drivers?
The EV charger and solar are major attractions for our Airbnb unit. A lot of people pick our house "because of the renewable energy." We even call it the Brentwood Solar House.
So far, we've had two unique plug-ins at the house. One, a Chevy Volt, was a return customer! The second was a Prius Plug-in who stayed with us in February. In addition to our ChargePoint Home units, we have a Level 1 charger for guests, on our street-facing Little Free Library. I'm adding a smart switch onto the Level 1 so that I can collect usage data like the ChargePoint Home provides.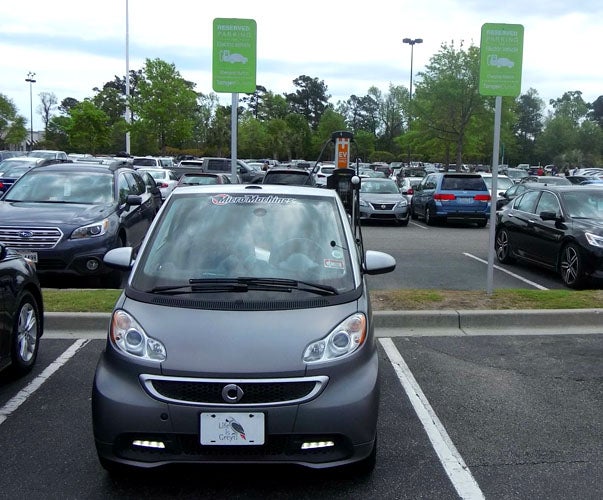 What are some of the challenges associated with driving electric?
Public charging can be a problem. There isn't enough DC fast charging, and there isn't a single fast charging standard like there is for AC charging. For commuting, I think the battery-only tech has been prime time ready for the past three years, especially if you have charging at work. For distance travel, I think Tesla still leads the way. I'm hoping that the rest of the industry, including charging companies and automakers, will catch up or even surpass them soon.
How is charging infrastructure in your area?
We're one of the top counties for EV ownership outside of California, but the infrastructure is still growing. Some organizations got grants for LEED certifications and installed charging early on; many have now been upgraded to ChargePoint.
Even as charging infrastructure grows, it's not always matched by adoption. I've been one of the first to use some chargers in the state. I have driven to Nashville and Oriental, NC, to show people how to use the chargers they had recently installed because they didn't have an EV to charge with the charger!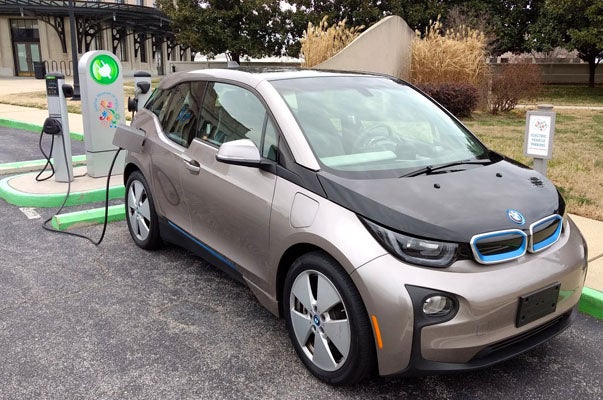 Where's the best place you've taken an electric road trip?
In June 2016, I delivered a Fiat 500e to my friend Jason 380 miles away in Columbia, SC, using almost all ChargePoint chargers along I-40 and I-85. In April 2017, I drove the Smart from Raleigh to Myrtle Beach, SC: 427 total miles, which was a challenge. The drive in the Fiat was long but more enjoyable. Most recently, I took the Zero to Myrtle Beach: 427 miles round trip as well. All my adventures get written up on my blog and I live post my cat rescue transports on Twitter.
What's your favorite place to charge?
The Durham Bulls Athletic Park, which has lots of great food, and the Durham Performing Arts Center are both right there by 12 ChargePoint charging stations. You might say that location is a home run, or deserves to take a bow.
Thanks, Chris! Enjoy charging in the Carolinas, and keep us posted about your lighthouse road trip!
Want to share your EV story? Just drop us a line!
Interested in charging at home like Chris? Save 20% on ChargePoint Home for Earth Day: