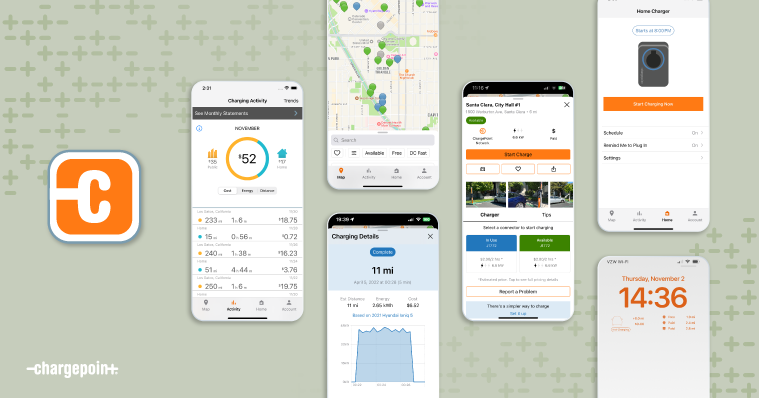 Ice cream with fudge sauce. Spaghetti with parmesan. Popcorn with butter. ChargePoint and our latest driver app update... 
What do these things have in common?
Something great got even better.
That's right. We've given the only all-in-one EV charging app a little extra something.  
Say hello to a refreshed look and feel with easier access to your favorite features. What's not to love? Read on to discover the latest and greatest updates to the top-rated ChargePoint driver app:
1. Navigate better
Easily find and use your favorite driver features with simple and intuitive buttons. Quickly navigate between your charging Map, Activity, Home and Account to get what you need, when you need it.
2. Find, charge, pay, go
Take our new and improved map for a joy ride (and charge). It's never been easier to find, charge, pay and go with quick access to filters and station details on your charging map. Use filters to find the right station for your EV. Track your charging status and join Waitlist without leaving your map.
3. Start charging
Start your charging session even faster with a more intuitive "Start Charge" option. Instantly begin charging with a single tap. Clearly labeled station names in the app and on the station help you confidently start your charging session at the right spot every time.
4. Save time
Time-saving widgets allow you to find nearby stations, view your charging status and start a home charging session without opening the app. Our updated widgets make EV charging even easier and work with every EV. Learn how to set up widgets here.
5. Get answers
Answer your EV charging questions 24/7 with our comprehensive driver FAQ in the same app that keeps your EV fully charged and ready to go.
Our latest app refresh honors the ChargePoint legacy of innovating EV charging. Learn how it's never been easier to find, charge, pay and go with your ChargePoint app.
Ready to charge even better? 
Download or update your ChargePoint app here.