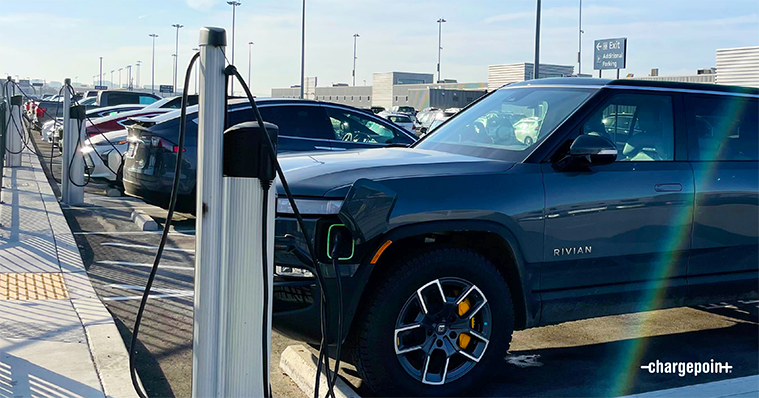 In the past, driving electric could seem somewhat exclusive. Early EV models were often expensive or a little futuristic-looking. But now, as all types of EV models have become more affordable, mainstream and widely available, the EV market is at a point in its development where adoption is ready to accelerate in a major way — and federal incentives and requirements are poised to make a big difference. 
Last year, National Electric Vehicle Infrastructure (NEVI) formula program funding rolled out to states and territories across the country to implement the programs that will help accelerate the availability of EV charging, enabling more drivers to go electric as well as supporting commercial vehicles on long trips. The NEVI funding is complemented by Inflation Reduction Act (IRA) tax credits and Charging and Fueling Infrastructure (CFI) funding at the community level. Recently, the U.S. Environmental Protection Agency (EPA) further accelerated the already rapid electrification of the automotive market by proposing strong new regulations for vehicle emissions, which are designed to improve air quality and combat climate change. 
These regulations are anticipated to have a major effect on the EV market, increasing EV sales to about two-thirds of passenger vehicles, half of light- and medium-duty vehicles, and a quarter of heavy-duty vehicles overall. The new proposed standards were developed based on comprehensive testing designed to identify the emissions reduction potential of EVs, which is already significant and will continue to improve as the electricity grid continues to get cleaner in line with new emissions requirements for power generation. 
Government agencies have many ways to encourage action on climate change, and ambitious vehicle emissions regulations are necessary to achieve national and global climate goals. Europe has blazed the trail, with Norway aiming to end the sale of internal combustion engine (ICE) vehicles by 2025, and the U.K. aiming for a zero-emission vehicle (ZEV) mandate from 2024 and end of ICE sales by 2030. The European Union is also pursuing a 55% reduction in emissions by 2030 and 100% by 2035, and Canada has proposed regulations to ban the sale of combustion vehicles by 2035, targeting 60% ZEV sales by 2030. Because the U.S. is a major automotive market, its standards can help set the tone for EV innovation worldwide. 
A national vehicle emission standard helps ensure that EVs are available across the country (not just in ZEV mandate states), creates some regulatory consistency and helps ensure vehicle production keeps pace with demand. The increase in production also helps support ongoing investment in EV charging infrastructure, as charging providers know they can count on vehicles and demand. ChargePoint is always building out new places to charge and is partnering with businesses, real estate developers, fleets and organizations seeking NEVI funds to roll out additional fast charging infrastructure in convenient spots.  
The buildout of infrastructure requires an expanded green workforce dedicated to building EVs, installing charging stations and even installing complementary renewable energy sources such as solar panels to ensure the transition to electric mobility reduces emissions as much as possible. As a key enabler of the shift to EVs, ChargePoint is excited to be a founding part of this growing industry and support our existing installers while bringing new installers and other partners into the ecosystem.  
It can seem like every day brings a new EV model announcement. From road testing the Lucid Gravity SUV to announcing new all-electric refuse trucks, a lot is happening in the electrification of commercial and passenger vehicles. The new proposed EPA regulations will continue to encourage automakers and other industry players to innovate. As EV charging infrastructure buildout continues, more EV models become available and regulatory efforts ramp up, EV adoption will continue to grow rapidly and ChargePoint will be there to support drivers who need a charge. 
We see ambitious regulations like these as an opportunity, not a barrier, to sustainable business growth, and we will continue working with policymakers to ensure that policy helps individuals, businesses and the environment alike. Get in touch with ChargePoint to see how we can help your business make the most of policies that encourage electrification.