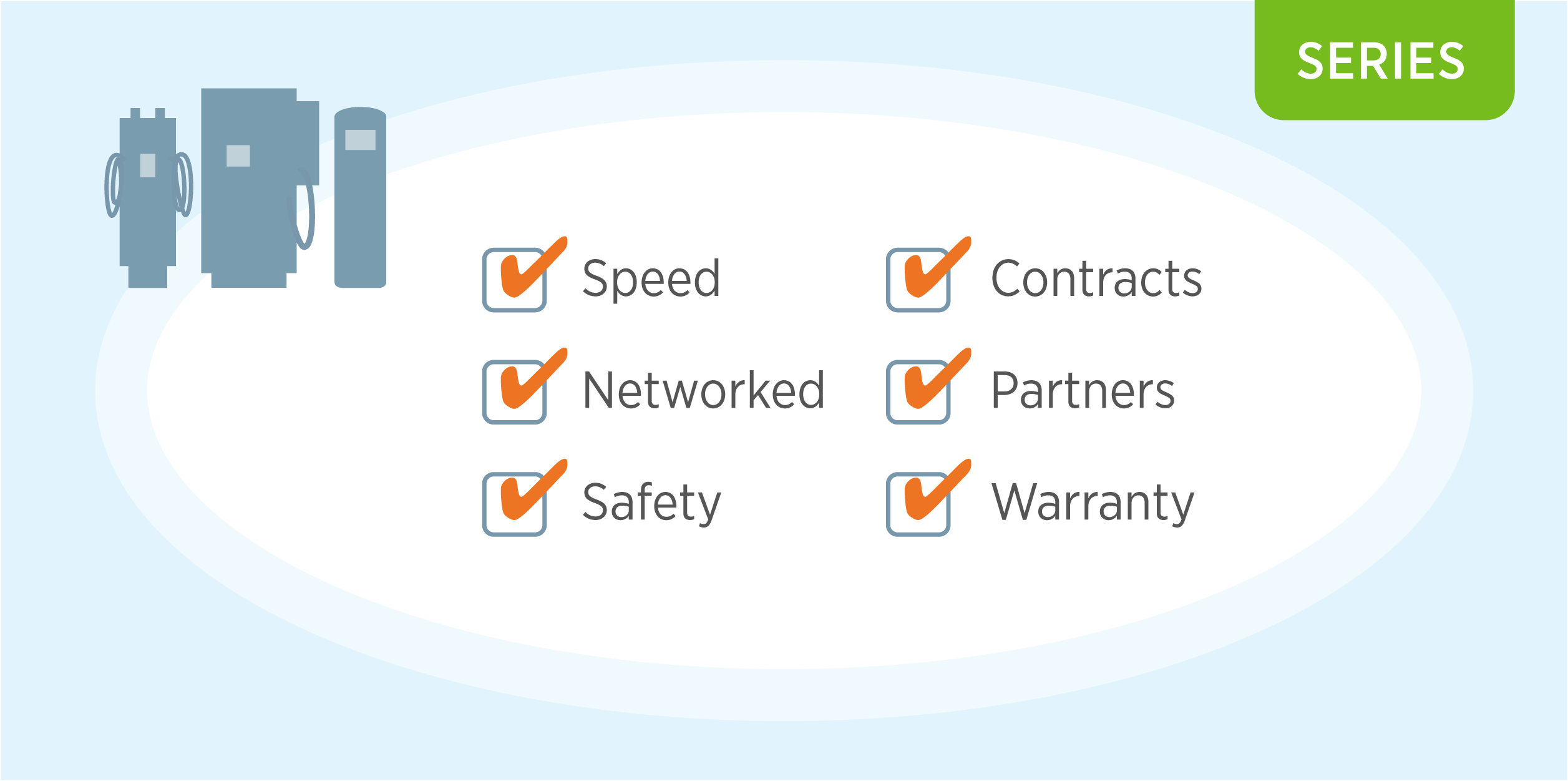 There are many grants, rebates and incentives available for EV charging to help ease the transition from gas vehicles to electric. However, not all EV charging stations qualify for these incentives. To help accelerate your buying process, here's a quick overview of what it can take for an EV charging solution to qualify for grants and certifications such as Leadership in Energy and Environmental Design (LEED).
The Right Charging Speed
Generally, EV charging stations must be at least "Level 2" and capable of adding at least 25 miles of Range Per Hour to be eligible for a grant or rebate. Slower stations are not typically worth local investment. LEED certification requires that stations be at least Level 2.
Fast charging hubs are getting more attention and grant funding. DC fast charging can add hundreds of miles of Range Per Hour, which is great for quick stops on long trips, but not as appropriate for businesses where people spend an hour or more. Mixed-use locations can benefit from both Level 2 and DC fast charging. You should pick the type of charging that makes the most sense for your business.
Networked or Smart Charging
Most grants require recipients to deliver reports on station use or greenhouse gas emission reductions, which is much easier to do with automated reports from a smart charging solution like ours. Smart charging also offers a better driver experience by showing real-time station information to drivers in an app, and it provides superior visibility into who's using your stations.
LEED certification and many grant programs require EV charging stations to be connected to a network and capable of "demand response" or time of use charging, which refers to scheduling charging for an "off-peak" time when overall demand for energy is lower. This enables utilities to better respond to demand for energy as charging activity increases.
A Recognized Safety Listing
The majority of grants require that EV chargers be UL Listed or have another safety certification mark from a recognized testing laboratory. This helps protect the drivers who use the stations as well as the organizations that help fund them.
Membership in Purchasing Contracts
Some government organizations have existing purchasing contracts that can streamline the purchasing process to select a charging vendor that's already on a contract. ChargePoint has established several such relationships. For example, the National Joint Powers Alliance (NJPA) provides a streamlined path for government, education and nonprofit entities to install EV charging stations, and ChargePoint is a NJPA-awarded contract vendor. This means NJPA members can purchase from competitively awarded contracts and avoid going through another competitive bid and single-source, which saves a lot of time.
A Network of Experienced Partners
ChargePoint has a network of experienced partners who can provide turnkey solutions for grant funded projects, streamlining the grant application process and increasing the likelihood of your project's success.
Industry-Leading Warranty
With 98% guaranteed uptime on ChargePoint solutions covered by Assure, you shouldn't have to rely on our warranty often. However, we do pride ourselves on having the industry-leading warranty that covers labor and materials. We even dispatch workers for you. Because some EV charging grants have minimum operations and maintenance requirements, our warranty makes it easy to make sure stations remain operational.
Ready to take the plunge and get a leading EV charging solution? Contact us to get started.