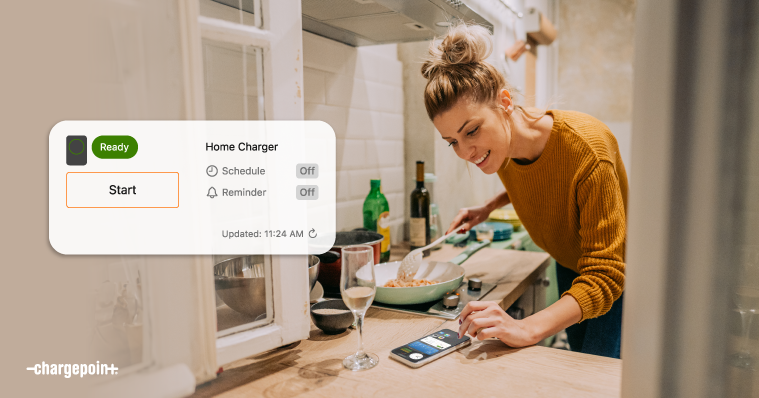 Imagine you're busy getting ready for the workday ahead. You sip your coffee while your kiddo or furry friend plays at your feet. You only have one hand free. You tap your phone's lock screen and check your EV's charging status. Your EV is fully powered and ready. All charged, and not a drop of coffee spilled.
Later, you're in your last meeting at the office. It's almost time to go home. You sneak a peek at your phone's lock screen to confirm your EV is fully charged and ready to take you home. Your colleagues have no idea and smile at you across the conference table. Back at home, you stir aromatic marinara sauce on your stovetop. You start a charging session with a simple tap on your phone's home screen. Your EV will be ready to go tomorrow, no matter what. You breathe a sigh of relief. Your garlicky pasta sauce bubbles on, saved from ruin, almost ready to eat.
You might wonder how all this is possible. The answer is simple: ChargePoint widgets.
What can I do with ChargePoint widgets?
A widget allows people to use an app and access important information on their phone without opening the app directly. ChargePoint widgets make it more convenient for drivers to charge, drive and live better. Get the ChargePoint app and add widgets to your phone screens so you can:
Find nearby stations
View charging status 
Check your home charging status 
Start and stop a home charging session 
Imagine doing all of the above with just a tap. Whether you're carrying groceries or a kid, busy in a meeting or stuck in traffic, ChargePoint widgets give you the information, control and power you need so you can keep charging on, no matter what.
What makes ChargePoint widgets special?
ChargePoint widgets are available on a variety of devices. To start, we've made it easy for you to access information from the ChargePoint app across your favorite Apple products:
Lock screen and home screen widgets give you charging information at a glance on your iPhone.
StandBy widgets put charging information on your bedside table with Apple's new StandBy product.
macOS widgets put charging information on the sidebar of your Mac computer.
And don't worry, Android users. We've got you covered with extensive widgets for Android phones as well. You can find stations, check charging status and view your spot in line using Waitlist. You can also use the ChargePoint app on Apple CarPlay, Apple Watch, Android Auto, Wear OS by Google, Siri and Amazon Alexa to extend the power of the app to the screen you prefer.
Want to charge up your life?
Download or update your ChargePoint driver app here. Learn how to install ChargePoint widgets here.