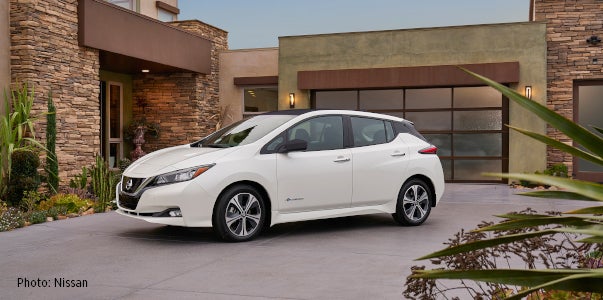 The Nissan LEAF was the first affordable EV and remains the global best-seller, with more than 300,000 on the roads worldwide. Now, the next-generation LEAF is almost here. It's still affordable, starting at $29,990, but now comes with a 40 kWh battery for an improved 150 miles of range, as well as ProPILOT, a semi-autonomous driving feature, and e-Pedal regenerative braking for one-pedal driving. The restyled model will be available in Japan on October 2 and globally by early 2018. A 60 kWh, 200-mile version of the LEAF is expected in 2019 at a slightly higher price point. Range, availability and price may make many drivers evaluate a new LEAF model alongside the Chevy Bolt EV and Tesla Model 3.
Whether you already have a Nissan LEAF and are intrigued by the latest model or are considering making the new LEAF your first EV, this blog post explains the three ways you can count on charging your new Nissan LEAF and how the ChargePoint app will help.
Before we get started, you should know that EVs use a different fueling model: EV drivers can top off the battery anytime they're parked, at home or around town, instead of making a separate trip to refuel. Topping off helps give you as much range as possible and makes each charging session shorter. It takes just a few seconds to plug in, and then you can go about your day (or night) while the LEAF charges.
1. Charging Your Nissan LEAF at Home
Some people charge their EVs at home by plugging into a regular wall outlet. This only adds about 4 miles of Range Per Hour, meaning it would take over two days to recharge the 2018 LEAF this way. That makes upgrading to a Level 2 home charger like ChargePoint Home an essential step for new LEAF owners, especially if you get the larger battery option. Home lets you add about 25 miles of range per hour, easily filling up your EV overnight. If you don't live in a single-family home, ChargePoint can help you get EV charging at apartments and condos.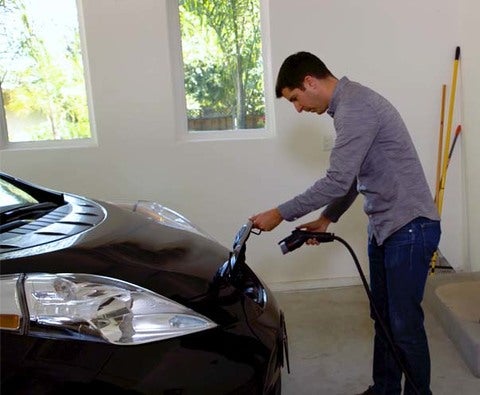 Even if you can't charge at home, you can still live the EV lifestyle if you're able to charge at work or at Level 2 charging spots around town. Check the ChargePoint app to see if there are places to charge near you.
2. Charging the New LEAF at Work and Around Town
You might not have spotted them if you're not an EV driver yet, but there may be charging stations at nearby workplaces, restaurants, retail stores and other places you spend time. These locations usually feature Level 2 stations with a universal connector that can add about 25 miles of Range Per Hour to your new LEAF.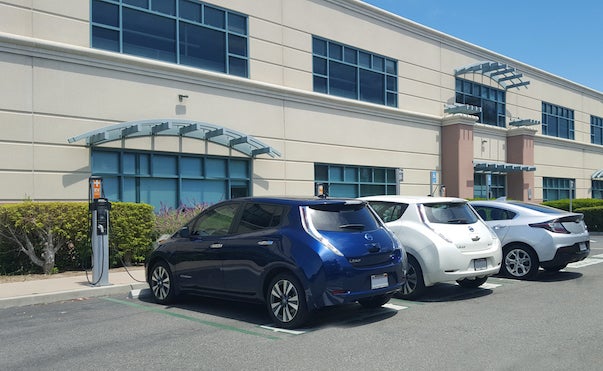 The best part about charging around town is that you can go about your day while charging, instead of waiting around for your EV to refuel. Discover places to charge near you in the ChargePoint app.
To start charging at a ChargePoint station, just press the orange "Start Charge" button on the station page in the ChargePoint app and plug in. Or, ask us to send you a free ChargePoint card from the Manage Cards section of the app. Once you get your card, follow the instructions to activate it. Then, start charging by tapping the card on the station.
3. Fast Charging the Nissan LEAF
Fast charging is good for adding mileage quickly during long trips or when you really need a charge to get around town. You'll be able to add about 88 miles in 30 minutes to the Nissan LEAF with DC fast charging.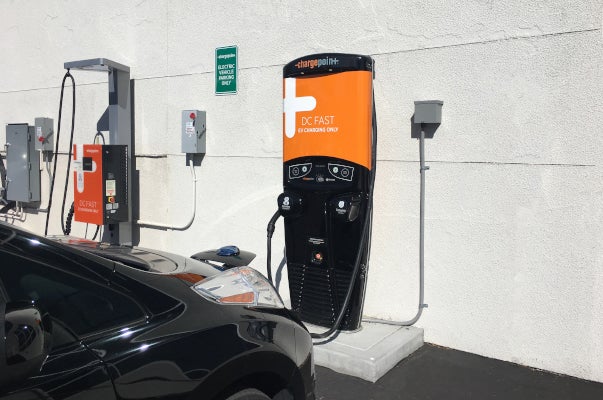 Adding DC fast charging as an option will let you take road trips along our Express charging corridors and anywhere else DC fast charging is available. The 2018 LEAF uses the CHAdeMO connector for DC fast charging, available as an option on the SV model (which also includes Android Auto and Apple CarPlay). If you select a LEAF when setting up your ChargePoint account, the app will only show you fast charging spots that work with your EV.
Once you find a station, you'll be able to begin a fast charge just like any other charge. Simply use your app or card to authenticate and plug the connector into your car.
How Much Will It Cost to Charge the New LEAF?
The average charging session for LEAF drivers on ChargePoint so far has cost just $0.57 and 77% of sessions have been free.* The new LEAF will have a bigger battery than the current LEAF, so charging sessions may cost a bit more, but, our data from other longer-range EVs, like the Bolt EV, shows that even with a bigger battery, the average Nissan LEAF driver will spend less than the cost of a gallon of gas to go about twice as far as the average car can go on one gallon.
The cost of charging can vary widely between different EV charging stations and networks. ChargePoint station owners set their own fees, and you can always check the station details page in the app for the latest pricing information.
Most businesses offer charging for free or at their cost because they want you to come in.
When charging at home, the cost of charging will vary depending on how much you drive and how much electricity costs in your area (and if you can get a special EV charging rate plan). On average, with a 40 kWh battery, you can expect to spend about $5.20 for a full charge at home.**
Have we won you over to driving electric yet? Don't forget to get the ChargePoint app to charge your new Nissan LEAF.
Any questions? Want to share your experience with the LEAF? Come find us on Facebook or Twitter.
*Based on historical charging data from the ChargePoint Network.  This historical data is not a guarantee on pricing and ChargePoint makes not representation on current or future pricing.
**Estimates based on U.S. Energy Information Administration electricity prices.
2018 LEAF image courtesy of Nissan.