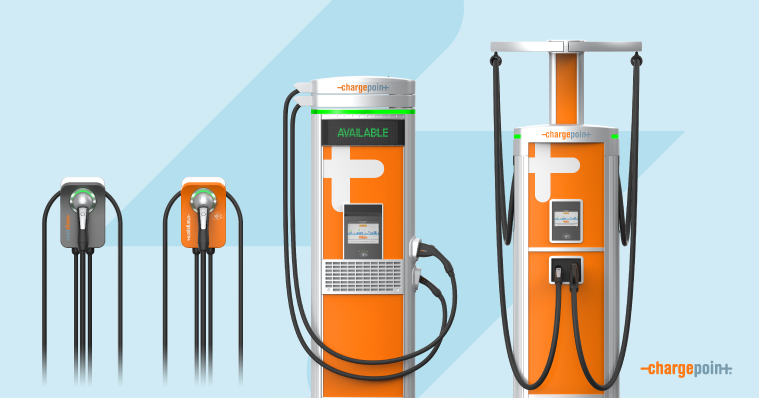 Are you energized about the EV revolution but not sure what to make of the confusing alphabet soup of EV connector types, names and lingo? Well, you're not alone. Change is exciting and necessary — but sometimes innovation can be a bit of a mouthful. We've got you covered with a quick history and overview of the different EV connector types you'll see out in the world and what they mean for you.
A little EV charging and connector type history
In this exciting new era of EV cars and charging, automakers and EV charging pioneers like ChargePoint created new standards where none existed before. When ChargePoint came on the scene over 15 years ago, the J1772 connector (Type 1) was the very first standardized EV charging connector type on the market. Fast forward to 2023 — rapid innovation has brought about many different EV connector types now used around the world. It's helpful for leaders in any new industry to align on standards, however, as was the case when desktop computers were developed and similarly changed how we live. Back then industry standards ensured computers could work with printers and other accessories. Similarly, EV connector standards today are ensuring charging stations and EVs work together seamlessly.
Get to know your EV connector types
The easiest way to understand the differences between EV connector types is to consider them by region and charging type. EV charging can generally be broken down into two categories: AC and DC fast. Here's the difference between AC and DC fast charging:
AC charging:
AC stands for "alternating current." AC charging is the most common charging type and includes Level 1 and Level 2 charging in North America. Most drivers use AC charging daily, adding up to 40 miles of range per hour at stations where they spend most of their time — at home or work, while shopping or doing other activities. 
Level 1 charging is the slower version of AC charging and involves simply plugging your EV into a standard outlet at home with the cable that came with your EV.
Level 2 charging is the faster version of AC charging and requires a charger such as the ChargePoint Home Flex. Many public stations are also Level 2 AC stations.
In North America, two connector standards allow EVs to charge at AC charging stations: SAE J1772 and the North American Charging Standard (NACS), the connector most commonly associated with Tesla.
DC fast charging:
DC stands for "direct current" and is the fastest type of EV charging. DC charging is perfect for charging your EV when you're in a rush, but remember — not all EVs are compatible with DC fast charging.
In North America, the three types of DC plugs are SAE combo (CCS1), CHAdeMO and NACS.
Developed by Tesla, NACS combines both AC and DC charging compatibility in one connector.
What's with the NACS connector and what does it mean for me?
Recently a number of automakers and EV charging companies announced they will produce cars and products compatible with the NACS connector beginning in 2025. For Tesla drivers, this means they will no longer need to use an adapter to charge at many EV charging stations, including ChargePoint. For EV drivers in general, not much is changing — ChargePoint stations will always be able to charge any EV on the road.
As one of the original EV charging pioneers, ChargePoint's mission has always been to make EV charging accessible to everyone. That's why all ChargePoint solutions work with every connector type and EV on the road. There's a reason ChargePoint is trusted around the world, from families looking for the right home charger to Fortune 500 companies in need of an EV charging solution for thousands of employees and customers. Rigorously tested in our cutting-edge lab, new ChargePoint NACS (Tesla) products are no different. Thanks to ChargePoint's long history of innovation, you can rest assured that your ChargePoint Home Flex and any ChargePoint EV chargers out in the wild will continue to work seamlessly with your EV. Keep charging forward, drivers.
Curious about home charging solutions?