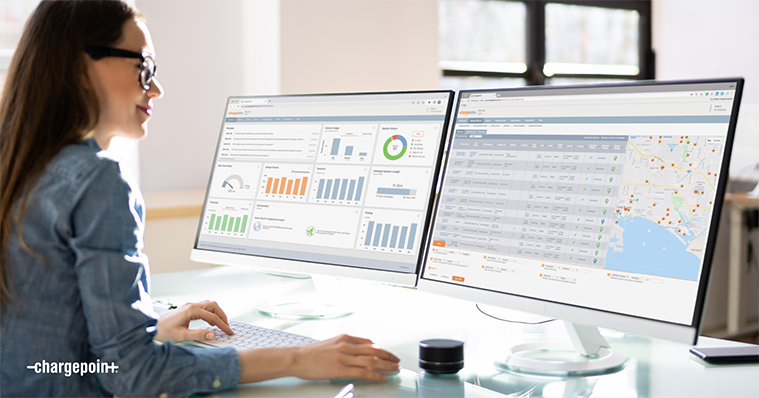 It can be easy to think that deploying EV charging is as simple as putting stations in the ground, but focusing on hardware is asking the wrong question. When we talk to customers running the most advanced EV charging programs out there, supporting thousands of drivers every day, a key theme we hear over and over is that success in EV charging requires having the right hardware and the right software to manage it. That's because it's the software that gives you the power to build a best-in-class EV charging program and scale as your needs change and your driver base grows. No matter who is charging or what they drive, our software lets you meet their needs.
Whether you're initially looking to serve employees, customers, residents or fleet vehicles, you'll likely find that the audience you serve grows over time. Choosing a software-driven EV charging solution will give you the flexibility and power you need to address these changing requirements and manage stations, vehicles and drivers to make EV charging work for your business in a way that's easy to track and scale. Let's take a look at why software is so important to EV charging and what it lets you do.
Easily deploy and manage charging across your organization
Choosing a unified platform with powerful software that supports all aspects of fleet, commercial and residential charging enables you to get started quickly and manage mixed-use charging as your organization grows. For example, your company might want to offer EV charging to employees and then begin electrifying your corporate fleet of vehicles. Your facilities team members can use ChargePoint software to manage employee charging at offices, while fleet managers can optimize fleet depot charging for low cost and high availability — all using the same powerful platform. Software ties everything together so you can manage charging for any use case.
"ChargePoint's software, hands down, is one of the best platforms I've seen, compared with competitors in the industry."

- President, Electrical Construction Installer
Optimize return on investment with smart pricing and energy management
To help generate revenue from EV charging, ChargePoint software includes a pricing wizard and sophisticated energy management options to help set prices that optimize station utilization. For example, organizations may choose to offer free charging to employees while charging a fee for the general public to use their stations. Our software also provides the ability to change pricing over time, so you can increase the fee after a few hours to encourage drivers to make the station available for others.
Energy management data and tools help optimize energy costs. For example, you can set a ceiling for power usage to avoid expensive demand charges or distribute available power among more stations to charge more vehicles without upgrading your electrical infrastructure. Our ChargePoint implementation experts will get you started with the software tools at your disposal to optimize return on investment.
Connect with all types of drivers in ways that matter
Software offers a key opportunity to build your brand. Count on our widely used driver app to bring a variety of EV drivers to your business. Use our advanced access control features to limit charging to employees only or offer special deals to loyalty program members. Advanced software tools and API integrations give you ways to better connect with drivers, understand their charging behavior and manage the relationship over time.
Grow your program and adapt to changing needs
If you install sufficient electrical supply and charging hardware upfront, you can count on software to reconfigure and adapt how those charging stations work over time as you scale. It's easy to shift who can use your stations and how much it costs with just a few simple software settings, enabling you to grow and expand your program by supporting different types of charging. Expanding the uses for existing stations gives you the flexibility to support the shift to electric mobility in a way that works for your business and opens new revenue streams.
Connect data with other systems to improve efficiency
Finally, a key advantage of cloud-based EV charging management software is that it makes it possible to connect EV charging with all your other software systems and seamlessly sync data between them. This enables you to break down silos between building and energy management tools, customize your technology stack with an open API and improve efficiency by syncing data and workflows. ChargePoint has built-in API integrations with a variety of systems, including:
Building management systems (BMS)
Distributed energy management systems (DERM)
Consumer loyalty programs
Fuel cards and fleet management
Open Charge Point Protocol (OCPP)
Integrations make EV charging an integral and strategic part of your business operations, generating revenue, reducing emissions, engaging drivers and providing a measurable return on your investment.
You've got the power
With all these advantages, the value of software-driven EV charging is clear. Integrating hardware and software in one solution ensures that both work better together and are poised to help your EV charging program grow with your business. Visit You've got the power, our new resource hub, to see how you can use ChargePoint software to build and manage a best-in-class charging program.
To get a quote, reach out to us here.