May 11, 2018
ChargePoint Hackathon: Full Speed Ahead
Last weekend, we hosted a hackathon at ChargePoint. It was a thrill to see 40 ChargePointers from different departments create more than 11 teams and collaborate throughout the weekend. Circuits were connecting and code was compiling as ChargePointers worked to take high-flying ideas about driving electric and bring them as close to reality as possible. A willingness to come to the office over the weekend and tackle major engineering challenges shows that we love what we do. Plus, it's a sign that we as a company aim to encourage all kinds of innovation—and have fun while we're at it.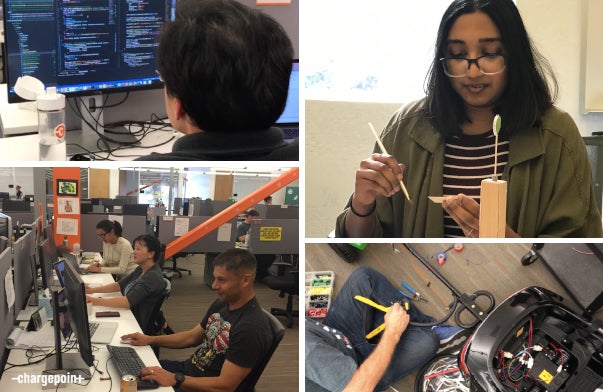 Using everything from paintbrushes to circuits to good old-fashioned code, ChargePoint hackers took ideas from pitch to reality (or as close as we could possibly come) in just two hectic days. Fueled by barbecue and beer, ChargePointers worked with people from departments they don't typically collaborate with and thought about problems outside the day-to-day: business development professionals worked on marketing offers, mobile developers reconfigured business processes and more—all in the spirit of advancing electrification. We were able to leverage ChargePoint APIs and existing architecture and technology to connect to other systems quickly and make fast progress on many projects that were only ideas last Friday.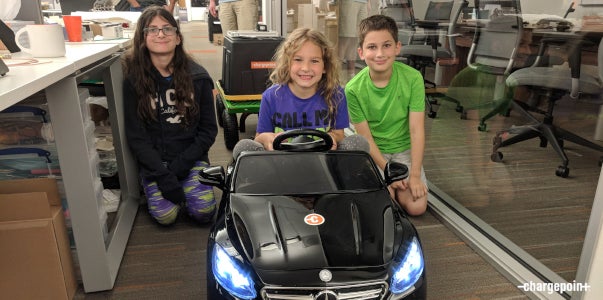 Because we're all about making it easy to drive electric, everything we worked on was ultimately focused on improving the driver experience. We also explored a few solutions that aimed to simplify station management for our station owners. Just a few of our many projects included visualizing demand for charging, sharing greenhouse gas emission reduction data and even building a real, working EV for kids (see above and below). Hackathon entries were ultimately judged (and awarded prizes) in five categories: innovation, lifestyle, technical, user experience and overall.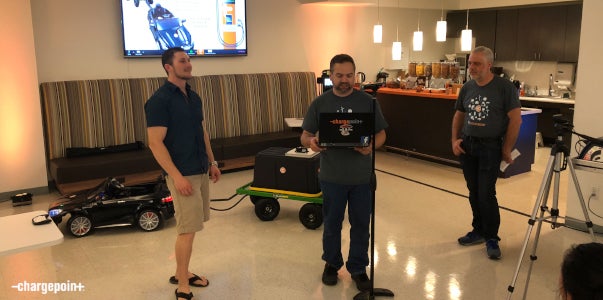 ChargePointers not only appreciated the chance to get to work on unique ideas and passion projects, but also to work more closely with other departments. "I was very impressed… there's lots of opportunities to connect everyone's ideas," said one engineer, while a designer added that the hackathon "made me proud as always to work with smart and inventive people."
If you think you have what it takes to work with a brilliant team of freethinkers to reinvent mobility, check out our opportunities.