ChargePoint ECO Site Reduces Energy Costs While Keeping Drivers Happy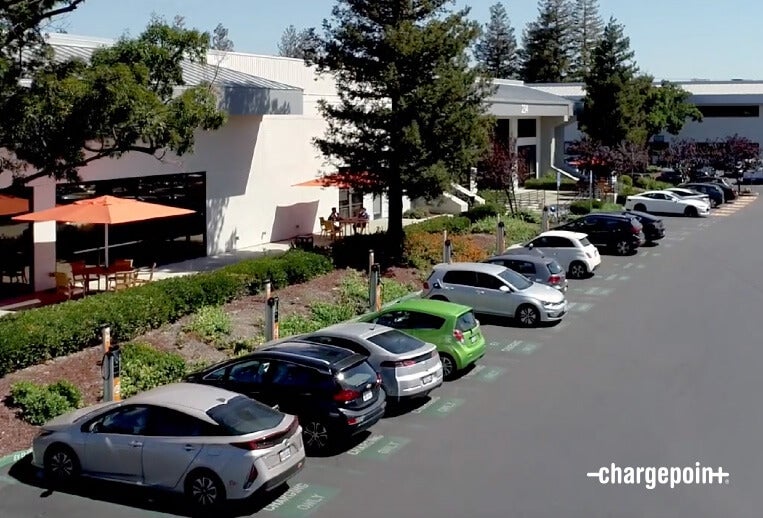 At ChargePoint, we've been laser focused on making it easy to switch to electric mobility since we were founded in 2007. So it's no surprise that a large number of our employees drive electric. Every day, dozens of employees and many members of the public want to charge up across the many spots at our headquarters in Campbell, California. While it's exciting to experience such high demand for EV charging, it can also lead to spikes in energy use and high electricity bills as more and more drivers plug in at the same time. We needed a better way to charge a lot of vehicles while managing our overall energy costs and continuing to welcome more EV-driving employees.
Turning to Our Own Solution
To accommodate more EV drivers without generating expensive demand charges for spikes in energy use, we turned to our own solution. ChargePoint ECO Site is a groundbreaking cloud solution that optimizes energy use across EV charging spots by taking into consideration building electrical loads like air conditioning, heating and more. This enables efficient, economical use of energy.
Locations with more than 30 charging spots (like our headquarters) stand to benefit most from ECO Site, which tracks energy use in 15-minute intervals to match the timeframe utilities use for billing. We installed ECO Site at our headquarters and launched a pilot program designed to reduce our energy costs without negatively affecting EV drivers' ability to get the charge they need.
Setting the Stage for Success
To optimize energy use, ECO Site requires a smart meter (provided by ChargePoint and enclosed in a NEMA box for safe outdoor installation if needed) installed next to the existing utility meter to track building energy load. With a little bit of planning, our installation process was quick and easy. Here are our tips to help other organizations installing a smart meter for ECO Site:
Ensure the location gets cellular signal so the meter can communicate with the ChargePoint network. If not, an external antenna may be required to connect to the ECO Site cloud server.
Coordinate with electricians and other building tenants for an easy install.
Plan for the electrical service to be turned off while the smart meter is being installed. If that's not possible, an alternate plan can be created.
Establishing a Power Ceiling
Once the smart meter is installed, it's time to set a target ceiling for energy use across EV charging and building load. We let ECO Site dynamically calculate this target based on our average energy use over the past few months. Customers can also work with ChargePoint to set the ceiling manually if preferred. After the target is set, ECO Site will ensure that building power is uninterrupted and that charging is slowed when needed to prevent spikes in demand.
See How ECO Site Smooths Demand for Cost Savings
The image below demonstrates how ECO Site kept energy use under the target level when building energy demand spiked, likely due to the heating or air conditioning turning on. The graph shows energy use averaged over 15-minute increments.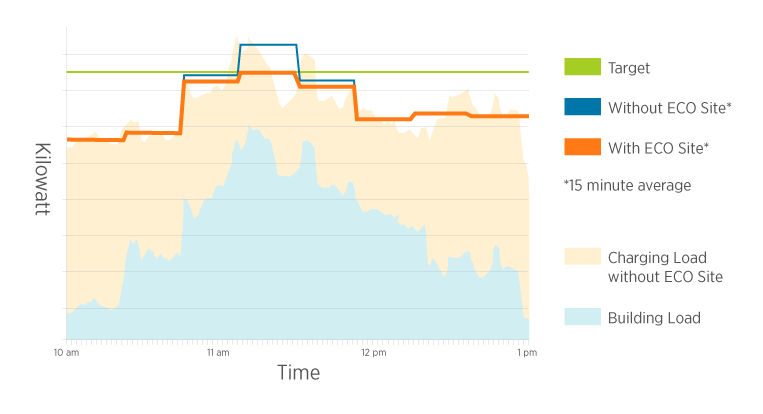 Keeping Drivers Informed
After setting up ECO Site, we recommend sending a quick note to inform drivers that they may occasionally experience a small reduction in charging speed. Available power at each station is always shown in the ChargePoint app so drivers know what to expect.
Customizing ECO Site for Your Needs
In addition to setting a ceiling for energy use, ECO Site allows you to designate a minimum charging speed (we chose to always deliver at least 70% of requested charging speed) or a maximum amount of time to defer energy use, so drivers can count on getting the charge they need. It's also possible to designate "priority" charging spots that will always deliver full power. ECO Site settings can be applied across both AC and DC charging spots, so locations with DC fast charging can choose to reduce AC charging power during fast charging sessions to avoid demand spikes.
"I was always able to get the charge I needed during the ECO Site pilot program."
EV Driver
EV Driver, ChargePoint
Enjoying Significant Energy Savings
Our three-month ECO Site pilot at ChargePoint headquarters reduced energy costs significantly without noticeably affecting charging time for drivers. While still letting everyone get a charge during the workday, the savings from our pilot program would add up to more than $8,000 annualized.
Cost savings at this scale can help companies install more places to charge or fund other amenities for customers, employees or residents. Because ECO Site works automatically to manage demand, companies can simply "set it and forget it" or proactively monitor energy use on an online dashboard and reconfigure the solution settings anytime.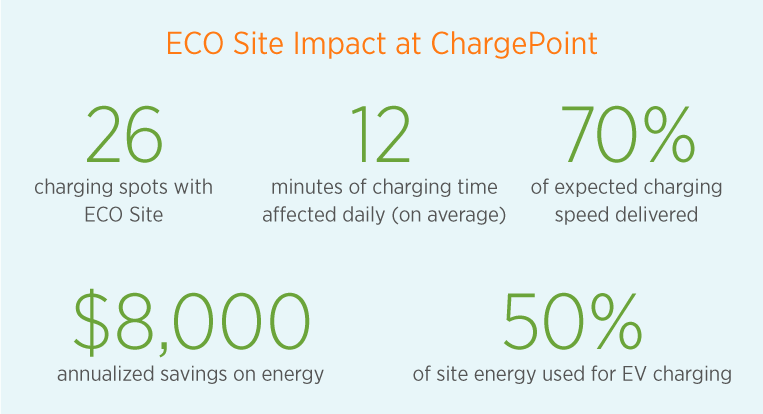 Developing ECO Solutions for All
ECO Site not only lowers costs and expands access to charging, but also helps utilities keep grid performance more predictable and manageable. As more and more locations adopt EV charging, we continue to roll out ChargePoint ECO solutions to help manage energy demand and costs in a variety of settings.
In addition to ECO Site, which is designed for locations with many charging spots, like workplaces or multifamily residences, we offer ECO Fleet solutions for light-, medium- and heavy-duty fleets that need to manage fleet charging while considering energy demand and costs. ECO Grid optimizes DC fast charging at sites that also have solar power and energy storage.
Workplaces or other locations that aren't sure they have the capacity to expand EV charging or fear high utility bills can think again, because ChargePoint ECO Site makes it possible to optimize energy use and get the most out of your EV charging investment. We've proved it at our own headquarters. Contact us to start or expand your EV charging program for employees, residents or customers—all without overpaying for energy or overloading the grid.
---
At ChargePoint, we believe stories have the power to change the world.
Our customers share their stories because they're passionate about the often-unforeseen ways the electrification of transportation has impacted their organizations. Like many companies around the globe, they've discovered that what's good for the planet can also be good for business.
E-mobility is here to stay. Perhaps it's time to tell your own story. Reach out to us at sales@chargepoint.com and let us know. We'd love to hear it.